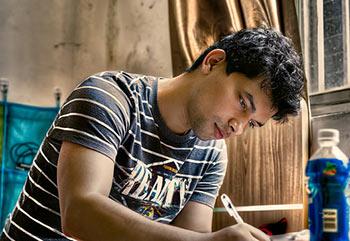 Here's everything you need to know about the entrance examination for Grade B officers.
The Reserve Bank of India Grade B Officers Exam is one of the most coveted posts in the Indian banking industry.
The Phase I exam will be conducted on November 21 and 22 in an online objective type test.
It will consist of 200 multiple choice questions with 1 mark awarded for each correct answer and 1/4 mark deducted for every incorrect answer, with a sectional cut-off.
The duration of the paper is 120 minutes (2 hours).
There is NO sectional time limits.
Candidates are free to allocate their time across sections as they want.
Below is the section wise breakup of RBI Grade B Phase I exam:

This year, the RBI has changed the eligibility criteria for Grade B recruitment exams, putting candidates into huge confusion and has left them surrounded with tons of wrong information.
We have received countless queries from candidates inquiring about various terms and conditions of the eligibility criteria for RBI Grade B 2015.
RBI Grade B Eligibility criteria #1: Origin
The applicant should be an Indian citizen, citizen of Nepal/subject of Bhutan, person of Indian origin who has migrated from Myanmar and Sri Lanka with the intention of permanently settling in India and in whose favour Eligibility Certificates have been issued by Government of India.
RBI Grade B Eligibility criteria #2: Age (as on 01/10/2015)
Candidates must be between 21 and 30 years of age for being eligible to appear for RBI Grade B Criteria.
There are exceptions in the case of age restrictions for segments such as PWD, etc. Please check our website for those details.
RBI Grade B Eligibility criteria #3: Educational Qualification (as on 01/10/2015)
Perhaps the most confusing criteria of all is the educational qualification.
Starting from year 2015, only those candidates who have scored minimum of 60 per cent marks or an equivalent grade in Bachelors degree as well as in class 10 and 12 examinations will be allowed to appear for RBI Grade B recruitment examination.
The minimum qualifying percentage or an equivalent grade for the Bachelor's Degree will be in aggregate for all semesters/years.
For Universities/Institutes/Boards which do not follow the percent system and instead award Aggregate Grade Points (e.g. CGPA/OGPA/CPI), they can either provide criteria for conversion of aggregate grade points into percentage of marks or follow the conversion stated below:

RBI Grade B Eligibility criteria #4: Number of attempts:
Candidates belonging to general category, who have already appeared six times for RBI Grade B Phase-I Examination are not eligible to apply.
However for candidates belonging to SC/ST/OBC/PWD, this criteria is not applied, i.e. they can appear in the exams unlimited number of times.
The RBI Grade B Exam should not be taken lightly.
A total of 134 vacancies are available, while more than 2 lakh applicants are expected to appear in the exams.
Nearly 5,000 to 10,000 applicants are expected to be selected for second phase of the exam.
So the competition is extremely tough for the trophy job in the Indian banking industry.
The author Samhita Atrey is education consultant at MockBank.com, a Bengaluru based online test preparation company for government/PSU jobs
Lead image used for representational purposes only. Image: Vlad Meytin/Creative Commons