30 Indian designers have come together for Duniya, a unique t-shirt project.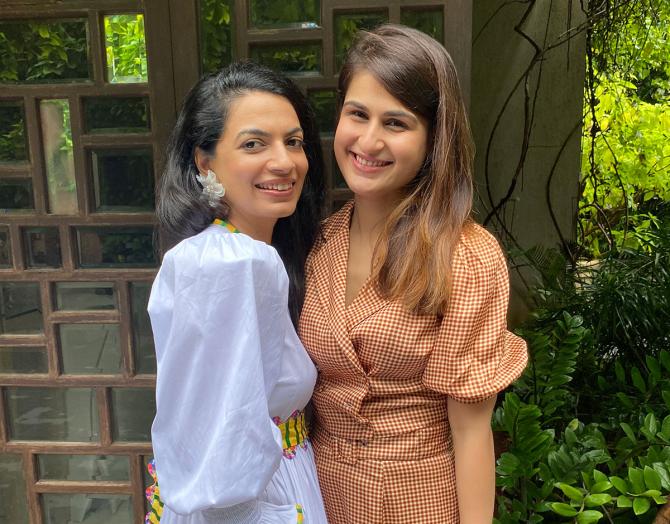 During the pandemic, several designers and artisans in India lost their livelihoods simply because they weren't able to work out of their homes or market their designs.
Since stepping out was not an option it became harder to promote expensive designer outfits and help the people and the families working behind these creations.
Mumbai lifestyle professionals Hemali Jain and Priyanka Khanna discussed the idea with their friends Tanisha Rahimtoola Agarwal, founder of Curato, a retail Web site, and celebrity stylist Sanjana Batra and decided to collaborate with 30 designers from across India to serve two goals -- to promote sustainable designs and to give back to society.
Rediff.com's Rajesh Karkera speaks to Hemali and Priyanka about the inspiration behind Project Duniya and finds out how the t-shirts will 'save the Earth.'
What is Duniya 2020?
Hemali: Duniya started off as an idea to bring change. We wanted to share awareness about sustainability, environmental consciousness as well as create an amalgamation between art and charity.
But because of the pandemic, we had to put our initial project on hold. Later, we decided to collaborate with Tanisha and Sanjana and got about 30 to 40 different designers so we could help highlight local artisans and designers.
The designers will share their unique products based on the theme 'save the Earth.'
Was it challenging to get these designers on board?
Hemali: We were four of us -- Priyanka, Tanisha, Sanjana and I -- so it really helped. Each one of us took the initiative to approach few designers.
And thankfully, all of them were so happy to be part of this initiative because it's also a recycling project. It's about sustainability.
All we wanted was one t-shirt from each designer.
We received more than 30 t-shirts. But we narrowed it down to 30 for now.
Priyanka: We had 40 people on board. But factories were not operating and tailors were falling sick so everybody was scared.
When we received the couriers in Mumbai, we had to also consider how we could co-ordinate the same with our stylist in Delhi. The couriers were sent back and forth before we finalised on the final 30 designs.
We were happy that everybody wanted to be a part of it. We wanted to show how you can be creative even when you are at home and put it out for the world to see and shop from.
With this pandemic, the fashion trends are going to change. People are not going to be dressing up on Saturday nights. They'll prefer wearing t-shirts, something they find comfortable which is what we want to target people to buy.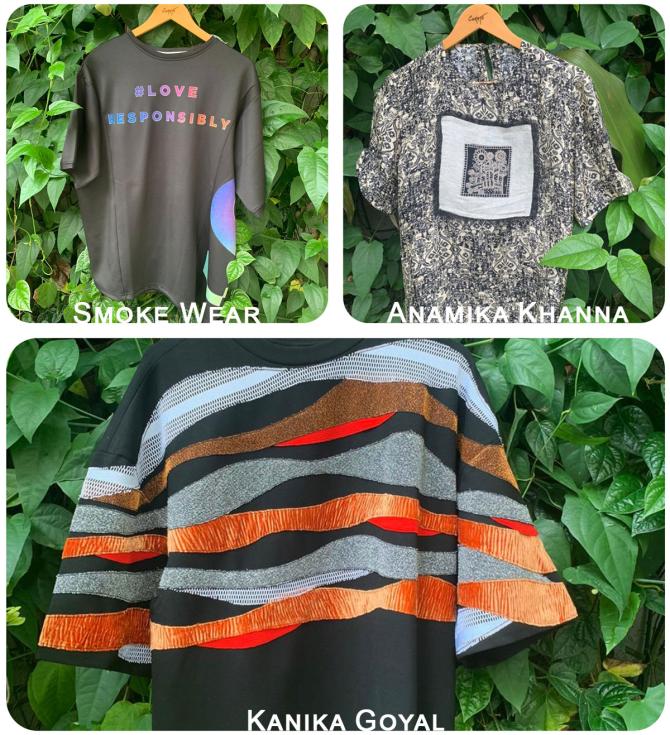 How do you plan to promote these t-shirts? What's the price range?
Priyanka: It's going to be put up online on Curato. The collection is going to be there for three weeks and everyone can just log in and buy.
100% proceeds of the T-shirts will go to Project Mumbai.
It's a very affordable range; our concept was affordability proceeds designer prices.
It starts from Rs 2,500 to Rs 7,000.
Getting an outfit designed by a leading designer like Anamika Khanna at such a good price is a steal.
When you say sustainable, what fabrics are they using?
Priyanka: We told the designers that we wanted them to use old fabrics, whatever they had in their factories. Because, in this pandemic, it has been so difficult for them also to create this.
So you'll see recycled fabrics, some created from wasted materials they already had combined with some beautiful embroidery, whatever they could put together.
We supported them because ultimately, it's about your creativity and your designs.