This despite the fact that we are obsessed with politics, says T C A Srinivasa-Raghavan.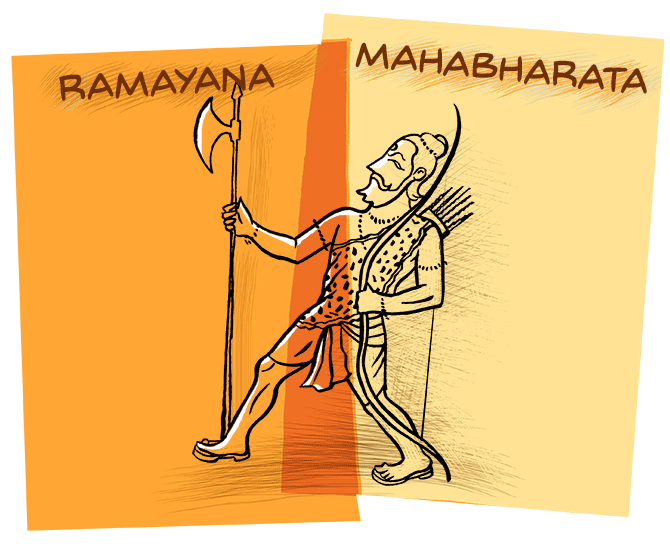 Illustration: Dominic Xavier/Rediff.com
One of the hardest choices in life is what book to carry during a vacation. If you get it wrong, it is as bad as what happened to me 40 years ago when I ran out of my brand of cigarettes in Orissa (now Odisha). Misery is a mild word.
Of course, these days Kindle and Google Books are there to help but it is not the same thing. Besides, the knowledge that you chose the wrong book rankles.
What's worse, others tell you to shut up if you keep grumbling.
So, I start stocking up on my favourite genres -- political and/or spy thrillers -- well in advance. I even read a few pages before putting them away in a sort of wine-tasting ceremony.
And what I have found is dismaying: In India, despite its history of two of the most magnificent political thrillers -- Ramayana and Mahabharata -- this is not a favoured genre, at least not in English. There are very few.
Even in Hindi, although there are several novels about politics, there aren't many that you could describe as a thriller. This despite the fact that we are obsessed by politics.
The real motives behind political news fascinate me. Indeed such an addict am I that currently I am watching a Korean -- yes, Korean -- political thriller called President on Netflix. The subtitling is almost perfect and the serial riveting.
For the last few weeks, I have also been reading a British writer of political thrillers, a former MP called Michael Dobbs. He had worked with Margaret Thatcher till she was deposed by her party.
Then he wrote House of Cards in 1989 and followed it up with two more books with the same characters. Years later BBC made a TV serial out of it and a little later so did Sony.
If you haven't already, you should read Mr Dobbs' books. They are superb, replete with droll, very English humorous cynicism. They also confirm our worst suspicions about English hypocrisy.
All these thrillers, whether books or on TV, have one thing in common: The good ones unhesitatingly show just how very utterly ruthless some politicians are. There are no decent people in politics, nor much decency.
For many politicians, so long as the opponent is defeated, anything goes -- even murder, when it becomes necessary. Bollywood has made many films about this. As, of course, have other countries. Men and women, especially journalists, get bumped off or badly bashed up equally.
One other feature of these books vis-a-vis journalists is that they are almost always portrayed as being only a whisker above politicians morally. The references are always contemptuous and full of derision, not just of individual journalists but of the media as a whole.
Nevertheless, everyone wants their approbation. Everyone uses them. And yet, everyone despises them.
In that sense, journalists and politicians are two sides of the same coin, at least according to those who are neither.
There are three key ingredients in a good political thriller: Intrigue, unscrupulousness and an unwavering commitment to the objective. But style matters a lot.
The Americans, as is their wont, tend to be very direct in their language and plots.
The British, on the other hand, are very elliptical. On the whole, it is more fun to read them. That could be because when it comes to duplicitous unscrupulousness, as we South Asians know to our cost it is hard to beat the English.
A good writer of political thrillers must fully capture the shock value of such behaviour, which Dobbs does very well.
The best shocks are provided when the main character casually stabs a close friend or relative in the back. Those who have read I, Claudius by Robert Graves will know what I am talking about. There the grandmother, Livia, is the ruthless intriguer. She is said to have used poisoned figs to eliminate Augustus, the first Roman emperor. Poisoned figs! What next?
Mr Dobbs' hero Francis Urquhart -- if he can be called that -- measures up to the required standards of deceit, duplicity and daring. He uses all means, including framing the prime minister's brother, and planting stories via a female journalist. But in the end it is the proprietor of the paper who helps Urquhart in becoming Prime Minister.
Does that ring a bell?