And why Bengalis think they matter!
Bibek Debroy's insight on the portrait of a community in Sudeep Chakravarti's The Bengalis.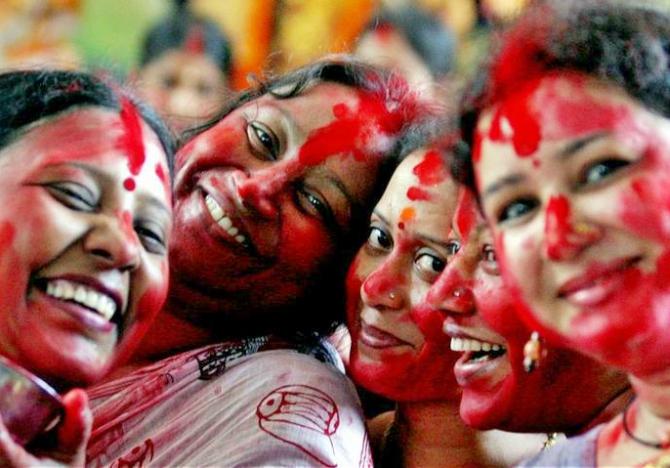 Durga puja in Bangladesh.
'Bengalis in India have a province, I have taken to telling them. The Bengalis in Bangladesh have a country,' Sudeep Chakravarti writes.


Therefore, a fair bit of the book is about Bangladesh, its past and present.


Photograph:

Rafiqur Rahman/Reuters



The British team scored first in the first half, off a free kick. Black kites.
Twenty minutes into the second half 'Bagan' captain and left winger, Shibdas Bhaduri, shot in the equalizer. Maroon and green kites, and pandemonium.
In the eighty-seventh minute he passed the ball to centre forward Abhilas Ghosh and Ghosh slammed it into the goal. Maroon and green kites.
This is a description of the 1911 IFA Shield Final between East Yorkshire Regiment and Mohun Bagan. Is it accurate?
First, wasn't the match for 50 minutes (with a five-minutes break), not 90?
Second, wasn't the first half goalless?
Third, didn't Sergeant Jackson score by converting off a free kick, rather than directly from the free kick?
Fourth, when Abhilas Ghosh scored, didn't he lob the ball, which trickled over the goal-line, rather than slam it in?
This is the kind of trivia in which only a Bengali will be interested and quibble about.
In school, I remember being reprimanded by a teacher for not getting names of goalscorers right. (I had said Abhilas Ghosh and Bijoydas Bhaduri.)
How can you get such things wrong? It's part of Bengal's history. It's part of the Bengali obsession with trivia, represented by quizzing. Nor will I be accepted as a Bengali unless I join issue with Sudeep Chakravarti on such serious matters.
Chakravarti has written a charming and serious book, which is fun to read.
It's not meant for Bengalis alone, but non-Bengalis are unlikely to appreciate every nuance.
In addition to a Prologue, there are 18 chapters, divided into three sections (called Books) — Genesis and More (four chapters); Culture Chronicles (nine chapters); and Age of Fire (five chapters).
The book is about Bengalis. It isn't about Bengalis who live in West Bengal. There are Bengalis who live in India, outside West Bengal. And there are Bengalis/Bangladeshis in Bangladesh.
Of some 240 million people in the world who state Bengali as their mother tongue, 65 per cent are in Bangladesh.
'It is vital to consider Bangladesh, if possible, visit Bangladesh -- to get a complete sense of Bengal, of the Bengali, I have maintained with friends, acquaintances and complete strangers…
'Bengalis in India have a province, I have taken to telling them. The Bengalis in Bangladesh have a country,' Chakravarti writes.
Therefore, a fair bit of the book is about Bangladesh, its past and present.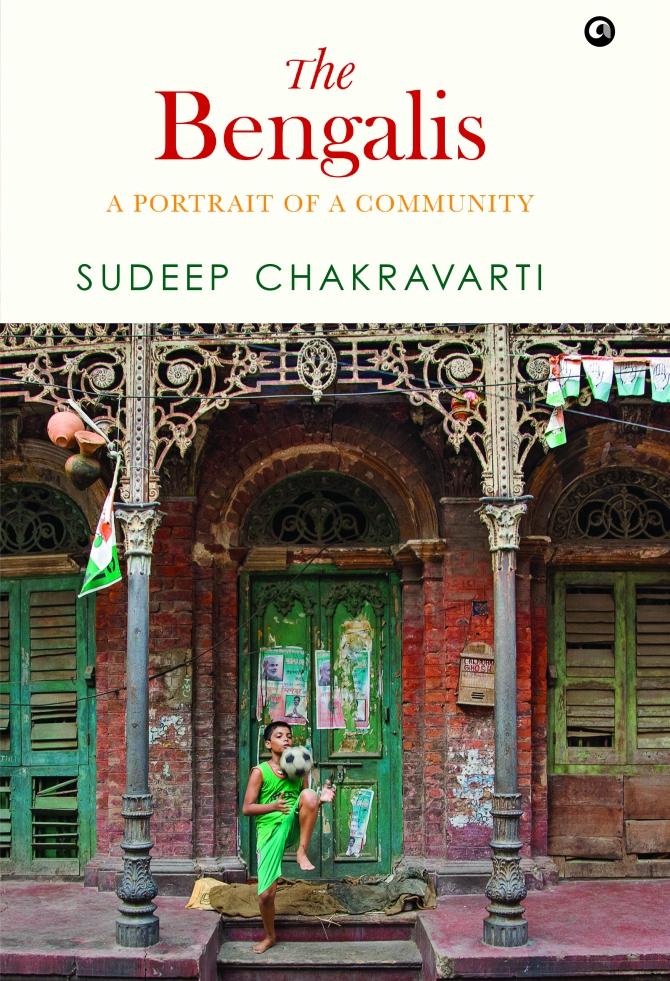 That's one way to look at this book -- those three sections.
But there is another three-layer slicing one can do.
First, there must be a sense of humour. The subtitle is, 'A Portrait of a Community'.
One can't go gaga over a community. The relish must come with the blemish.
I doubt a non-Bengali would have been able to write such a book. But even if he/she possessed the skills to write one, that would have been unacceptable to Bengalis. Chakravarti is, however, one of our own and therefore, his wicked sense of humour is acceptable.
That wicked sense of humour makes this book a great read and is particularly evident in the part called Culture Chronicles, apart from the Prologue.
Sure, the choice of topics/chapters in Culture Chronicles is subjective, as any such exercise must inevitably be. For instance, the definition of 'Bengali' in this section is largely Kolkata-centric. Unfortunately, one misses that sense of humour in the sections on Genesis and Age of Fire. It is almost as if the author controlled the humour because these were relatively serious subjects.
Of these, the Age of Fire covers issues (such as the Naxalite movement) on which Chakravarti has written extensively before, in books and as a journalist. There is much to think about here. Hence, this is the second layer of the slicing, bordering on policy issues.
But there is a third layer and that is the book of genesis, partly even the book of exodus.
This is less the author's own stuff and more what others have written. Most Bengalis are, or should be, familiar with this (I doubt they actually are).
This performs more of a dissemination role and I don't see why the sense of humour had to be controlled here. It is interesting, but relatively dry.
Within this excellent book, I think this is the weakest link.
'If you are not Bengali, to the Bengali you may not matter at all, even though this book is written as much for you as any Bengali, to know us and engage with us, although that engagement is a fraught exercise,' Chakravarti writes.
I think this is part of the problem with a book like this. It will remain a faux exercise because of the two completely different types of audiences.
Bengalis, unless they are really thin-skinned, should love it, even if they quibble and take it to shreds.
Non-Bengalis will get some sense of the big picture, but will miss the nuances. That's fine. 'You are what Bengalis call 'non-Bengali'.
It is closer to a non-person than persona non grata… By illogical extension, ethnically, intellectually, culturally and historically your every non-Bengali fibre, provenance, present and future may be construed by the Bengali chauvinist as being one of colossal insignificance.'