Who would have thought that tales of gods would sell in millions? But Amish, with his unique narrative vision, has captured the heart of the Indian reader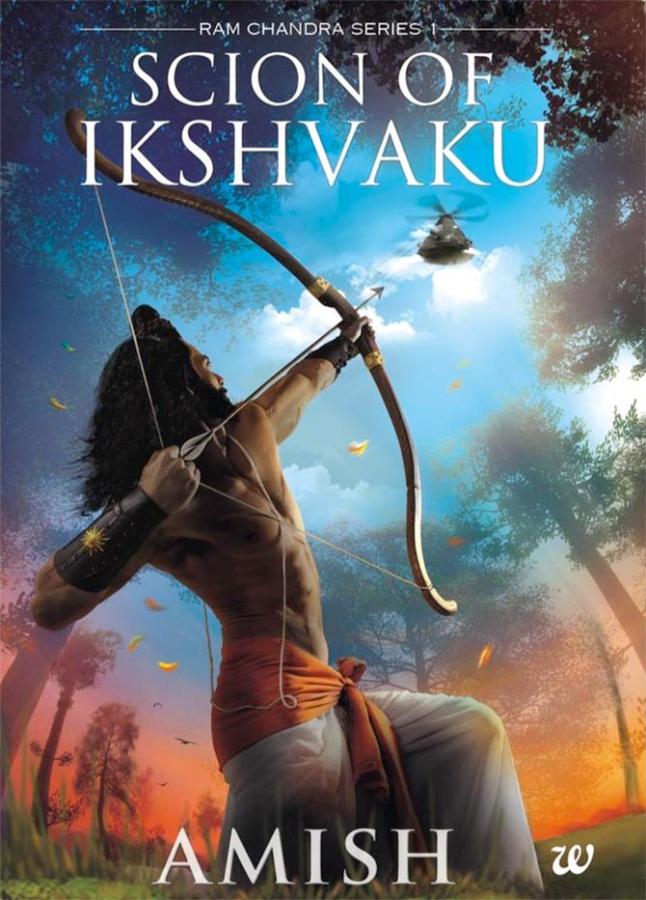 As I enter a chilly conference room at Delhi's India Habitat Centre, Amish Tripathi, or just Amish, as he prefers to be called, politely asks me to wait. He is jocundly posing for a bunch of photographers as a part of promotional activities for his new book. Amish is bereft of the pretentiousness that you would associate with a best-selling author. Dressed in blue jeans and a white T-shirt that has the cover of his latest book, Scion of Ikshvaku - the first of a five-part series based on Rama - emblazoned on it, Amish's proclivity to Hindu gods is evident the moment you sit down with him. As he begins to talk, I notice that his right wrist is adorned by a silver religious bracelet.
A penchant for Indian mythology and a unique style of visualisation and recreation have left the 40-year-old in a league of his own in a country where books aren't bought and sold in large numbers. His Shiva Trilogy, which comprises The Immortals of Meluha, The Secret of the Nagas and The Oath of the Vayuputras, became the fastest selling book series in the history of Indian publishing, selling over two million copies in all.
An embarrassed Amish struggles for an answer when I ask him what makes his writing so popular. A diffident smile is followed by a protracted pause as he tries to muster a response. "I don't quite know," he eventually answers. His agent and partner, Anuj Bahri, offers a more pronounced reply: "He writes good, simple books. There is no substitute for that."
Amish says that for him mythology is all about entering a parallel universe. "There are so many things that I see in that parallel universe. I try to pen down all those thoughts." "Of all that I see, I'm able to write only about 25 per cent," he adds. As Anand Neelakantan, a contemporary of Amish and one of the few authors to have experimented with mythological fiction, puts it: "Amish looks at Indian mythology conventionally, but writes in an unconventional way."
Scion of Ikshvaku explores the enigma of Rama Rajya - the Hindu concept of an ideal society. "If you travel across the country and ask people what an ideal society is, most of them will say Rama Rajya. But each of them will have a different interpretation of the concept. This book delves into the topic," explains Amish.
Funnily enough, in spite of his wondrous interpretation of Indian mythology, the Mumbai-born Amish hardly considers himself a creative person. After shuttling among schools in Rourkela - where his father worked for Larsen & Toubro - Ooty and Mumbai, he majored in mathematics from Mumbai's St Xavier's College and then went on to study management at the Indian Institute of Management, Calcutta. The next 15 years of his life were spent at three different banks, at the last of which he penned his first two books. "You don't expect a guy who graduated in maths and worked as a banker to be awfully creative," he laughs.
He attributes a lot of his fascination with mythology to his grandfather. From a traditional Shaivite family, Amish's grandfather was a pandit in Varanasi. In fact, even today his chacha (uncle) performs rituals and recites hymns on most religious occasions on the ghats of the Ganga. "His family's understanding of life and mythology is phenomenal," interjects Bahri. "He has inherited all these traits from his ancestors. This is what makes him special."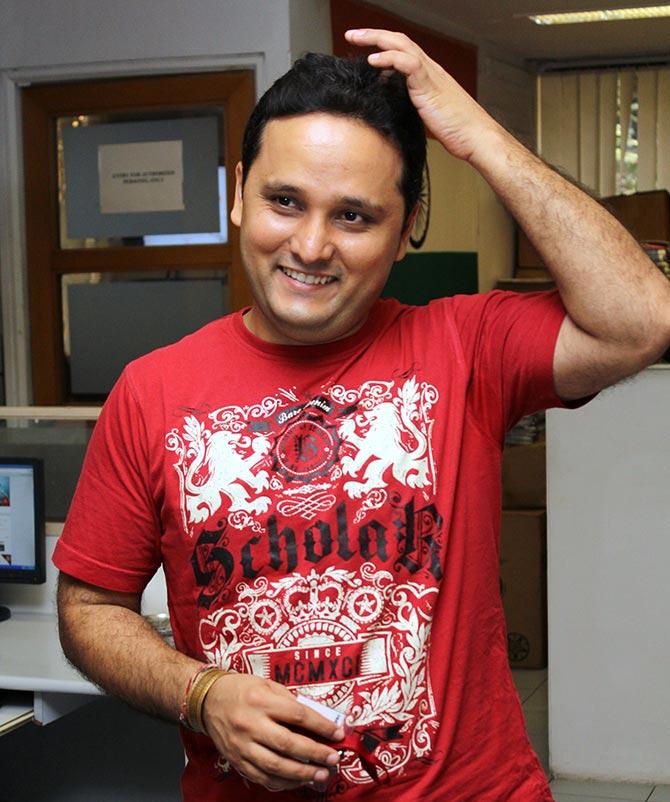 Hitesh Harisinghani/Rediff.com
But the adulation hasn't come easy. His first book, The Immortals of Meluha, was rejected by more than 30 publishers before Bahri stepped in. Bahri took care of the printing, with Amish looking after the marketing. "When the book first came out, he marketed the book himself, using all the experience he had gathered from his days as a banker," says Bahri. Along leveraging social media, Amish also gave away free copies of his book at various bookstores.
However, with the popularity of the book soaring, Bahri soon realised that only a bigger publishing house could take the book to more readers. Soon after it started selling under Westland, the book's new publisher, The Immortals of Meluha started topping best-seller charts. When Amish met with tremendous success with his first two books, he quit his job and decided to pursue writing full time. "The moment my royalty cheque exceeded my pay cheque, I knew it was time to go," he says. "Writing is risky business. You don't always know where the money will come from." His wife, Preeti, and elder brother, Anish, helped him take that momentous decision.
Gautam Padmanabhan, CEO, Westland, says that Amish has destroyed the myth that only low-priced books do huge volumes. "All Amish's books have been consistently priced at Rs 295, yet they sell in such numbers." In comparison, the books of Chetan Bhagat, another best-selling author, are often priced at Rs 95. "Amish's style is so powerful that it attracts readers," continues Padmanabhan. "In terms of ideas, there are things that make no sense to us, but to him they are perfect. On one level, he recreates a parallel world and on another, he leaves the reader with an underlining philosophy that is relevant today."
A lot of what Amish does now have their roots in the time spent in corporate boardrooms. Former colleagues and friends label him as somebody who is "extraordinarily well read". Aneesh Khanna, a former colleague who worked with Amish at IDBI Federal Insurance in Mumbai, says that in spite of the number of hours he spent at work, Amish always found the time to read. "Even then, I was amazed at the amount he knew. His understanding of everything at work, and otherwise, was superb," says Khanna.
Santanu Roy Ghosh, a Singapore-based banker and a colleague of Amish's at IDBI Bank from 2003-2007, describes him as an affable, well-grounded individual. "In the early 2000s, the private banking sector was untested waters. He made our company successful with his energy and charismatic approach," says Ghosh. That, in a lot of ways, is still reflected in his style of writing - racy and fast-paced. In fact, Amish surprised his friends with what he knew. Once, recalls Abhijeet Powdwal, another former colleague, Amish recited Harivansh Rai Bachchan's poetry on stage during a company event. "He was my senior and all of us urged him to get on stage and sing something. To our amazement, he went up and recited a poem that left all of us stunned. I didn't know that he knew such things as well," says Powdwal.
However, Amish seldom discussed mythology at work. Both Khanna and Ghosh concede that all his co-workers had little idea about his passion for mythology. "I could never think that he would go and write about something like this. But I'm delighted that he did," says Khanna.
Despite the plaudits that have come his way, Amish is clear that his contribution to Indian literature is minuscule. This lack of arrogance is also the rationale for his success. "There is a lot of wisdom in our past. That is what I try to showcase through my work. And the biggest lesson I've learnt is that you should not be arrogant," he says. But, as an author, Amish treads on tricky ground. What if his new book fails to deliver? "I've been a banker all my life. I'll pack my bags and happily go back to my old job," he smiles. Presumably, there will be quite a welcome for him there.