'Throughout his life, Ray was closer to the feminine touch than to the masculine.'
In exploring 'the material universe of Rabindranath Tagore through the eyes of Satyajit Ray' in her new book, National Ward-winning author Shoma A Chatterji also explores the feminist in the master filmmaker.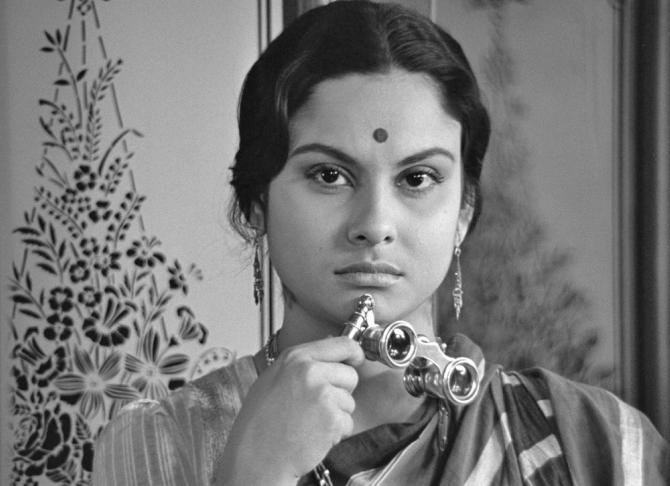 In Charulata -- based on Rabindranath Tagore's novella Nastanirh -- Satyajit Ray reached his 'peak' as a feminist filmmaker.

Laura Mulvey is often credited with having created, defined and elaborated on the 'male gaze'. The 'female gaze' is largely an unknown entity in cinema studies, as well as among feminists across the world.
Perhaps, within Indian cinema, it is anathema to films that still espouse the patriarchal cause. When one probes a little deeply into Charulata, one discovers that Ray, despite being a man, has 'gifted' his heroine, Charu, with her own point of view and her own female 'gaze'.
Before we zero in on this 'female gaze' in Charulata, it would be interesting to point out that Ray's concern with the woman and with her social emancipation began with Mahanagar, a contemporary film made in 1963.
He followed this up with two more films, Charulata and Kapurush, in 1965. He presents the women in these films not as the shadows of their men, but as individuals in their own right.
If one traces backwards, one finds Ray's empathy for women beginning with Pather Panchali, and it carried on to his last film, Agantuk. From Sarbajaya in Pather Panchali to Gulabi in Abhijan to Doya in Devi, Ray's empathy for women has been obvious.
But these women were victims of circumstances over which they had no control.
With Kanchenjungha, Ray gave the woman, Monisha, her 'voice'.
In Charulata, he reached his 'peak' as a feminist filmmaker; the insight with which he probes into Charu's mind and reveals it to his audience through the language of film is yet to find a parallel in Indian cinema.
What gave Ray his deep insight into the mind of Charu, a woman who 'lived' at the turn of the 20th century and fell in love with her husband's cousin? She is the only one among the three who has no crisis of conscience.
Bhupati feels guilty for not having devoted enough time to her, and blames himself more than others for his predicament. Amal realizes that he was about to betray his cousin's faith in him and runs away. It is Charu alone who does not turn away from her passion.
In her reconciliation with her husband, there is no sense of guilt, nor is there arrogance or pride. All that is left is a recognition of reality.
Ray's widowed mother, who was a single parent, rooted his acute sensitivity for the woman in his progressive Brahmo background and upbringing. The reasons lie within his origins in Bengali culture, and his class position in Bengali society.
Within India as a whole, at the time that Ray was growing up, the Bengali upper-middle class was the first to accept Western (particularly British) thought and culture, and developed a vital, and at the same time distanced and critical, relationship to it. Ray's forebears on both parents' sides were at the centre of movements that promoted the idea of a synthesis of Indian and Western culture. This was especially true of the Brahmo Samaj, into which Ray was born.
Women belonging to the Brahmo Samaj played a leading role in Bengal. His paternal grandfather, Upendrakishore Ray Chowdhury,joined the most radical group of Brahmos, the Sadharan Brahmo Samaj, whose founder, Dwarakanath Ganguli, 'opposed the more conservative moves of women expressed by the mystic-minded leader Keshubchandra Sen'.
Upendrakishore later married Dwarakanath's daughter Bidhumukhi, from his first marriage.
Dwarakanath himself married, when he was quite elderly, the young Kadambini Basu, one of his earliest pupils at the Bengali Woman's Institute. Kadambini was the first woman graduate in India under the British Empire, and later became India's first qualified lady doctor.
Ray's mother, Suprabha Ray, took her little son to live with her younger brother, PK Das, after her husband Sukumar's death. From then on, his mother brought him up single-handedly.
'I remember her as working,' says Ray. "She was a very hard worker. She used to do embroidery, clay modelling, drawings and sewing, and leatherwork also she had learnt at one time. She used to keep herself busy, and in the afternoons, I would be watching her always working, doing this and that and all kinds of things … My mother taught me whatever I had to learn, and I was very close to my mother … She taught me history, geography, arithmetic, English and Bengali in the early days, but she was very particular that I should be sent to a good school..
His marriage to Bijoya at the age of 28, after a prolonged courtship of 10 years, is another reason why his closeness to the woman question does not appear forced.
He broke several taboos in marrying Bijoya.
First, his relationship with her (she was his first cousin) did not permit marriage.
Second, she was older than him.
It comes as no surprise, therefore, that he would break 'taboos' through some of his films too.
Mahanagar is one example. But Charulata is the strongest feminist statement among all his films.
Throughout his life, Ray was closer to the feminine touch than to the masculine. One does not know whether he was conscious of this 'female' influence on him, but his films have time and again borne testimony to this subtle yet strong feminist streak...
It is neither possible nor desirable to abstract a female character from a Ray film and then analyse, dissect, interpret, or question that character. She is a part of an integrated whole, so enmeshed within the entire scenario that you cannot take Charu without referring to Amal and Bhupati, or even Mandakini, her sister-in-law. One cannot take her away from the Bankimchandra decorating the shelves of their well-appointed home, or study her apart from the swing that takes her on a nostalgic trip, inspiring her to begin writing.
Suggestion, metaphor, underplaying, subtlety of expression -- these are the hallmarks of Ray, especially with respect to his women. And these are precisely why this author chose Ray over everyone else.
His films, looked at as a body of work of an auteur, simultaneously depict a society where women are silenced, their experiences and particular insights undermined and dismissed, and convincingly depicts the legitimacy and coherence of women's position and experience.
Yet, they are all different from each other: Arati of Mahanagar bears not the remotest resemblance to Charu of Charulata (although the same actress -- Madhabi Mukherjee -- plays both roles).
Note, however, that men are not portrayed as the perpetrators of women's oppression.
Although Ray confessed to having slowly switched over to themes of social relevance only in the last part of his career, his earlier, 'literary' phase, where he explored classical writers like Bibhutibhushan (the Apu Trilogy), Tarashankar (Jalsaghar, Abhijan), Parasuram (Parash Pathar), Prabhat Kumar Mukhopadhyay (Devi), and of course, Tagore (Charulata, Teen Kanya, Ghare Baire), are no less socially relevant, especially with regard to life, fairness and justice.
As the films evolved into a final, creative work of artistic expression, one discovered that they had simultaneously -- perhaps unwittingly -- evolved into strong social statements as well. Two women from two of Ray's outstanding films, namely Charulata and Mahanagar, help to confirm this belief.
Excerpted from author Shoma A Chatterji's Woman at the Window with permission from the publisher Harper Collins.