Delhi-based author Zarreen Khan's second book Koi Good News? is a hilarious journal of a reluctant Indian couple's journey into parenthood.
Illustration: Uttam Ghosh/Rediff.com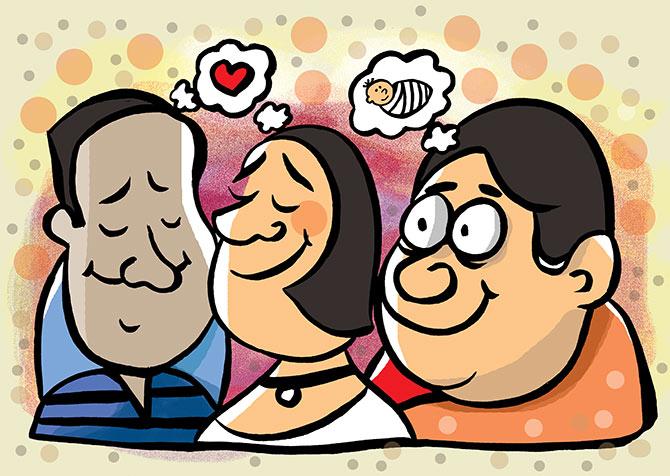 Ramit and Mona are married into a Punjabi joint family.
Four years into their marriage, they haven't had kids.
When Mona finally conceives, she has to deal with lack of privacy, overbearing relatives and tons of free advice among other things.
In Koi Good News? author Zarreen Khan details the journey of pregnancy and motherhood through the perspectives of Ramit and Mona.
As you turn the pages, the book will either make you break into peels of laughter or simply, put a smile on your face.
We bring you an excerpt from the book:
---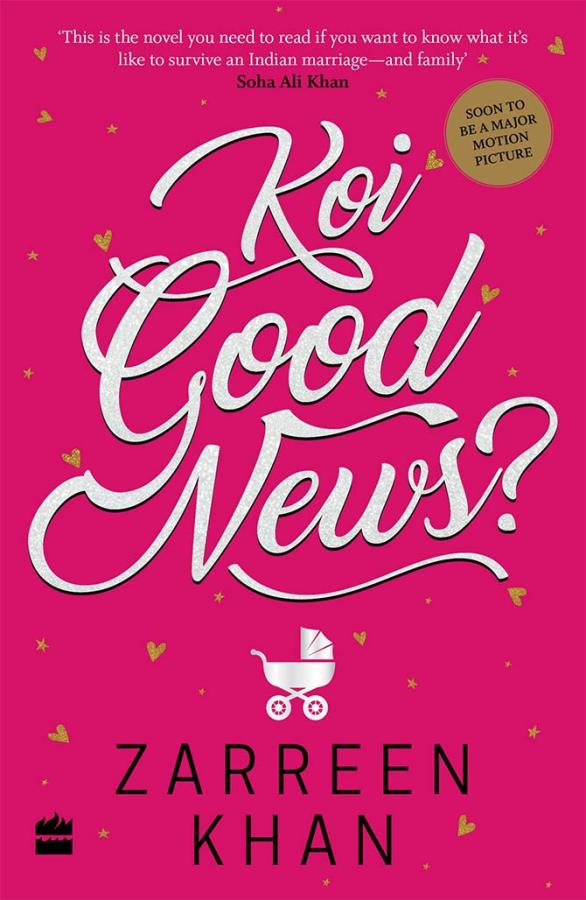 Ramit
We couldn't afford to have kids. Period. Don't know why Mona can't tell them exactly that.
Sometimes I wish I had warned her about the bheed before we got married.
To think of it, it was slightly evil to get Mummy-Papa to meet Mona and her family in her house in Dehradun rather than let them come and see the wildlife resort we live in.
Mona had innocently thought that since I was the only child, it was just Mummy-Papa and me.
But then again, Mona should have understood when I told her the baraat would be 500 people, and that it was best we had the ceremonies in Amritsar.
What did she expect? 500 friends?
Mona
So finally I'm meandering my way through the bheed, carrying in my arms the mewa ki dibbis that Chiku wants us to distribute during the pheras like she saw on some Pakistani show, when Mohini arrives with her post-honeymoon glow, her sindoor running down her forehead, her chura clanging as she hugs the junta and then, red-faced, announces she's pregnant.
My brain goes into overdrive. How!
She has only been married one and a half months! I'm sure they'd been up to something before the wedding, otherwise there is no way this could have happened.
I steal a glance at Mummy, who's clearly frozen in shock.
She's probably mulling over the same conspiracy theory. Then I realize that a lot of people are stealing glances at me in return. I suddenly felt very hot.
Toshi, the only one in the same boat as me, since she hasn't given 'good news' in the one year she's been married, (though she's twenty-five, and six years younger than me) tells me in hushed tones,
'Arrey! Kya jaldi thhi? Can't they keep their hands off each other?'
But I think Mummy's had enough now. She takes me up to my room, shuts the door discreetly, sits me down, wears her best school-principal expression and asks me seriously what the 'progress' is. I am mortified by these conversations.
I keep thinking she is picturing me having sex. She's even told me a couple of times how I need to 'enjoy it' and not stress about getting pregnant. Enjoy it! Those were her words.
So after turning multiple shades of red, I say the worst thing one could possibly say: 'Nothing.'
'Nothing!' she gasps, clutching her chest dramatically.
'You are planning, aren't you?'
Since all I can manage is a nervous 'well …', she explodes.
'Well? Mona! Ramit and you have been married for four years now. First he said he wanted to concentrate on his career. We didn't say anything. Then you left your job and we didn't want to put pressure on you. But beta, now you're thirty-one years old! Girls have a biological cycle, you know.'
I want to tell her that yes, I do know, I passed ninth-grade science, thank you very much. But she's Ramit's mother. I can't say that.
I just sit there, twirling my dupatta around my finger anxiously. But, I think I kind of understand the type of pressure she feels, with the other relatives asking her when she's going to start her grandparent quota. And Mummy does have our best interest in mind.
I think she does. Maybe.
'You know,' she looks around the room, as if to ensure that no one is eavesdropping, 'Perhaps you should go see a doctor …'
I twist my dupatta even tighter around my finger.
'You're both happy, aren't you?'
Not being able to produce a kid is clearly a mark of not being 'happy'.
I want to say something, I really do, but being with Mummy is like being in the principal's office. Words bounce around in your brain and nothing appropriate ever makes it to the lips.
I can't get myself to say a single word. Finally, she pats my knee.
'Ab kar lo, beta. Ab toh tumhara apna ghar bhi hai.'
Yes, like we hadn't been having sex because we were living in a rented flat!
Then follows the lecture that I dutifully nod along with, and as soon as it finishes, I run out at full speed. And promptly bump into the newly pregnant Mohini.
She gives me a look of such sympathy that I feel like strangling her!
Ramit
Almost choked as Shaan, Swaroop, Abhiroop and a couple of their friends engulfed me at the airport.
They took me directly to sheher to have some Babbu ka mutton tikka.
We watched as Babbuji slashed open a 200 gm pack of Amul butter and flung it on the sizzling pan.
A bead of sweat dripped into it and only when that crackled did he know that the pan was hot enough for the mutton.
Using a rusted knife, he hammered the chops and pushed them into the pool of darkening butter.
Then he picked the dirtiest cloth available, used it to wipe a steel plate and plopped the cholesterol on it.
I swallowed a rush of acid that rose to my mouth along with my pride.
My cousins seemed unaffected, and I couldn't have them think I'd become a fussy dilliwala.
Smacked my fingers and made the appropriate appreciative noises, then got some packed for Mona for effect.
The cousins clapped me on my back and we had decided the batting order for our gully cricket match before we even got home.
Mona
Yesterday, right before the sangeet, I had terrible acidity (bloody Babbu's mutton tikkas!) and spent the evening throwing up.
I was totally offended at how much joy my sickness was giving people.
I had just about returned from my first bout when an excited cousin, Suttu, went running to tell everyone I was throwing up.
The room was suddenly flooded with thrilled-looking people. It broke up a game of cricket – that's how serious it was.
Everyone asked me to lie down with my feet up and not take any medicines. I didn't get it at first. How naïve could I have been!
I had to throw up another couple of times before they let me have half a Digene.
I think I heard some people congratulating Mummy as well. Ramit was as confused as I was. He was the only one who kept asking me what I'd eaten – everyone else sniggered at his question!
When Ramit and I were finally left alone, he asked me gently if I were sure I was not pregnant.
I opened up my bag and thrust the half-empty pack of Whisper Ultra in his face.
'I'm currently using these. What do you think?'
I didn't care how awful I felt, I had to attend the bloody sangeet to make a point.
Ramit
Why can't Mummy have these embarrassing conversations with Mona instead of me?
She insisted on sitting me down to talk about not letting Mona dance at the sangeet, since throwing up obviously meant that my wife was pregnant.
I had to tell her all about the Whisper Ultra pack to finally get her to let me go. And then she muttered something about my lack of manners for discussing such private things with my mother.
Sex life, okay.
Menstruation, not.
So there we were. Mona insisted on dancing to all the Punjabi numbers so that all suspicion was thrown out of the window. And dragged me to the dance floor for company.
The speakers were blaring 'Lak twenty-eight kudi da, forty-seven weight kudi da'.
Mona snorted. 'Forty-seven weight. Here. In the land of pure ghee.'
Didn't want to say anything, but Mona hasn't ever been forty-seven kilos either, even if Dehradun doesn't have pure ghee.
'I feel like I'm at Prince Charming's ball,' Mona commented, shaking her head. 'Everyone here is wearing a gown! Including the duelling Daisy chachi and Nishi bua.
All except Mummy in her starched sari and me, of course, in my outdated anarkali. Look, even Dadi's outfit looks like a gown!'
As I turned to look, Roshini, Abhiroop's wife, came charging at me, first tripping on whatever golden monstrosity she'd draped herself in, then balancing her squirmy two-year-old dangling from her hip, and said, 'Ramit bhaiya, now toh you should also have a baby. Little Roshan needs someone to play with.'
As if I'm responsible for her child's entertainment! I offered the kid my iPhone.
Excerpted from Koi Good News? by Zarreen Khan, with the permission of the publishers, Harper Collins India Pvt Ltd.