We all have an inspiration when it comes to food, don't we?
For some it's their mother, aunt or father… for others, it is a famous food writer.
Fashion designer Wendell Rodricks is no different; he learnt to love food from his late aunt, an exceptional cook who loved to innovate.
'Her favourite word was 'blend'… followed by 'with imagination'. Long before I applied those words of wisdom to clothes, I learnt the basics from humble kitchen ingredients,' he writes.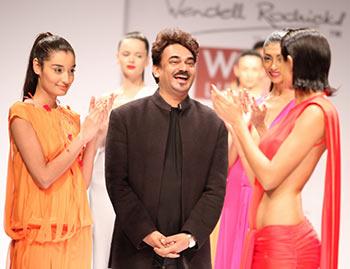 It was almost at the end of morning mass that a chapel bell begins to peal. The priest looks up at the high-vaulted ceiling of the Saint Francis of the Wounds Church in the remote Goan village of Colvale.
The blue ceiling of the apse is covered in gilted stars that reside in the church by day and escape to sparkle in the sky by night. The walls of the church are pimpled like a youth in acne bloom, interspersed with peeling paint, some pieces hanging mid-air on invisible cobwebs.
Too much salt in the water when they plastered the church has caused this sprouting and peeling. The salty water has risen brick by laterite brick, seeping through the laterite holes.
Defying gravity, the saline liquid has risen towards the vault leaving behind a uniform curtain of peeling and spluttering.
If you listen closely, you can hear the walls move and the paint splutter like bubbles rising to the surface. Quite like the sound of water that bubbles in the large copper cauldron over the log fire in blackened, soot covered, Goan kitchens.
***
On my way home, I feel the darkness of that moment when the owl darkened the sun, solar eclipse style. With each step, I approach the mourning chapel bells. Opposite my house, I can hear the plaintive voices of ladies in black dresses and long mantilla veils. Along with a few men in mothball-perfumed jackets, they are chanting a ladainha -- the rosary, sung in Latin.
In the darkened salon, Rosa lies in a purple felt coffin. Her face glows in radiant, peaceful repose. Am I imagining it, or has someone put a lit diya (earthen lamp) in her mouth? I have never seen her glow so.
Her alabaster hands riddled with pale blue-green veins clutch a sparkling crystal rosary. Those are the fingers that clutched my baby hands when we walked on the hills, plucking orange coloured cashew fruit, golden mangoes, purple jambools, ivory yellow chunnas, black curvandahs with blood-red flesh within. In her soothing voice, she would point out the otters in the river, a rare crocodile, dancing peacocks, an elusive wolf and singing bulbuls.
When we returned home at sunset, after the Angelus bells had pealed and we had said our evening prayers, Tia Rosa would arrive home with her cornucopia of goodies. Bolinhas coconut cookies made with village eggs, a green chutney sandwich made crunchy with grated green apples, a slice of bibinca flambéed in Cointreau. There was always some innovation with every preparation. She was an excellent cook. But she preferred to dine with her sister, my mother, since she was a lone spinster. Her husband was the kitchen, the apron her bridal dress.
Living across the road had many advantages. The biggest was that Tia Rosa taught me to love the colours, the aromas, the textures that resided in her kitchen, in her hands and in her wondrous mind. What was impressive is how she created fusion food long before the word was made fashionable by chefs around the world. Her favourite word was 'blend'. Followed by 'with imagination'. Long before I applied those words of wisdom to clothes, I learnt the basics from humble kitchen ingredients.
'Today I am going to teach you an easy tender coconut jelly,' Tia Rosa told me one hot summer morning. Damudor had plucked the matured coconuts the day before and was requested by Tia Rosa to bring down three tender coconuts as well. Now they lay gleaming like polished, waxed footballs larger than my face.
With expert flicks of her wrist, Carmeline the maid exposed the Calangute white, sand-coloured flesh, scooping the top off in a sabre stroke to reveal the clear juice within. Drained into a glass bowl, chopped scrapings of the tender coconut flesh was added to the coconut juice. Goan molasses coloured the coconut water a golden Muscatel wine hue. Melting a few strands of china grass gelatin, Tia Rosa expertly blended the gelatinous liquid with the tender coconut water.
'Now, my child, this is the regular recipe. What do you want to add to it?'
I scratched my mop of hair, chin resting at the level of the pink-veined marble kitchen top.
'Why don't we add you to the recipe?' I replied, winking at her.
'Excellent idea! Go to the garden and bring two pink roses from near the hibiscus shrub.'
In went the pale pink, perfumed rose petals.
That night, Tia Rosa said a special 'Grace before Meals', extolling the virtues of my creativity with the dessert. I was in rapture at the end of the meal when everyone commented that the rose petals perfumed the golden jelly, but did not overpower the taste of the coconut. Subtlety was a key ingredient I had learnt from my aunt.
***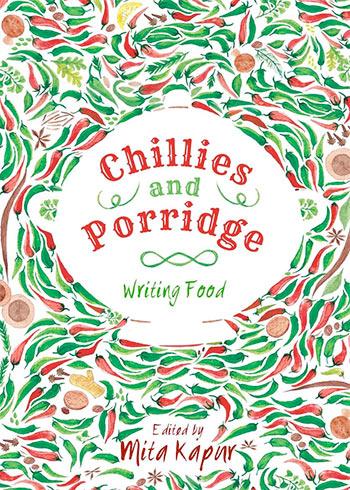 One day Tia Rosa told me with a twinkle in her eye, 'Tia Maria Fernanda taught me this recipe. We are going to elevate the humble drumstick vegetable to cuisine standards. I will teach you to make a drumstick mousse. Looking at my surprised expression, she added, 'Now close your open mouth and wide eyes, and help Damudor collect two dozen drumsticks from the garden.'
The drumsticks were cut into four-inch long pieces and boiled, two cups of the boiled drumstick flesh was blended with half a cup each of milk and drumstick stock, three heaped tablespoons of grated cheese, a tablespoon each of butter and breadcrumbs, and two pinches of baking powder. Into this batter went five local village eggs whisked to a froth, salt and pepper. An oven proof casserole dish was greased and dusted with breadcrumbs. Into the casserole went the heavenly mousse mixture and baked in a medium oven for fifteen minutes.
'Uncle Joao is allergic to eggs,' Carmeline pointed out.
Pat came Tia Rosa's retort. 'What are eggs? Protein, right? Use five tablespoons of yoghurt instead.'
The mousse is delicious when served warm or cold. Guests would ask in disbelief, 'Is this drumstick or asparagus?'
'Drumstick!' I grin, till today, and the shower of compliments follow.
***
I slip out of my thoughts when the stones and mud begin to fly on the coffin in its six-feet-deep cave. They look like the raisins, currants, orange peels flying into the Christmas cake Tia Rosa made each year. I recall how she slit and chopped 225 grams each of dried black raisins, white currants, orange peel and ground almonds and soaked them in a cup of Cognac three months before Christmas.
Two weeks before baking day, Tia Rosa would ensure there were twenty-four local gaunti eggs collected. Later, the entire household would be put to work. 'You blend 550 g butter with 350 g sugar till creamy. Carmeline, beat 24 egg yokes with 10 egg whites till frothy as lace.'
She would insist I stand by and watch as she blended the beaten eggs into the creamed butter and sugar, a trickle at a time. Flour and semolina, 225 g each, were mixed with one-and-a-half teaspoons of baking powder. This was folded expertly in a 'cut and fold' technique into the egg, sugar and butter mixture. In went the long-soaking, now plump with liquor, fruits with 100 g of sliced almonds.
Even now, at this final stage, Tia Rosa would use her 'blend with imagination' motto. To enhance the nutty flavour of the slivered almonds, a teaspoon of carom seeds was folded into the batter.
Poured into two greased and dusted cake tins, the cakes were baked in a medium oven for half-an-hour. During baking time, we were counselled to say a rosary for Tia Rosa or the cakes would be a disaster.
The aroma floated across the entire street and sent Aunt Emilia into a green rage. 'There she is again. Year after year she makes that damn cake which the parish priest raves and raves about, ignoring my coconut cake. Just because she is a spinster, dresses well and cooks better than anyone, all the men are at her feet. I am sure when she dies, Padre will say extra-long prayers at her grave.'
Which is exactly what happened!
At the end of the lengthy prayers for Tia Rosa's soul, lightening and thunder blister and crackle in the sky; the heavens open and huge drops of rain herald the Goan monsoon. Our tears mix with those from heaven.
As I leave the graveyard, I swear I can smell the aroma of Tia Rosa's Christmas cake wafting up from the earth.
It has stayed with me ever since.
Excerpted from the essay, Tia Rosa, by Wendell Rodricks, from Chillies And Porridge: Writing Food, edited by Mita Kapur, with the permission of the publishers, HarperCollins India.