'What if there is a pervert or a paedophile lurking in one of the flats? How will she protect herself? She's just 11 and a half.'

A chapter from Debeshi Gooptu's book of stories on life in Drona's village.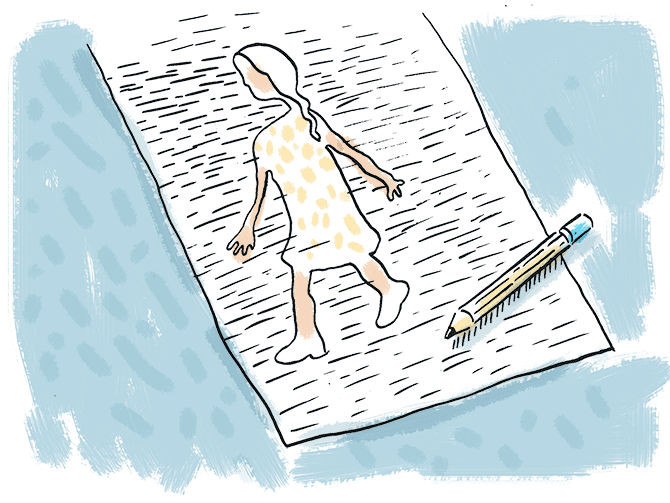 Illustration: Dominic Xavier/Rediff.com
Negotiations for trick or treating during Halloween begin every year at our home around the end of September.
Each year, my daughter begs and pleads that she be allowed to go from door to door, in the condominium we live in, asking for candies. Each year, my answer is the same -- 'No.'
Pleas become arguments which usually end in tears. This year, the tears have been replaced by a sulky silence.
You might think that I'm a harsh parent but Halloween is not a festival that is suitable for Gurgaon or even other parts of India. I don't like the thought of my daughter going to a stranger's house asking for candy. Who knows what kind of people she will run into?
There are some 900 flats in our complex. I don't know each and every person who lives here. What if there is a pervert or a paedophile lurking in one of the flats? How will she protect herself? She's just 11 and a half.
Most of her friends are allowed to go candy-collecting. That makes it even worse.
I become the demon, the Big Bad Mama in the general scheme of things.
When I ask her if I can accompany her, she looks at me as though I have just escaped from a lunatic asylum. 'Are you serious Ma? Have you ever seen parents going trick or treating with their children on Halloween?' she replies, throwing me a scathing look.
I remind her that yes, they do so abroad. But she's not prepared to listen. 'This is not abroad, this is Gurgaon,' she says.
The negotiations reach a stalemate and we don't discuss it for the rest of the year.
There is a reason, however, why I write about this.
On a Sunday evening, while my daughter was tucking into her dinner in front of the television, another little girl, around the same age as her, was out delivering ironed clothes to the houses nearby. She was a dhobi's daughter, the washerman who operates out of a makeshift stall at a street corner, laundering and ironing clothes in the neighbourhood.
A couple of hours later, my daughter was in bed, sleeping peacefully but the other little girl was dead. She had been raped, strangled and her lifeless body had been dumped in the bushes, like trash.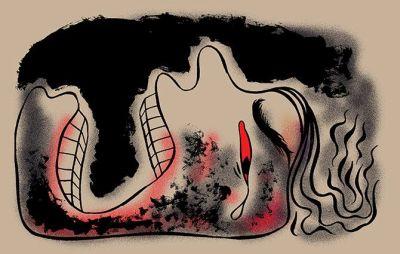 Illustration: Uttam Ghosh/Rediff.com
Every day, there are incidents of children being abused and killed in different parts of the Millennium City. A rape here, a murder there. Tiny paragraphs, tucked alongside the big screaming headlines, easily overlooked by people reading the newspapers.
Most of these children belong to the underprivileged sections of society -- children of servants, sweepers, cleaners, garbage collectors. They are mostly migrant workers from West Bengal, Bihar, Orissa and the Northeast who have come to Gurgaon in search of a better life -- not very different from you and me.
A few days ago, the heavily mutilated corpse of a 10-year-old girl was discovered in a vacant plot near the rented home she occupied with her parents. The girl was raped, tortured and killed. The culprit had lured the little girl while she was playing outside, possibly with a bar of chocolate or a toffee.
The savagery of the attack came to light when torture marks were found on her tiny body. The parents, impoverished garbage collectors from West Bengal, were helpless. What could they do? Who would help them get justice?
There is justifiable outrage at how unsafe the Village has become, how we need to protect ourselves and our children from the monsters that have infiltrated our haven.
The newspapers mention the drivers, conductors, migrant workers and the countless other people who have been spotted loitering around residential areas. There are stories about how the boom in Gurgaon's real estate market and subsequent increase in construction has led to an influx of people from all parts of the country, creating a law and order situation.
Inevitably, the finger of suspicion always points to those who are less privileged than us. Depravity and poverty go together, at least in our limited view of things.
I don't agree with that at all.
What if it was someone like us, in both the cases? A monster living in a fancy house or a kothi nearby? Someone known to the girls, a regular client who lured her into his or her house? With something as innocuous as a candy.
Have we forgotten what happened at Nithari? Sure, it was the servant who was charged with committing those horrific crimes. But what about the master of the house? Do you honestly expect me to believe that he didn't know what his help was up to? Weren't the unsuspecting children and women being procured for him?
In both these cases, the police seem to have reached a dead end in their investigations.
I'm not surprised. Are they even looking in the right places? A couple of reports here and there and, in another couple of days, the newspapers would have lost interest as well.
The girls will become another statistic denoting how unsafe the NCR is.
The parents will be running from pillar to post to get justice.
The culprit will be free, roaming the streets, luring more innocent children to their death.
My cook tells me that a man approached her on the main road outside our condo the other day. He was good-looking and driving a fancy car. He told her that he needed someone to go over to his place to do some odd jobs. 'Hop on,' he said. 'My house is down the road. I'll drive you there.'
When the woman refused, saying she would follow his car on foot if he drove slowly, he laughed and said, 'Are you scared? Do you know how much money I have? I can give you some of it.'
To her horror, she saw that he had a duffle bag next to him with some bundles of cash inside. The poor woman was terrified. She turned around and fled.
'Did you get the car number?' I asked her later. She shook her head sadly. 'I don't know how to read and write Didi.'
It's not Halloween yet but the monsters are already out. Now tell me, in a place as horrific as this, do we really need to celebrate another spook fest? A festival which teaches children that it's okay to be scary, one even gets rewarded for it?
Food for thought? Or would you prefer the candy that your child collected from trick or treating in the neighbourhood!
Excerpted from Debeshi Gooptu's Gurgaon Diaries with permission from the publisher Rupa Publications.