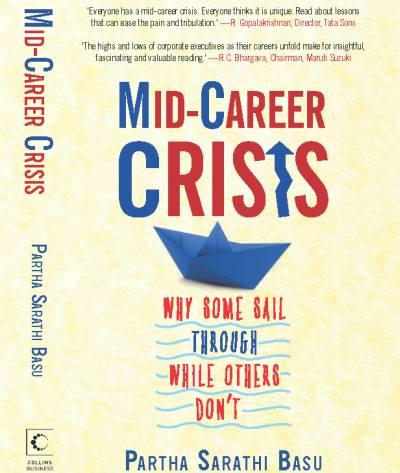 'You should not burn yourself by taking yourself too seriously. Don't believe in the myth that you are the only solution to all the problems or no one is as competent as you are.'
Do you, too, take yourself seriously? Do you feel insecure about your job? Do you believe in the myth that you are the only one in your office with Midas's touch?
You need to take a break, says author Partha Basu, who in his latest book Mid-Career Crisis: Why Some sail Through While Others Don't, tries to find answers to many such questions about Mid-Career Crisis (MCC) through near life stories about the three stages of the MCC: Confusion (C), Change (C) and Misery (M).
The book also contains real life stories of 11 CEOs/Partners on how they have tackled their MCC.
We carry the excerpt from the Mid-Career Crisis: Why Some sail Through While Others Don't:
'Drop the idea that you are Atlas carrying the world on your shoulders. The world would go on even without you. Don't take yourself so seriously': Norman Vincent Peale
The first myth is believing that we are the solution to all problems in the world, or an alchemist of sorts. Many successful professionals start taking themselves too seriously, believing that only they can solve all problems and nothing in the organization can move forward without them.
This is the time to take a step back and ask ourselves one basic question: If I need to be present everywhere to solve problems, why did the organization employ so many individuals?
It reminds me of Johnson, someone I closely interacted with for many years.
Johnson was the Singapore-based regional sales head in south Asia.
At the time, he worked for a soft drinks major. An MBA from a top institute, he had a coveted career. He joined the company as a management trainee fifteen years ago and rose fast. His peers recognized his intelligence, hard work and brilliance. His juniors loved him for his leadership skills, and his seniors recognized him as a critical talent.
Johnson's whole life revolved around his work. His friends often joked that cola, not blood, ran in his body. He took pride in that, since nothing mattered to him more than his work.
I met Johnson for the first time at a global management trainee programme. I remember him as a young man, full of positivity, joy and energy. His smile was infectious and being around him was a pleasure. The batch of sixteen management trainees was divided into four groups for a one-year stint. Johnson and I were in the same group. Thus, we lived together, travelled together, learnt together, and shared office gossip together for the next 365 days.
Over time, I left the company, while Johnson continued. However, we stayed in touch and remained friends.
I was proud of his achievements. He was a rising star in the corporate world. Whenever I met any of my old colleagues, we would always talk about Johnson. While I was genuinely proud of his achievements, many people envied him and credited his success to luck, being at the right place at the right time, etc. I guess that was a natural response.
Last year, I decided to visit Johnson to spend some time with him. I reached Singapore after a few months of planning. My trip got delayed or cancelled several times since getting free time in Johnson's calendar was difficult. He was too busy travelling. He finally agreed to meet me in July, which was lean season for him.
I landed on a Saturday, planning to spend the whole week with him. He promised me that he would take a week off. However, the day I landed, he mentioned that he needed to attend office. But he promised that he would be able to manage his work schedule better and would return home early.
We did spend a good Sunday, partying. But then, as the work days started, he barely had time to spend with me. Johnson was too busy to find time even for himself.
He explained his routine to me. He travelled between sixteen and eighteen days a month and worked every weekend.
His day at office started at seven in the morning. To be precise, the moment he woke up, he would start looking at his phone to check messages and reply. His day in office would not end earlier than nine in the night, which would often be followed by a networking dinner.
For the first few days, I was surprised to see his dedication and stamina. But then I watched him closely and I began to miss the Johnson I met many years ago. I found him too engrossed in his work, ignoring everything around him. I discounted my thoughts and said to myself that people do change over time, which is fine.
But I knew I was trying to cover up for my friend.
That whole week, though I was at his house, we barely met.
Every morning, Johnson would apologize and promise to return home early. But the script was repeated; he was busy in office or was out for dinner.
I knew he was stretching himself. I was concerned and so, on the last day, I decided to talk to him. As we spoke, I analysed his past few weeks and asked him a few critical questions. Being an old friend, he answered honestly.
'You seem eternally busy,' I said.
'Yes,' he replied confidently. 'My job demands hectic work hours.'
I nodded and asked, 'You mentioned that this is your lean season. Then what keeps you so busy? Any emergency?'
He was sarcastic in his reply and said, 'You consultants will never understand the pressure in the corporate world. While your job is all about telling others what to do, we in the field actually execute. It requires a lot of hard work, my friend.'
I ignored his sarcasm and asked, 'What makes you travel so much?'
'I travel since I need to meet my employees and my customers.
How do I know what is happening across my region if I do not travel?' he said.
I said, 'Fair enough. But do you think all your travel in the last few many months was necessary?'
Johnson replied, 'Obviously dude, otherwise why would I spend so many nights away from my home?'
I asked, 'Looks like you are indispensable to your company.'
'Of course I am,' he said. The smirk on his face was visible and I could sense arrogance in his voice.
I did not react and asked, 'You mean that if you are sick for a few days, the company would stop performing?'
'Well, not really. But the business will definitely suffer,' Johnson replied.
Johnson fumbled when I shot my next question: 'Are all those dinners that you attend necessary?'
'What do you mean?' he replied. I could see him getting defensive.
'I mean what I mean,' I said.
'Well, I guess so. Not attending some of them is definitely possible, but then I am not sure which ones to avoid, and my not being there might have an impact on the business,' he said.
I heard him and asked, 'How many people work for you, Johnson?'
'I have 325 people in my region, seven report to me directly,' he said.
'Do all of them work for fourteen hours every day, go out for dinner almost every other day and travel fifteen days a month?' I asked.
'Definitely not. I believe in their work–life balance,' Johnson replied, almost thumping the table with confidence.
'Then why don't you follow your own belief?' I asked politely.
'I do not since I need to resolve issues. You must understand the kind of responsibility I carry on my shoulders,' he said.
I laughed and asked him, 'Are you sure that no one else can solve those issues that you intend to solve yourself?'
Johnson did not answer, but I got my message. He was a clear case of MCC.
Let us reflect on Johnson's story.
Is this not a case of taking ourselves too seriously? I could imagine the dedication and confidence Johnson had, but the problem was confidence had crossed the threshold to become overconfidence. The life Johnson was leading would, over time, give him a lot of worry and pain, and the only person who would get affected by this change in attitude would be the person himself.
We are not born to be present everywhere or solve all issues.
The corporate world is a conglomerate of many people and all of them are needed to contribute to run an effective organization.
Thus, we must be responsible to perform our tasks, and be mindful to deliver more than what is expected from us. But, at the same time, we should not run around unnecessarily and burn ourselves for no reason. We need to learn to delegate effectively and trust each other's abilities.
The moment we realize that we are afflicted by the Midas Touch Syndrome, we should take a step back, laugh at ourselves and let go of a few things.
Logically, with an able team behind us, nothing should fall apart. In fact, we will do good to many of our colleagues by allowing them to perform and take more responsibility.
A senior once told me, 'Our corporate life is a journey. We must run fast but, at the same time, we should also learn to sit back, relax and enjoy our journey to the top. You should not burn yourself by taking yourself too seriously. Don't believe in the myth that you are the only solution to all the problems or no one is as competent as you are.'
I still thank him for his advice.
Lead image: Book cover of Mid-Career Crisis: Why Some sail Through While Others Don't
Please click here to purchase a copy of the book
Excerpted from Mid-Career Crisis: Why Some sail Through While Others Don't with kind permission from HarperCollins India