Anuj Tiwari has written four English novels so far.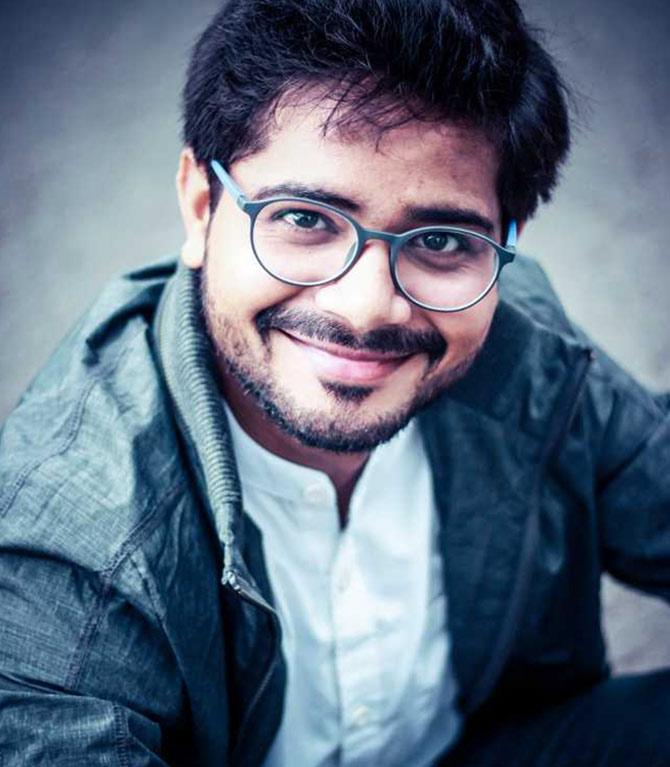 Photograph: @AnujOfficial/Twitter
Having studied in a Sanskrit-medium school and watching other children read English books, life has come a full circle for small-town author Anuj Tiwari, who now has four novels in the language to his credit.
But the journey has not been an easy one for Tiwari, who was born and brought up in Uttar Pradesh's Bareilly, where he dreamed of writing books, but kept those dreams to himself.
"I have not read any book... I come from a school where there were no English books and seeing my neighbourhood reading colourful storybooks, I started building dreams about writing books rather than reading them as that looked fascinating, but I kept those dreams to myself for fear of being mocked at," he says.
Tiwari says his Sanskrit was much better than his Hindi, and of course, than his English. But it was his determination to impress someone that led him to write his first book (Journey of Two Hearts in 2012) that changed everything for him.
"Life is so stubborn and teaches us everything that we don't want it to," the 29-year-old remarks about the seemingly daunting task.
Two more novels followed in the course of next four years, turning Tiwari, who writes inspiring stories based on real-life incidents, into a motivational speaker too.
Tiwari, whose latest I Tagged Her in my Heart, brought out by Rupa Publications, hit stores recently, insists that more than commerce inspiration drives his writing -- when asked why he has stuck to the same genre in his fourth novel.
"I only write what inspires me. There are no commercial benefits I think about before writing a book, or there is nothing I am stuck at. I feel connected with what I write, and I make sure that my readers feel the same. I enjoy what I am doing, so that continues," he says.
Asked about the purpose of his books, Tiwari says his first two books were autobiographical, while the two that followed were inspirational: "And that's the sole purpose why I continued writing. My books are real stories.
"When we are in trouble, we know people cannot solve our problems, even the ones close to us. But we do need those people to provide us with a shoulder to cry on and to make us believe that we are not weak.
"My books are those shoulders."