On your upcoming trips to Ladakh we surely hope you guys keep these tips in mind. Ride safe and don't get lost in those wondrous mountains that are a beauty but are terrifying too! Ride safe! Photographs: Reuben NV/Rediff.com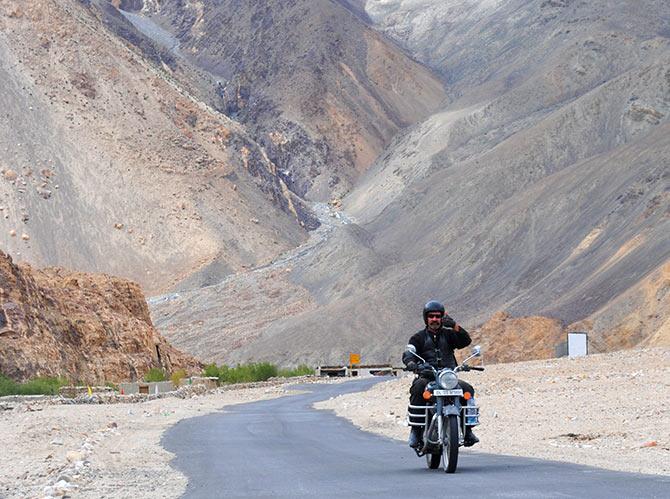 So, it's almost that time of the year where it's nearly time to travel to Ladakh. Everyone's busy gearing up, preparing their bikes and forging out the road to take; all in all planning at its very best has already begun. While everyone spends time preparing for the ride, we'll help you out with a list of mistakes to AVOID while on the trip.
But before you begin the ride, make note of point one!
1. Avoid excess baggage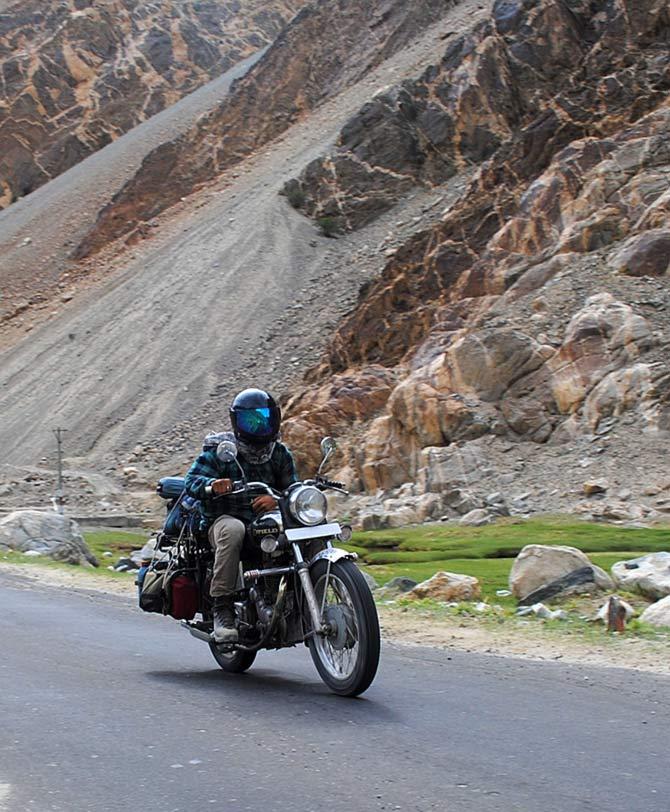 The key to effective long distance travelling is to travel light. Well we do know that it's a difficult task to achieve when you have to litreally carry your life's belongings on your bike, but what's gotta be done, has to be done! Carry essentials, especially energy bars, dry fruits, cup noodles, a minimum of 1.5 to 2 litres of water per person, torch with extra cells, emergency medical kit (a must) and of course clothes, your precious cameras which should be well packed, padded and cushioned.
2. Don't forget to carry a raincoat
Travelling to Ladakh without carrying a raincoat is as foolhardy as walking in the rains without an umbrella. You get the drift right? Carry a raincoat. Period. By all means go ahead without one and we are sure you'll pretty much regret it... sooner rather than later!
3. Not carrying spares: A gross mistake!!
You're stranded in the middle of a slushy road somewhere before Keylong and your clutch cable is broken. You think desperately on how to navigate a tricky terrain with a broken clutch cable and 'why in the name of the lord would you want to ride with a broken clutch cable' we ask?! *sigh* 'it's because I forgot to carry a spare!' We are sure you don't want to be that unlucky one stranded somewhere because you didn't have a spare. Lesson learned: Carry a spare for everything.
4. Hello... Hello... Hello... Damn! The network's so bad!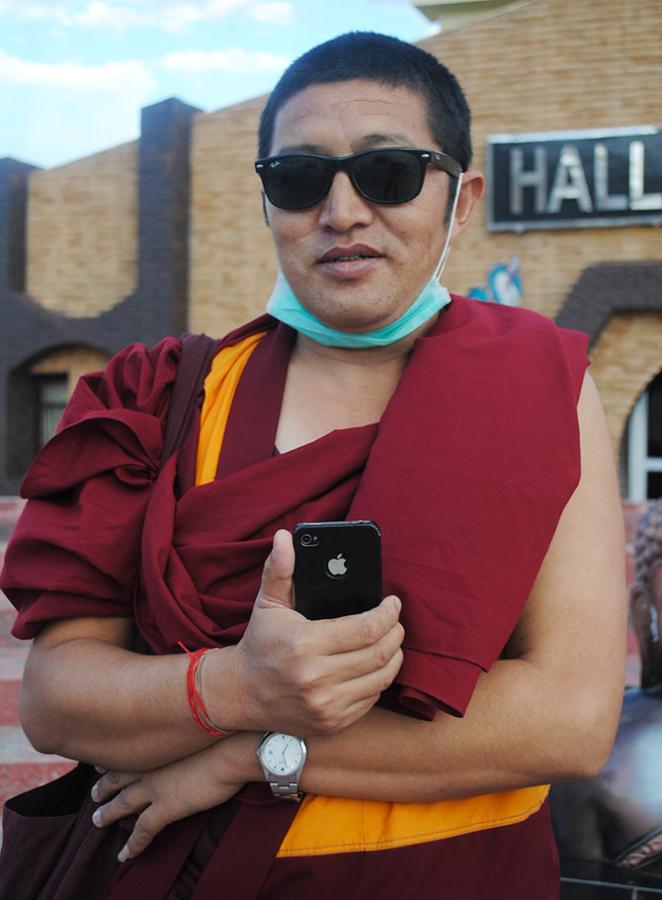 Having problems informing your family about your whereabouts? It's bound to happen right if you go in for a private telecom operator. Go government. Go BSNL. It sure works every time if you have a postpaid BSNL number. And please try not to be stingy guys because you don't want to be stuck without balance on a prepaid card right?
5. Tasty food... Pricey food!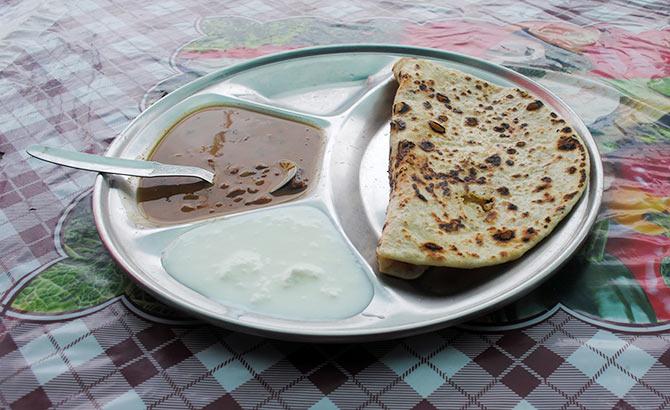 We understand survival of the fittest when you have no choice to take what's available at whatever price is being sold. But hey, paying 250 bucks for a bowl of soup served by a roadside vendor is ridiculous! This happens when you don't ask the price beforehand when in actuality the soup costs a mere 50 bucks! Be aware and don't get cheated.
6. Nature rules... Always remember!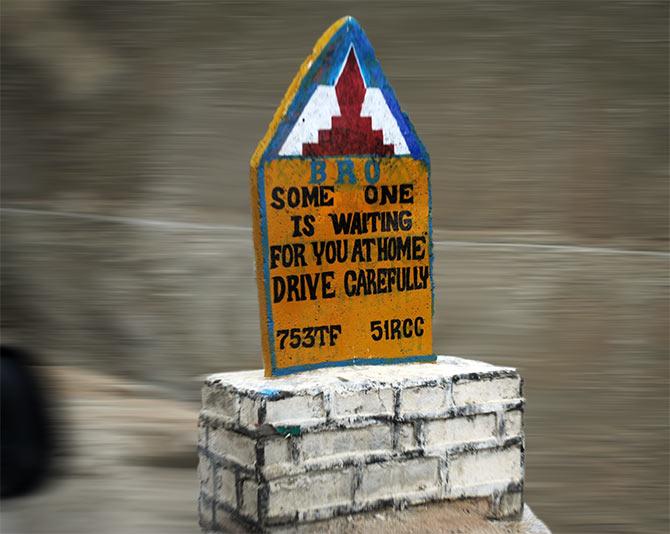 Wow... it's so bright and sunny, I might as well take a chance and ride a bit further rather than making a stop so early. And you vrrrooommmm away! But hey, thirty minutes on and it starts raining. You're like completely lost.
Lesson learned: Never ever underestimate Mother Nature when travelling to Ladakh. She can be good or she can very simply choose to be bad and there's nothing you can do about it. So suck up and be prepared to face the worst because nature rules.
7. Just a bit further... a couple of kilometers more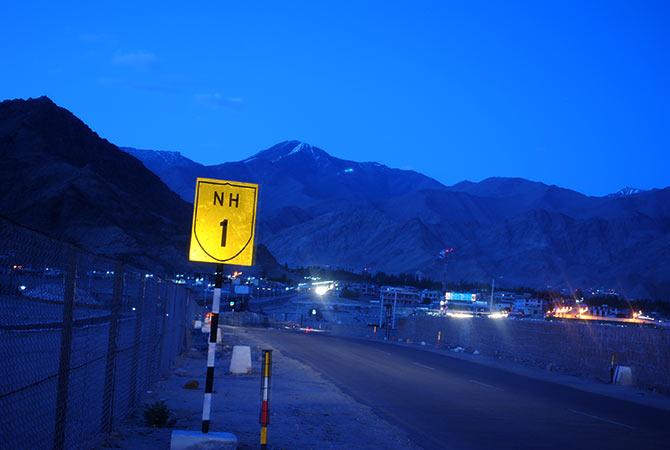 It's almost dusk and you're pushing yourself to reach your destination for the day according to your ride plan but it's yet another 100 odd kms away. You take that chance on an unknown terrain, not knowing what lies ahead. This we say is a big NO... NO! Never ride on those hilly, slushy and stone filled terrains at night... after all you never know what's in store after dark. Scary eh?
8. Need help? Be polite!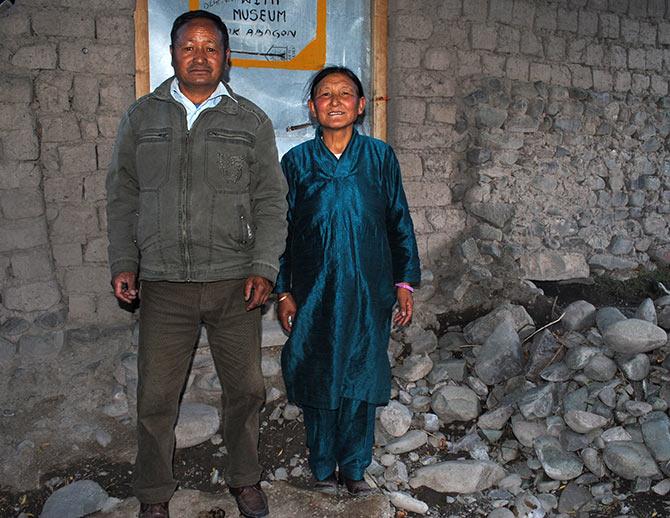 You are lost and you need help. You end up asking a local for directions. Any guesses what you get in return? A harsh stare and probably some foul words in the local language... not understandable to you of course, but hey! All we are saying is when you are on the road make sure you are polite to the locals because what goes around, definitely comes around!
9. Separation = Isolation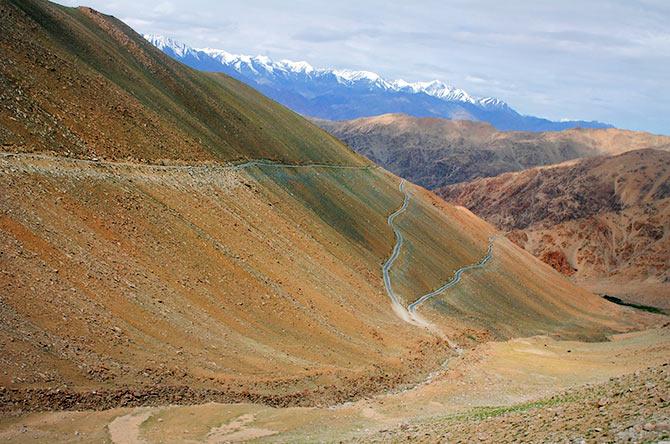 Oh my! This is surely something we all dread on those terrifying hilly terrains; separating from our fellow riders, getting lost and staying hungry and probably those mountains will swallow you up once and for all! Okay guys, we know it's an exaggeration but stick to your pack at all times to avoid such situations.
10. Don't overdo it!
Hold your thoughts there! What we mean is once you start ascending the air levels become so thin that along with riding you will also have to pay attention to your body for any signs of motion sickness. The moment you feel it, pull over and rest for a few minutes and take relevant medication. You don't want to black out while on your bike. Imagine the repercussions... *shuddering*.
11. Oh hell! I am outta cash!
Predictable 'eh when today we have ATM's at every nook and corner of our cities, it just becomes a habit depending on 'em. Well, no more once you are en-route to Leh. ATM's are far and few in between. Always keep that roll of extra cash close to your chest. Fear no bandits!
12. Tame that tummy and quench the thirst!
You have nearly 8-10 hours of riding time ahead and you forgot to have breakfast along with forgetting to refill that all essential H2O... what are the consequences? We are sure you don't want to faint somewhere in the middle of the road, with no help around right? So without fail make sure you eat your fill and carry adequate water!