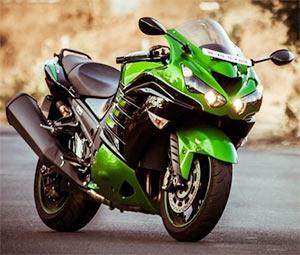 The Kawasaki Ninja ZX-14R stands tall among all superbikes, says Narendra Sharma.
Every relatively large capacity motorcycle wants to be dubbed as a 'superbike'. But frankly, only a bunch of them are worthy of it.
The Kawasaki Ninja ZX-14R stands tall among all superbikes. Why?
Because this is a motorcycle which doesn't try too hard to explain itself; in fact it doesn't need to. We were left mesmerised while experiencing this Hulk of a machine.
Design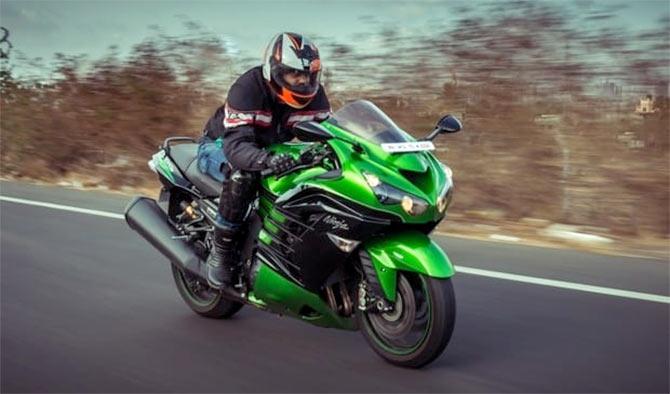 The Ninja ZX-14R is a full size sports motorcycle. It has huge proportions which makes it look different from most motorcycles.
With intimidating looks, the ZX-14R stands out in a crowd, not to mention the attractive green colour it comes in.
The front fairing is all flared up and has a wide headlamp cluster embedded in it. The quad-headlamp assembly includes parking lamps.
A ram-air duct is present above the headlamps, in the centre. The fairing extends to the side with a four-fin 3-D pattern, and overall gives the bike an imposing look.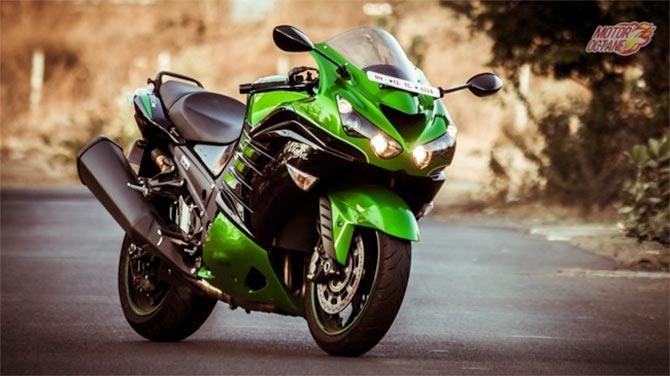 The tail seems well-sculpted and has embedded turn indicators. The taillamp is white coloured with LED lamps within. The seat is large and makes riding very comfortable especially for long hours.
Despite the width, short riders too can manage to keep their feet on the ground.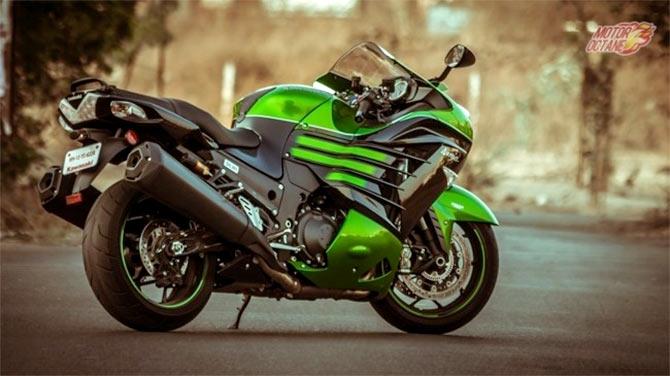 A new instrument cluster makes its way on the ZX-14R 2016 edition. It has two dials for the analogue speedometer and tachometer.
There is a large LCD screen which can change colours. The screen displays various information such as range, average, outside temperature, battery voltage, power mode and traction control settings.
These settings can be selected and viewed via a toggle switch on the left side switchgear. The switchgear quality is excellent.
Performance
The Kawasaki Ninja ZX-14R 2016 is one of most powerful production motorcycles in the world. A 1441cc, in-line four cylinder, DOHC engine is on duty here.
It makes a crazy power of 198bhp@10,000rpm and a torque of 158Nm@7500 rpm.
The spread of power is phenomenal despite having so much of it. At no given point is it uneven and the bike has loads of power on tap across the entire powerband.
The low-rpm response too is gentle and aids in city riding. It does not have that sudden surge of power that can unsettle you in traffic.
We just loved the linear power delivery.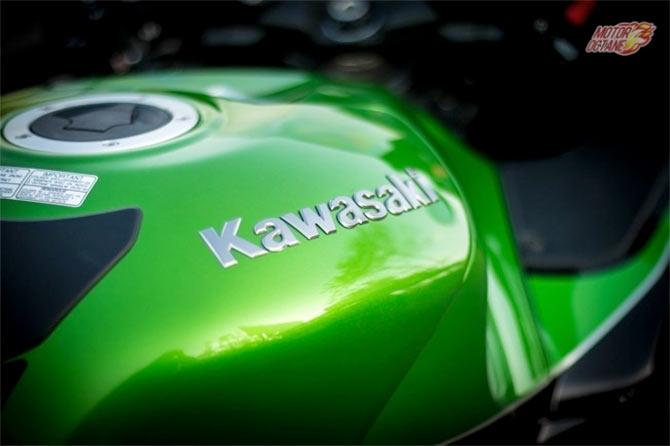 The ZX-14R comes fitted with a six-speed manual gearbox. The 2016 model has a recalibrated ECU that has kept emissions in check without sacrificing on performance.
It achieves triple digit speeds effortlessly and the bike cruises very calmly at 140km/h. I could manage a top speed of 200 km/h, before which the road gave way.
One would often find our roads insufficient while exploring the potential of the ZX-14R.
The exhaust note is quite muffled and it can pass by without being noticed by the way it sounds. This is a reason why I would like to call it a Silent Killer.
It can crush egos of anybody on the road, in a quiet and refined fashion. This is a bike for the matured, experienced and serious rider. Far away from toys.
Ride
The Kawasaki Ninja ZX-14R 2016 gets a monocoque chassis which has been designed to deliver light handling and keep the motorcycle manoeuverable.
The frame's aluminum castings and forgings give unique rigidity characteristics to the bike. The riding experience can be altered with a host of electronic aides present.
There are three traction control modes (KTRC or Kawasaki Traction Control), which cover a wide range of riding conditions, offering either enhanced sport riding performance or a relaxed one for slippery surfaces.
The traction control can be switched off.
The ZX-14R is not one with the most comfortable riding position, but being a sports tourer it isn't cumbersome either. It feels uneasy in city and it takes a while getting used to handling it.
There are two power modes: low and full. The low mode can reduce power by up to 25 per cent of the full capacity. It also has a milder throttle response.
A combination of power and traction modes can be selected based on rider preferences. During our test, there was considerable difference noticed in each of the modes.
The bike performed at its best with the full power mode combined with traction control mode-1.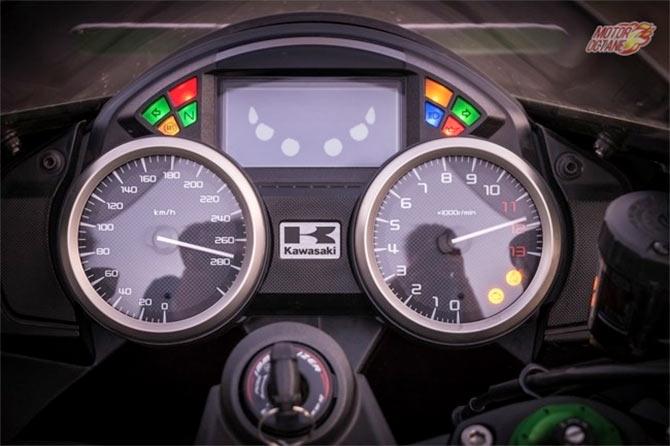 Handling
The 2016 ZX-14R comes with front 43 mm inverted forks with compression and rebound damping with spring preload adjustability and top-out springs. The rear has Bottom-Link Uni-Trak, Ohlins TTX39 rear shock with piggyback reservoir and remote preload adjuster, compression and rebound damping and spring preload adjustability.
The ride quality has been improved. It has wide and well-cushioned seats. Though being a XL sized bike, it felt rather nimble on the road, also changing directions suddenly is no problem at all.
The 2016 edition has new brakes.
These are new Brembo brakes which are the same as the ones used on the Ninja H2. There is a dual semi-floating 310 mm Brembo discs at the front and a single 250 mm disc at the rear. The brakes don't give you a sudden bite, instead perform progressively.
They do an amazing job in halting this mighty machine. This is one of the best features on the ZX-14R.
Mileage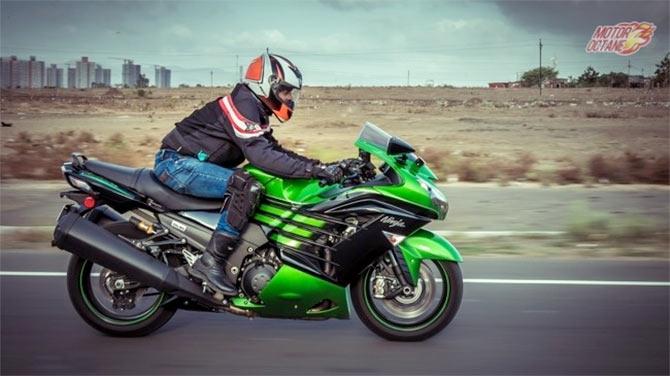 The Ninja ZX-14R returned an overall mileage of 13.5 km/l. This was mainly in city conditions. We think this is quite healthy for a bike of this size and capability.
Price
The Kawasaki Ninja ZX-14R is priced at Rs 20.5 lakh (on-road, Mumbai). This is sold in India via the CBU route.
Why should you buy it?
The Kawasaki Ninja ZX-14R is one the fastest production bikes of all times. It is meant for serious riders who can extract the best from this bike and get a unique experience riding it.
The Ninja ZX-14R is best enjoyed on open highways or even on the race-track.
The sheer size and intimidating stance of the bike will set you apart from the crowd and it is a head turner. The 2016 edition now comes with enhancements compared to its predecessors, consequently making it a much better package.
If you are a sports bike lover who is willing to spend around Rs 20 lakh and also love to ride long distances, then look no further, because it can't get better.
MotorOctane.com is your one stop shop for news, views and reviews from the automotive industry. It is meant for car and bike enthusiasts -- whether they are considering a new purchase or just wanting to stay abreast of the industry.