The premium motorbike segment is seeing a lot of buzz with a series of new launches and facelifts. But as more two-wheeler manufacturers get keen on the opportunities, they are also rattling the stronghold of Bajaj Auto's flagship, the Pulsar.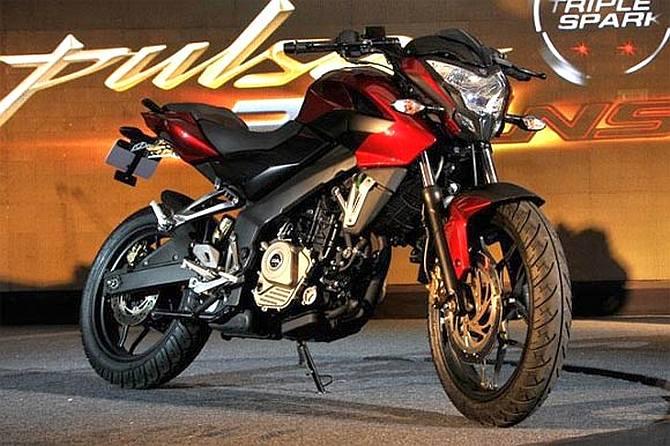 Companies like Yamaha Motor India, Honda Motorcycle and Scooter India, Suzuki Motorcycle India and TVS Motors are all geared up to make inroads. It is a market for Pulsar, with a market share of 42 per cent, to lose. It has given its maker a lead in the 150-250-cc engine segment.
While Yamaha just gave its crown jewels, the FZS and Fazer, a new look, besides a positive tweak to the engine, Suzuki has quietly introduced a new model, Gixxer, in the 150-cc space.
While Yamaha, which has five models under its fold, clocks the second-highest sales in the premium segment, Suzuki is the smallest player with just three offerings. After focussing on the scooter segment for the past two years, sources say Yamaha is planning to refocus on premium bikes, which brought the Japanese company recognition in India.
India's second-largest two-wheeler maker, Honda, is not far behind. It will launch a new 160-cc bike in the next couple of months, besides its existing premium bikes like the Unicorn, Trigger, CBR 150 and CBR 250.
Honda's new premium bike, which according to sources, will be an upgraded Unicorn, will mark a shift in strategy. Though scooters have been its cornerstone, it had sustained a focus on economy bikes for the past three years, where former partner, Hero, dominates.
YS Guleria, senior VP, sales and marketing, Honda, says, "The 150-cc segment has shown growth of 23 per cent in the April-September period, making it the second-largest segment after scooters. Even in difficult times, the segment reported growth. We cannot ignore it."
Meanwhile, TVS Motors, the Venu Srinivasan-led company, is also preparing to take the covers off its most powerful bike. Next year, its premium motorcycle brand, Apache, will see an upgrade to 200-cc from the current 180-cc.
TVS would launch premium products born from its partnership with German car and bike giant, BMW towards the end of 2015 and will be in the 250-cc and above range.
Bajaj's comeback
But Bajaj is not one to take competition lightly, especially when Pulsar is one of the two products that has helped it become the most profitable two-wheeler company. Rajiv Bajaj, its managing director, promises more products in this segment but refuses to divulge details. However, sources say that the Pulsar 150, which is India's largest-selling premium bike and its elder cousin Pulsar 180 will be getting upgrades. The last time Pulsar 150 got a cosmetic change was three years ago.
Despite launching a cheaper Pulsar with a 135-cc engine five years ago, the more expensive Pulsar 150 remains the best-seller. Though Bajaj says, "Each brand SKU (variant) satisfies its intended customer and delivers the expected profitability; it is incorrect to assume that the cheapest SKU should represent the largest volume." The Pulsar will get a shot in the arm later this year, when Bajaj launches its most powerful variant, equipped with a 375-cc engine.
Bajaj hopes that the transition of the Indian buyer from a humble 100-cc to a premium bike will continue. Earlier a premium bike was bought for infrequent use, but today, riders in search of higher power to cruise and overtake on highways, are shifting to 150-200-cc bikes for their daily commute.
"The share of premium bikes will rise steadily. It is a logical evolution of the market", Bajaj says. Bajaj's Discover, which was brought back from hibernation for the economy segment, was given a 150-cc engine in August and is already clocking 'healthy' numbers, according to the company.
But as per data from the Society of Indian Automobile Manufacturers, premium bikes have reported a marked decline in sales. From 2.9 million units of 125-250-cc bikes, in 2011-12, sales settled at 1.5 million units last year, though it was higher than sales recorded in 2012-13 at 1.49 million units.
"The demand contraction in the previous years was due to downtrading by customers who chose small engines and high mileage as fuel prices peaked", notes an auto analyst.
However, premium bikes will get a boost, with assembly operations of superbike makers being set up. While Harley-Davidson already assembles, UK's Triumph would follow suit next year. Bajaj, too, upon launch of its CS400 and SS400 concepts showcased at the Auto Expo earlier this year, would get into the league dominated by Honda, Kawasaki, Suzuki.
The 150-250-cc bikes could then become the sweet spot, for volume and value, in such a market.
Photograph: mypulsar.com