They turn cars and bikes into stunning works of art.
Rediff.com's Rajesh Karkera meets the man behind the Cartists initiative.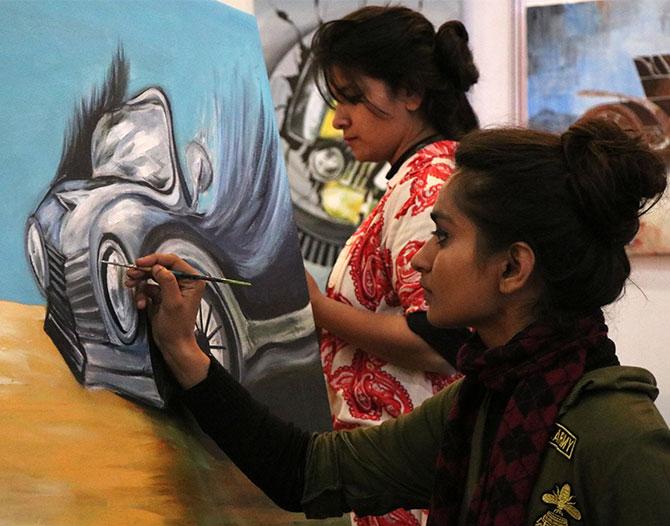 Farheen, 21, an art student from Delhi in the Cartist pavilion at Auto Expo 2018.
Photographs: Rajesh Karkera/Rediff.com.
At the edge of one of the halls at Auto Expo 2018 was an area cordoned off by two huge containers.
It was striking not only because the containers looked like works of art, but perched on top of them were cars that had been turned into an artist's canvas.
Inside, some young artists -- students of Jamia Millia Islamia and Delhi School of Art -- worked on auto themed canvasses.
This was the Cartist pavilion.
Cartist is an initiative founded by Himanshu Jangid from Jaipur, who was a commerce student, but also wanted to pursue his hobby of restoring cars and turning them into works of art.
In Cartist he saw the opportunity to help promote art and young artists while indulging his passion.
He started the initiative two years ago with a 10-city "yatra" that saw almost a thousand local artists joining him along the way.
Jangid took Rediff.com on a tour of the Cartist pavillion.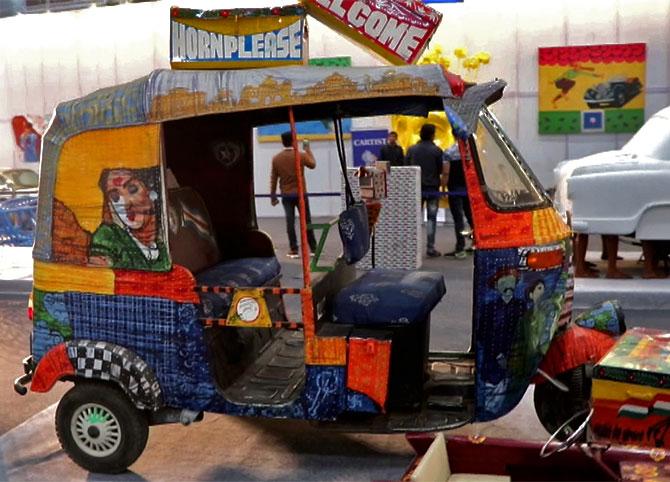 "When Cartist was born," Jangid said, "we painted around 150 auto rickshaws for the Government of Rajasthan. At that time, our Chief Minister Vasundhara Raje sat in one of our creations from her residence and took a ride in it till her office."
This autorickshaw art was done by an artist from Pune during Cartist's 10-city yatra.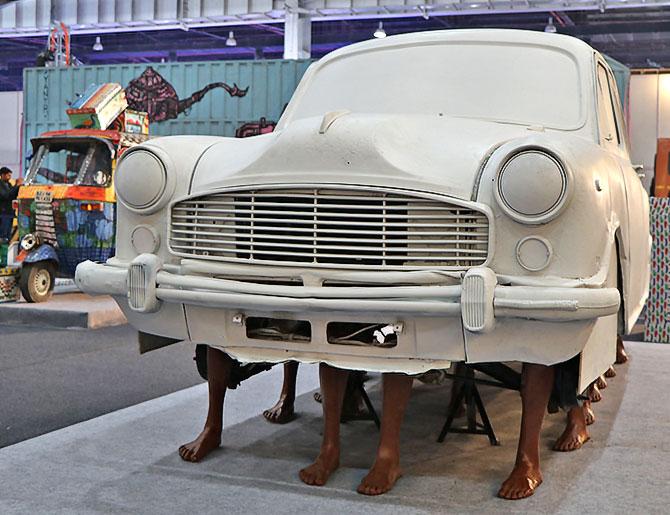 The ambassador will always be a legend of Indian automobile history.
Here, artist Varun Kumar tried to depict that even though the production of the car has stopped, the legend remains.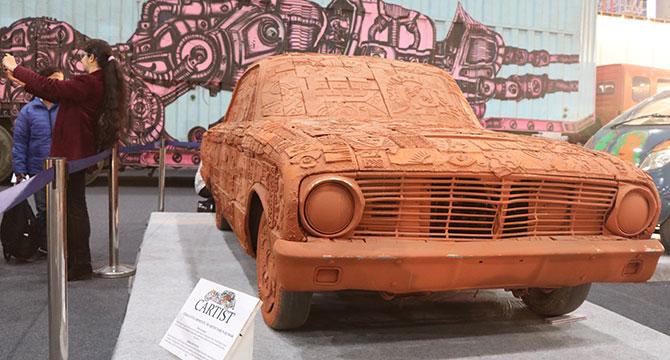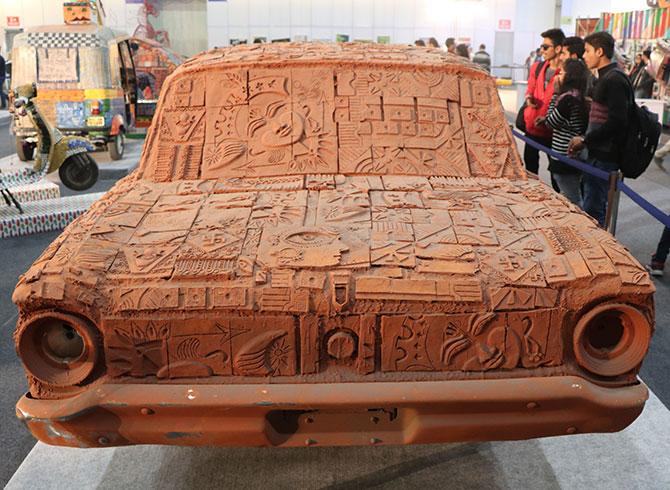 A Ford Falcon converted into an art installation depicting the traditional Indian art of Terracotta.
The artist, Varu Kumar from Jammu and Kashmir, holds a specialization in sculpture making which includes clay modeling and terracotta work.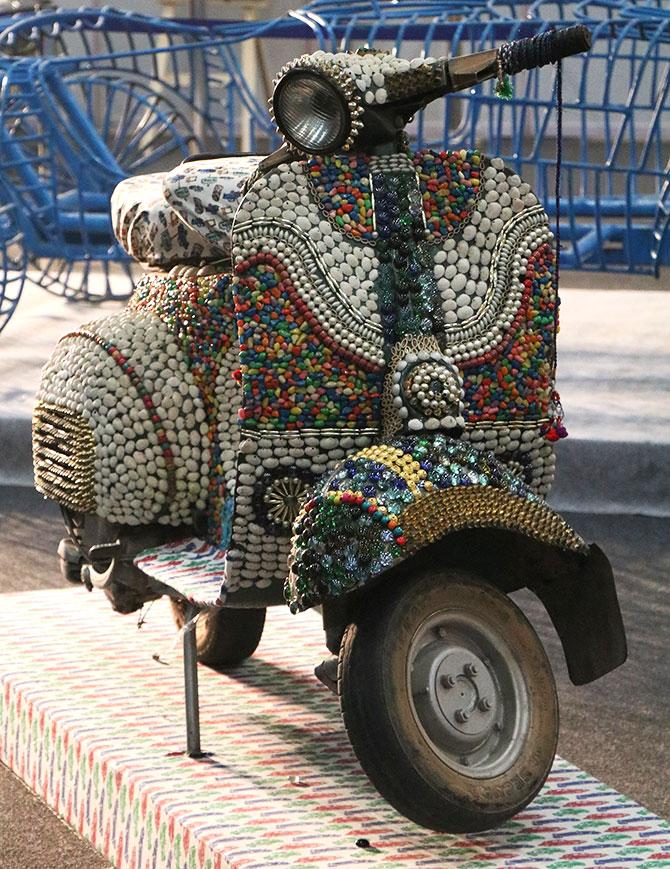 Jewellery on Wheels by Saloni Soni.
Saloni, who hails from the Pink City of Jaipur, has a working style that is as colorful as the culture of Rajasthan.
She started working on this scooter with the idea of rejuvenating what is long lost.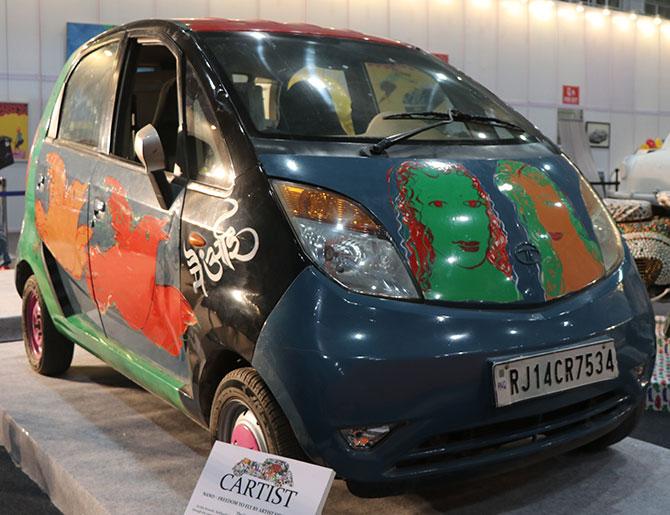 Nano -- Freedom to Fly by Artist Sidhharth.
Known to create magic with mineral pigments acquired from nature, Sidhharth's work -- which includes masonry, murals and friezes -- often speaks of unchartered territories and mystical lands. In this artwork he has combined the desire to fly with a pop culture referance. The car has the words 'Tu Chal, Main Aayee' painted on it.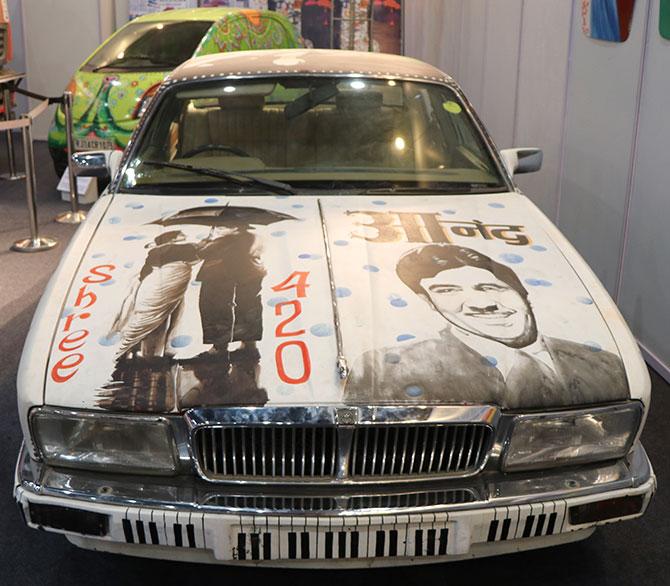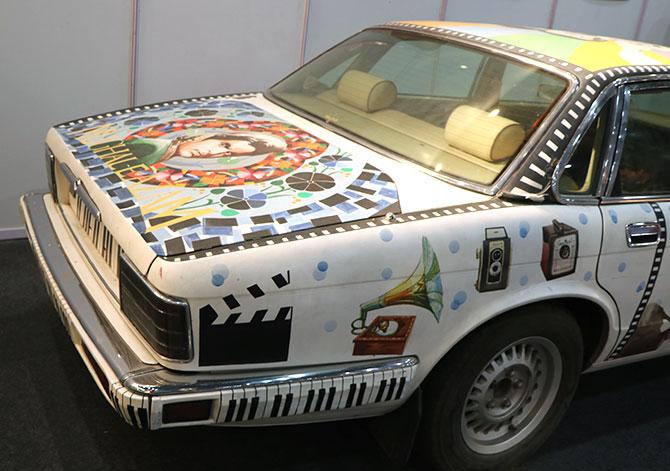 Bollywood Chaska by artist Aakash Ram.
The artist from Orissa has a great obsession for all things Bollywood.
In this artwork he depicted the milestones of Indian cinema.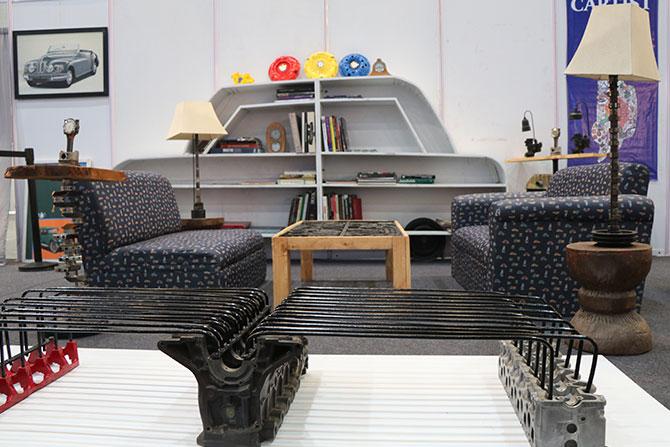 The Cartist pavilion also had, what appeared to be, an interesting seating area.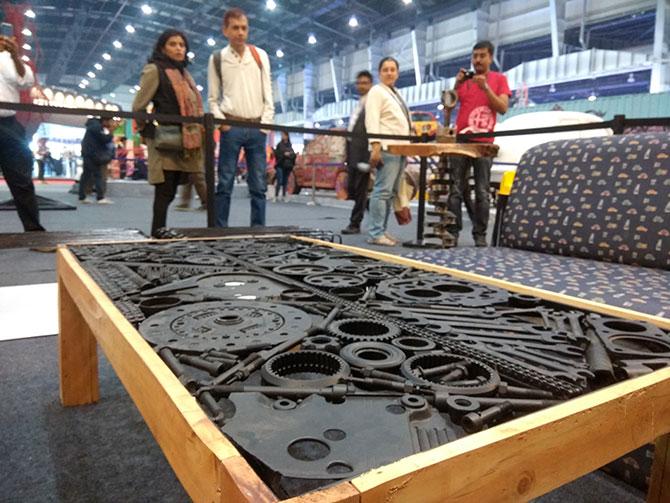 But it was a display of very unique home furniture. Everything displayed here was actually made of car parts.
The centre table had gears, bolts, clutch plates.
There were tables made with open engine casings, and side tables made using old radiators.
There was a clock made of pistons and table lamps made out of carburettors.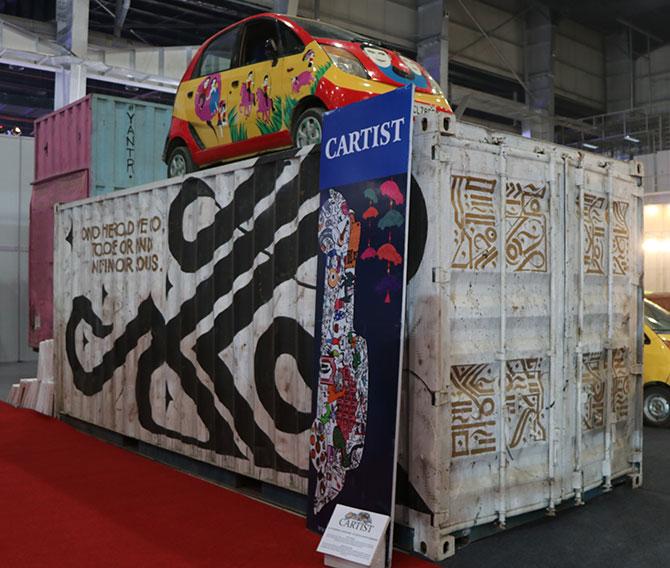 How does Himanshu Jangid get all these artworks from one place to another?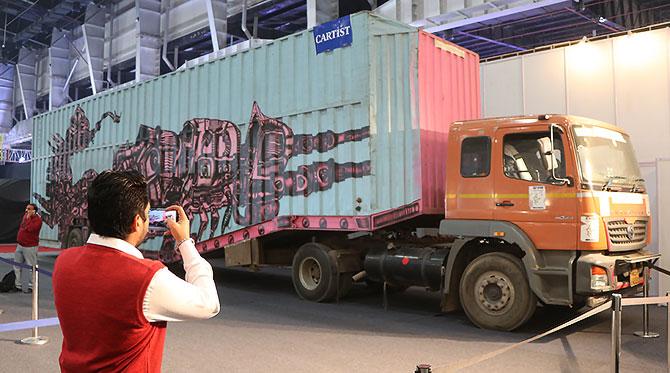 The transport carrier that Cartist uses is also a work of art.
The painting on the container depicts an old chariot that has been turned into a modern machine.
Meet Himanshu Jangid.
Video: Rajesh Karkera/Rediff.com.