Will Bad Girl Riri crush King Kylie's billion-dollar dream?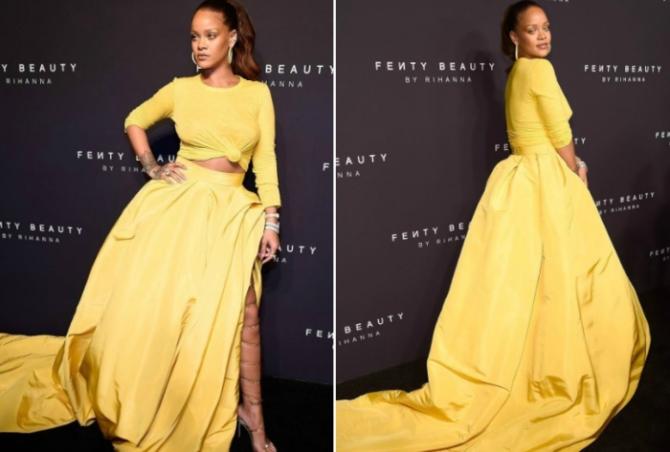 Rihanna wore an Oscar de la Renta ball-gown skirt and a matching nubby sweater on top to the Fenty Beauty launch in New York and instantly set off Beauty and the Beast analogies.
Lead photographs: @fentybeauty/Instagram and Tim P Whitby/Getty Images.
Exactly a month after Women's Wear Daily revealed that Kylie Jenner's Kylie Cosmetics was on its way to becoming a $1 billion brand, the reality TV star and businesswoman is facing some serious competition. Singer Rihanna has just launched her own beauty line, and from the looks of it, she is already miles ahead.
Rihanna, 'who considers make-up her weapon of choice for self expression', launched her Fenty Beauty collection online and offline yesterday on the sidelines of the ongoing New York Fashion Week.
According to Vanity Fair, 'She arrived at her Fenty Beauty launch in Brooklyn, and every beauty editor, and still more fashion editors, dropped whatever NYFW task they were doing and made the trip.'
And the launch, from what we hear, was totally worth the travel from Manhattan.
The inaugural Fenty Beauty collection includes 91 variations of products, covering everything from foundation, concealer and correcting sticks, blotting powder and papers to highlighters, shimmer Match Stix and a single, universal lip gloss. The collection will also include makeup brushes and tools.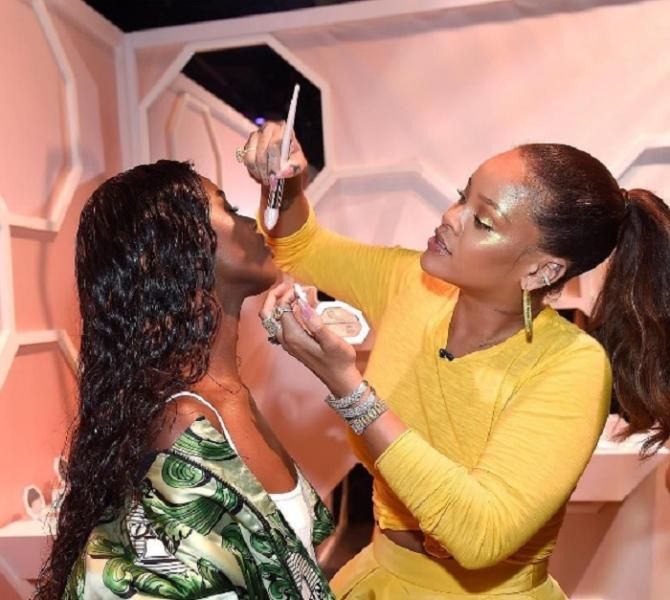 One of the many reasons why people haven't been able to stop talking about Riri and Fenty (which is her last name).
Photograph: @fentybeauty/Instagram.
The singer is being hailed for keeping her word about inclusivity.
Since the news about Fenty Beauty began floating, Rihanna has been vocal about creating products for women of all races and their multitude of skin tones. And she has done so by including 40 different shades of foundation. A fact that is very important when you realise that the beauty giants of the world are still mostly creating make-up for women with lighter skin tones.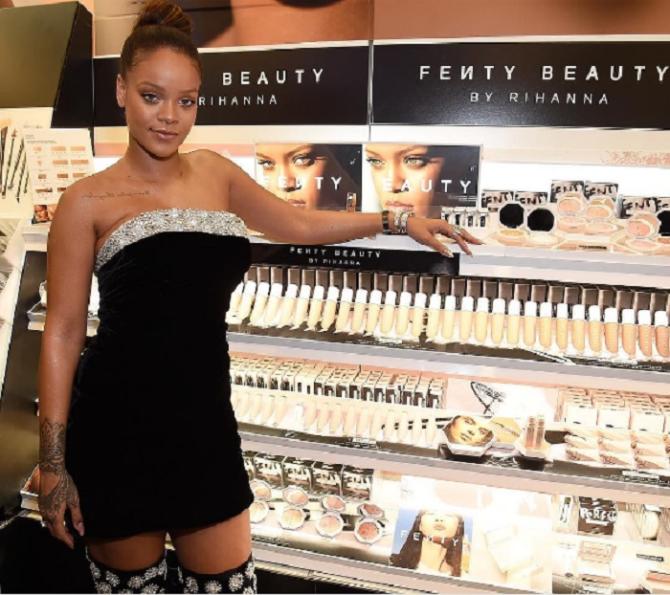 This is not the Bad Girl singer's first foray into the world of cosmetics. She has collaborated with MAC between 2013 and 2015.
Photograph: @fentybeauty/Instagram.
Industry experts are already pretty sure that Fenty Beauty will be a success story.
Newsweek writes, 'If Rihanna's history with the fashion industry is any indication, fans shouldn't expect the first round of Fenty Beauty products to last long. When the Wild Thoughts singer first teamed up with Puma -- she was named the athletic brand's creative director in 2014 -- her first sneaker from the partnership, the Fenty Puma Creeper, became the most sought-after shoe of 2016.'
'The first release of the Creeper, which debuted in September 2015, sold out in three hours.
'When the $135 sneaker was brought back in May 2016 for a third release, it sold out in 35 minutes...
'Buyers' high anticipation for more Rihanna-designed goods resulted in the 29-year-old debuting her first official collection of streetwear, dubbed Puma by Rihanna, in September 2016' -- a collaboration that helped the company rake in 'almost $1 billion in sales by the end of Puma's fourth quarter, according to Bloomberg.'
According to Forbes, Rihanna is worth $75 million, and Newsweek predicts, 'more than likely, the Bajan singer's net worth will skyrocket following the launch of her newest business venture.'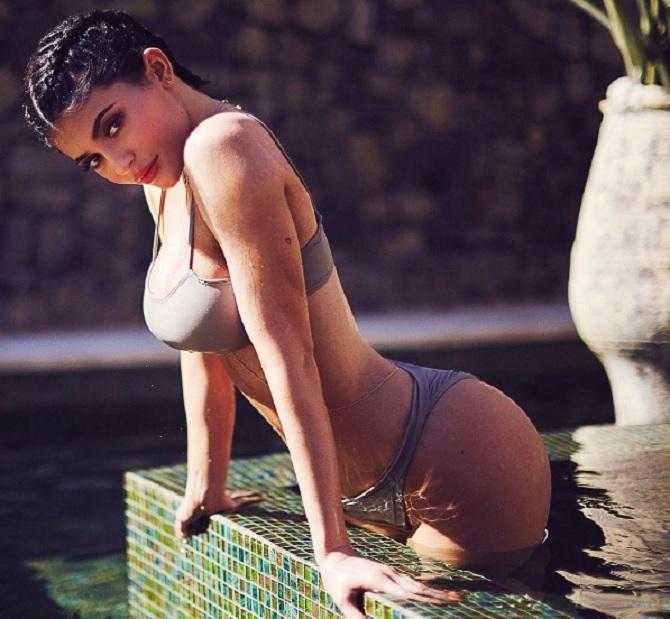 Like Rihanna, Kylie Jenner has multiple business interests, including a line of swimwear.
Photograph: @kyliejenner/Instagram.
What does this mean for Kylie Jenner, who has a rocky history with Rihanna?
Kylie has not only been accused of copying Rihanna's dressing style several times, she is also dating Rihanna's ex, Travis Scott.
Meanwhile, Kylie's make-up range is far narrower than Rihanna's and -- unlike Fenty Beauty, which is available at almost all Sephora stores in over 150 countries -- doesn't have the benefit of offline retail.
This war, ladies and gentlemen, is just getting started.