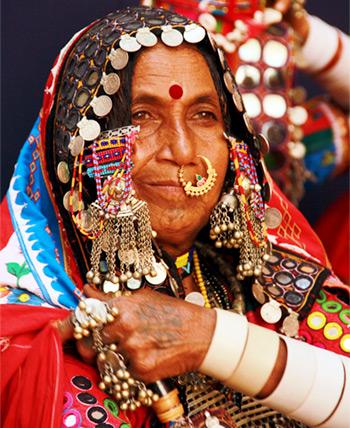 With 41 stitching patterns under their belt, the Lambani women have not only earned a GI tag for Sandur, their art has also travelled to the London Fashion Week and that Fabindia store near you.
Nikita Puri meets the women who preserve the Lambani heritage.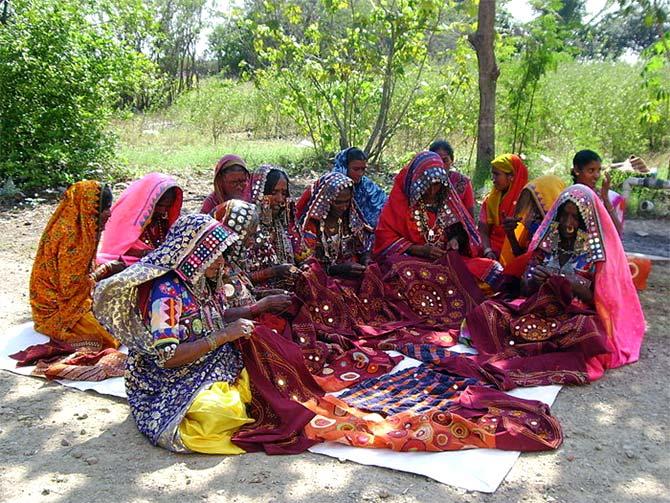 IMAGE: Fine needle and patch-work that was for a long time seen only on the everyday clothes of the Lambani women, have now become a staple in wall hangings, accessories, kurtas, sarees, cushion covers and dupattas designed for urban markets. Photograph: Kind courtesy Wikimedia Commons
Every morning in Sandur, in Karnataka's Bellary district, Thippavva sits down with a heap of cowrie shells.
One by one, she cracks every shell just enough for a needle to pass through. If it's not cowrie shells, her hands are busy with strips of coloured thread that she uses to make tassels.
Some believe Thippavva is 85, others say she is 90.
Either way, as one of the oldest women in her village, Thippavva doesn't need to come in every day to the work sheds run by a non-profit organisation called the Sandur Kushala Kala Kendra.
But she does because it gives her a chance to sit with the other women. It also keeps her occupied doing what her mother and her grandmother taught her to do: Work with needles, cowrie shells and mirrors
The hair on either side of her face is bunched together with silver ornaments, much like many of the women of her tribe.
These jhumka-like hair ornaments are one of the many distinctive features of the Lambani women who are often referred to as banjaras (nomads). Their needlework is particularly reputable, and with good reason.
Perhaps it was their traditionally nomadic lifestyles that have helped the Lambani women attain the skills they have: making use of scrap cloth to craft jewellery, accessories and clothes.
Fine needle and patchwork that was for a long time seen only on their everyday clothes (their lehangas, cholis and odhni)s, have now become a staple in wall hangings, accessories, kurtas, sarees, cushion covers and dupattas designed for urban markets.
While some of their brethren can be spotted across India as they navigate through cities selling their craft on the streets, the Sandur Lambanis have found a place across a handful of stores in Delhi, Kolkata, Mumbai, Chennai; they also regularly embroider for Fabindia.
Though the Sandur Kushala Kala Kendra was established in 1984 under M Y Ghorpade, the son of the last Maharaja of Sandur, it's largely over the last two decades that Lambani craftsmanship has been recognised for its vibrancy and distinctiveness.
Once best associated with its iron ore and manganese mines, Sandur has now developed a reputation for fine craftsmanship with 350 to 400 Lambani women on board.
The singing never ceases in Sandur.
The foundation for their language, the 'Goar boli' may have had roots in Afghanistan and Rajasthan, but now there's a smattering of many native languages.
As the women work with coloured thread and cloth, they sing of everything and anything.
They sing of the ring on a passer-by's finger, they sing of how stitches swim through cloth.
And when a friend like Roohi Azam comes along, they slip in her name into their songs and sing on.
Originally from Sandur, Azam recalls being fascinated by the Lambani women.
"Watching them work was a hobby of mine," Azam says. She grew up to study design and now works as a consultant with the Sandur Kushala Kala Kendra.
Sitting in their standalone studio on Bowring Hospital Road in Bengaluru, Azam is surrounded by key chains, neckpieces, sarees, linens and more: Each of these is as vibrant and bold as the other, a reflection of the women who crafted them in sheds about 300 km from Bengaluru.
Prices here range from Rs 60 for a keychain to close to Rs 4,000 for an embroidered saree.
One of the most popular forms of needlework here is kasuti.
Practised by the Lambanis, the design is native to north Karnataka and is characterised by the beginning and closing stitches meeting without a break at the same point.
It's simple enough if you know how to count threads on weft and waft, but it does require dexterity.
With 41 stitching patterns under their belt, the Lambani women earned a Geographical Indicator tag for Sandur in 2010.
Besides a seal of authenticity, this also gives them the rights to protect their brand name.
Much of the Lambani work is done on cotton coloured with natural dyes: The yellows come from pomegranate peels, the reds from a flower called Ratan Joth, khakhi from the bark of the Sappan tree and so on.
Coins of smaller denominations, like 10 paise, would often be stitched on to the clothes, but this practice has largely faded away.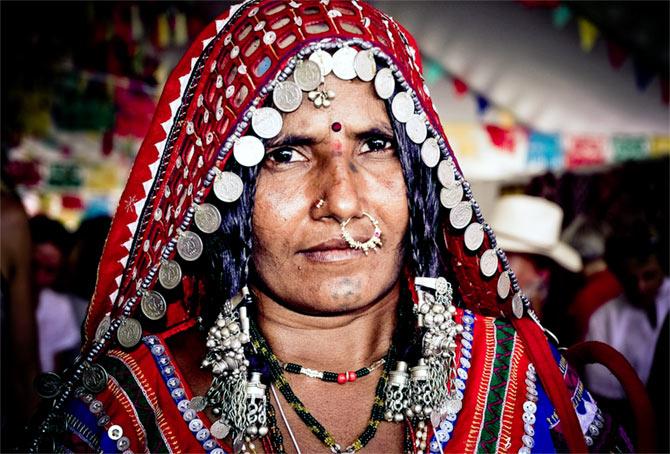 IMAGE: Gowri Bai at the Folk Art Market in Santa Fe, New Mexico, in 2009. She had also showcased the art of her tribe at the London Fashion Week eight years ago. Photograph: Kind courtesy Denise Womack-Avila/Flickr.com
On most days, as the Lambani women sing and work, Shanti Bai oversees the work. But for the next few days, Shanti Bai, or Shanta as she is fondly called, is engaged elsewhere.
A bunch of students from Bengaluru's National Institute of Fashion Technology are in Sandur to interact with the town's master craftsperson, Shanta in this case.
"I'm teaching them how we do embroidery and patchwork. They are picking up fast," she says.
"China, Switzerland, Barcelona, America, Sweden...," Shanta excitedly rattles off a list of the places her work has taken her to.
"I'm a national awardee, you know. President Kalam gave me the award."
In 2002, Shanta was the youngest-ever recipient of a national award given for handicraft.
The idea behind craftswomen such as Shanta visiting such fairs, shares Azam, is to expose them to newer designs.
"Besides, they should also realise how much their craft is appreciated outside their community," she says.
Azam recalls the time that Gowri Bai, a craftswoman in her 50s, was basking in the attention showered on her during the London Fashion Week about eight years ago.
Dressed in all her finery with a heavy mirror-work odhni, choli and lehenga with intricate embroidery and cowrie shells, Gowri bai's traditional attire was a real conversation starter.
But for her part, Gowri Bai thoroughly relished the assortment of drinks available there. This is yet another hallmark of the Lambani way of life.
But as the educated younger generation moves towards alternative lifestyles and better-paying jobs, there are but glimpses left of the Lambani lifestyle.
Though Shanta, too, leans towards 'regular' sarees unless it's a special occasion, she knows that one way to preserve their distinctive art is to share and celebrate it with the world