'We teach our kids the 3 R's -- reading, writing, and arithmetic -- so that they can be successful. It's time the fourth R joined that list: Programming. My vision is to expose every student to computer science and show them that coding IS fun!'
Just 15, Swetha Prabakaran, founder and CEO of Everybody Code Now!, a non-profit working to empower the next generation of youth to become engineers, scientists and entrepreneurs, is already a White House Champion of Change for teaching hundreds of students how to code.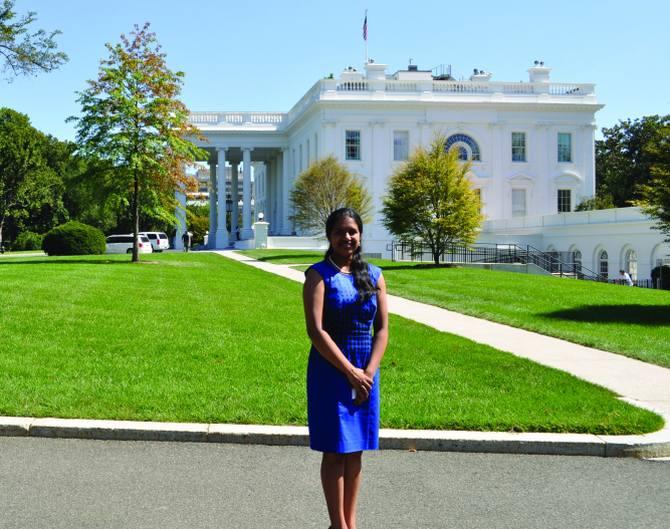 IMAGE: Girl Rising: Swetha Prabakaran at the White House. Photograph: Kind courtesy, the White House
A few weeks ago, the White House took notice of Swetha Prabakaran and named her, along with 10 other young women, as a White House Champion of Change.
'Under Swetha's direction,' the White House noted, 'Everybody Code Now! has taught hundreds of students how to code and has raised thousands of dollars for STEM (science, technology, engineering, mathematics) activities in schools. Her mentorship programmes have transformed shy young girls into confident students, community leaders, and budding technologists.'
Swetha's journey into technology began with her parents -- both techies who hail from Tamil Nadu and run a Web site called techfetch.com, a job portal that connects recruiters and job seekers. She is now a junior at the Thomas Jefferson High School for Science and Technology with a focus on computer science, specifically application developmentc in northern Virginia.
The teenager speaks with Aziz Haniffa/Rediff.com about her passion for using technology to benefit the community.
How and why did you develop an interest in coding? And how did the idea of starting your own company come into being?
I would never have entered computer science if I hadn't seen powerful women in this field from an early age, such as my mother and my freshman computer science teacher. My mom has a computer engineering degree, so I grew up hearing a lot of computer jargon in the house. My computer science teacher, Ms Ria Galanos, further sparked my curiosity and interest by showing me the applications of computer science outside of the classroom.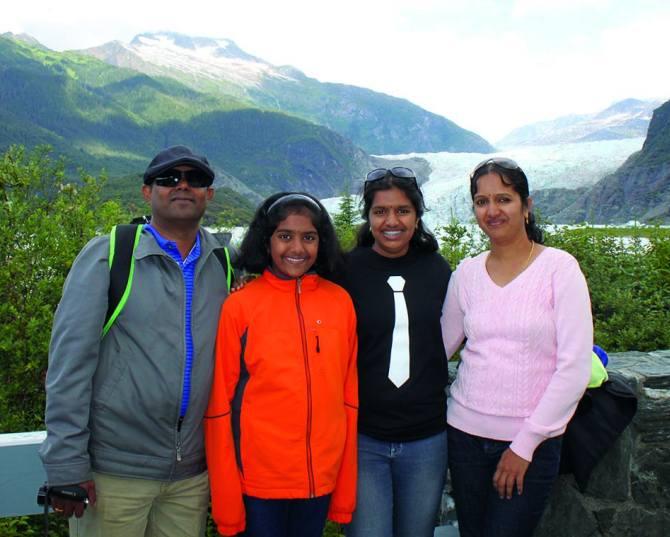 IMAGE: Swetha, second from right, with her family. Photograph: Kind courtesy Swetha Prabakaran
Being able to see women I admired and looked up to in this space gave me the confidence I needed to pursue my love for computer science, and I wanted such encouragement and role models to exist for other girls, like my little sister (Sanjitha, who is in middle school).
By 2020, we'll have more than 1.4 million tech jobs in the US, but girls still hesitate to enter engineering and technology due to stereotypes. Without encouraging more people to enter programming, we will never be able to fill those positions. It's crucial to include women in conversations about technology.
Over half of the users of technology are women, and when they're not creating the content or they don't know how, they're not going to be able to solve the issues that affect them and won't be able to target the communities that are important to them. We lose their voices and their perspective, further lowering the likelihood of making technology accessible to all.
So, I really wanted other girls to have strong mentors and exposure to tech the way I did. The realisation that most schools don't offer any sort of computer science course for students further strengthened my resolve to create a programme to introduce more kids to computer science. It was in that moment that Eveybody Code Now! was born.
What exactly have you been able to do through Everybody Code Now?
I've been able to teach hundreds of kids to code and make them smile while doing so, and have also helped bring more science and engineering activities to schools.
I've seen elementary school girls who had never heard of programming blossom into confident students building Web sites about their favourite sports or animals and watched the quietest students become the classroom leaders. It's really inspiring to see the difference my work makes in the lives of children, and this motivates me to work even harder to make computer science education accessible for all.
How do you manage your time between running a company and studying?
Truthfully, I'm still learning. It's a tough balancing act for sure, because school comes first. I've learned to stay organised -- I'm a big fan of to-do lists and calendars -- and to try to front-load homework and studying if possible, especially for harder subjects like calculus and physics.
Like many other teens, I've found the biggest challenge is not actually managing the school with my other obligations, but rather balancing everything together while still including time for sleep. I usually spend a few hours each day on week-nights doing work related to Everybody Code Now!, but a good amount of my non-profit work happens on weekends.
Have you got a team that helps you?
Yes, I have a large team of volunteers spread out across the country and work very closely with them to delegate work and large projects, which really helps all of us manage our workloads.
Much of my team is made up of high school or college students, so we're all under lots of pressure and manage many activities in addition to our professional obligations, but we make it a point to carve out a couple hours everyday to get our company work done.
It takes tons of advance planning, organisation, as well as clear and frequent communication, and I'm still figuring out what strategies work best for me and my team members, but it's definitely possible to manage a company and school work.
What are your other interests? And, do you have any time for extra-curricular activities -- and also fun stuff? After all, you are still in your teens.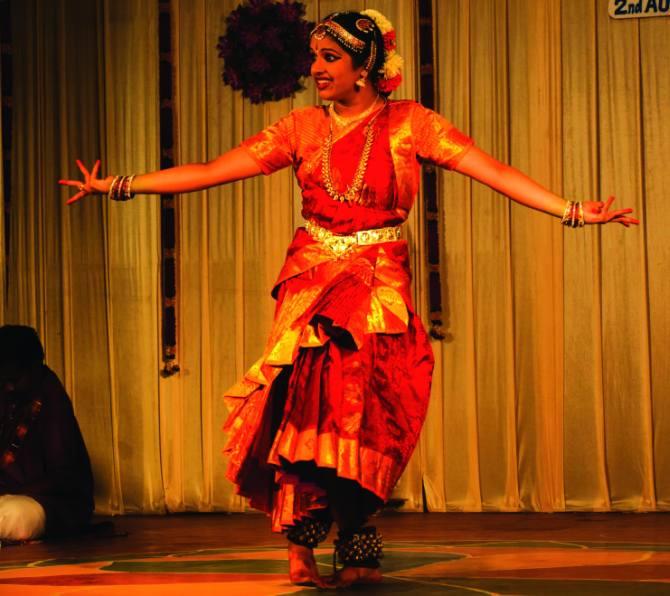 Swetha performing Bharata Natyam. Photograph: Kind courtesy: Swetha Prabakaran
I love computer science and want to work in the field for the rest of my life, but I also have other passions.
I've been dancing Bharata Natyam since I was about 7 years old, and completed my arangetram in Tirunelveli in August. I have always loved the fast-paced footwork and challenge of thillanas (a dance piece in Bharata Natyam), so dance will always be a part of my life.
At school, I dance on the Classical Fusion Dance Team and also swim for a local swim team. In addition to athletics, I travel and compete on the Model United Nations team and am also a member of my school's chapter of Future Business Leaders of America.
Before I learned to code, my medium for creation was paper. I love writing and self-published a novel when I was in fifth grade.
Tell us how you found out that you were one of recipients of the White House Champions of Change Award and how you felt when you realised it was for real.
I received a phone call one late summer afternoon from an unknown number, which my dad casually picked up. The caller was looking for me, and thinking it was one of my friends, my dad was very casual and relaxed... until they said, 'This is White House Public Relations.'
It was such a surprise, and for a few moments I was speechless. It was such an honour to be named as a Champion and to be able to join the ranks of countless others before me who have all done incredible work to create change.
What was the experience like at the award ceremony and meeting with all the senior White House officials?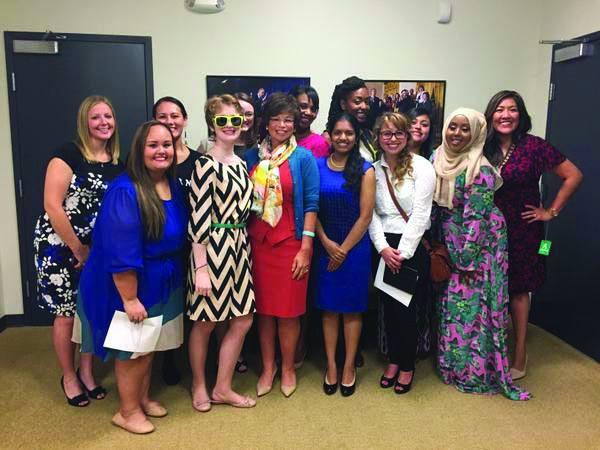 Swetha Prabakaran, first row third from right, and the other Champions of Change with Valerie Jarett, first row third from left, senior adviser to President Barack Obama and chair of the White House Council on Women and Girls. Photograph: twitter.com/vj44
It was an incredible experience to be able to go to the White House and meet the other champions, as well as high ranking white house officials like Valerie Jarrett, the Senior Advisor to the President; Tina Tchen, executive director of the White House council on Women and Girls; and Megan Smith, the United States Chief Technology Officer.
Hearing their stories, as well as those of other influential women like Serena Aunon (physician, engineer and astronaut), was really inspiring.
At the award ceremony, I also got the chance to hear Dr Jo Handelsman, associate director for science (at the White House Office of Science and Technology), speak on the importance of STEM education for girls, and also participated on a panel with other champions about leadership in our communities.
I was able to share ideas and interact with great thought leaders and make a lot of connections with STEM professionals around the country to help expand Everybody Code Now!
It was a wonderful experience, one I will remember for the rest of my life.
What is your message to other aspiring kids?
Find your passion, and never give up. It sounds cliched, but I cannot emphasise enough the importance of working hard and being determined to achieve your goals -- be it in school, sports, or community service.
When I started taking computer science classes, I never imagined that one day I'd be the one teaching kids to code, but my passion for service and making computer science education accessible for all has taken me on this wonderful journey where I not only teach other kids to code, but have been able to inspire others to do the same.
My father's favorite Swami Vivekananda quote is 'Take up one idea. Make that one idea your life -- think of it, dream of it, live on that idea. Let the brain, muscles, nerves, every part of your body, be full of that idea, and just leave every other idea alone. This is the way to success.'
I encourage other kids with a desire to succeed in their activities to not only be laser-focused on their goals like Swami Vivekananda says in this quote, but to also share their ideas, curiosity, and experiences with mothers.
When we share our experiences with others and ask questions about those of others, we all learn and grow more, allowing us to succeed, give back to the community, and empower others in the way our mentors, teachers, and families empowered us.
What about your future plans?
We teach our kids the 3 R's -- reading, writing, and arithmetic -- so that they can be successful. It's time the fourth R joined that list: Programming. My vision is to expose every student to computer science through my organisation and show them that coding IS fun and applicable to their daily lives. We are increasingly dependent on technology, but very few of us are equipped to create -- rather than simply use -- technology.
Finland has set a great example by making it mandatory that all students between ages 7 and 16 receive programming instruction through integration with other subjects from 2016, and I believe other countries can -- and should -- follow suit.
I would like to expand Everybody Code Now! to all states in the US, as well as globally to regions where technology exposure is limited. I look forward to working with others to expand early access to technology and engineering education and also show youth that science, technology, and math are open to people of all genders and races as well.
What about college? Have you thought about it yet? Where would you like it to take you? Have you thought of a major yet, or are you intent on becoming an entrepreneur like your dad and mom?
Truthfully, I haven't thought too much about college or the working. I really want to be in the technology field and possibly become an entrepreneur to develop solutions for today's problems using computers.
However, technology develops very rapidly these days and no one can be sure what kinds of advancements and sectors we will have within technology. So, I don't know what I would like to focus on specifically yet. I want to first gain more experience and knowledge about computing, technology, and their uses and maybe eventually start my own firm.