Working online is the new reality, explains HR Guru Mayank Rautela.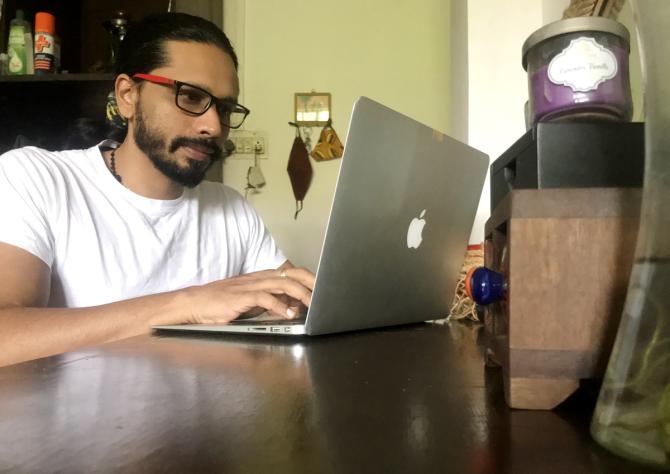 Dear reader, are you just starting out in your career and want to know the right steps you need to take?
Not sure how to prepare for your first interview? Or your first online interview?
Struggling with office politics? Or with working from home?
Have a bad boss? Or a colleague who is undermining you?
Nobody seems to listen to you at meetings?
Have you hit a dead-end at work and see no way out?
Please send in your concerns to our HR guru Mayank Rautela at getahead@rediff.co.in. (Subject: Mayank, can you help?).
Dear Sir,
I am a recent graduate and have been looking for a job.
The biggest problem is online interview. I live in a small house with a big family.
Inside the house, there is no private place for an interview.
When I go outside, I sweat a lot.
Also, online interviews make me more nervous than real interviews.
How can I solve my problem?
Vinay Karmakar
Hi Vinay.
Under normal circumstances, you can go to a friend's or relative's place for the online interview.
You can also explore an open park or a coffee shop.
With the current restrictions, ask your family to understand and help by staying quiet and out of the frame.
Explain your constraints to the interviewer.
Is there a passage outside your house or a terrace you can use?
Online working is a reality now so please get used to the same.
You can practise by doing mock interviews with friends.
Dear Sir,
This is Debaanuj from Kolkata.
I am a content writer and was working for a startup until I was recently fired. I was given some flimsy reason.
Since then, I am constantly looking for job roles and finally found out that another budding content writing firm was looking for people.
The employer of that company spoke to me in the beginning with utmost interest, as if she is quite keen to work with me. But now she is constantly delaying the date of my joining, citing reasons like clients are turning up, a slump in the workflow, etc.
I also have a schizophrenic brother who is making me feel guilty for not having work at the moment. I am feeling frustrated. What should I do now, Sir?
Thanks and regards,
Debaanuj Majumadar
Hi Debaanuj.
The second wave of the virus is what is making the companies conscious again and hence they are going slow on hiring.
This may last for a few months more.
Use this time to upgrade your skills with online courses.
Build your competencies in a way that, as soon as the market opens up, you can easily get a job.
Hi Mayank,
I am 41 and working in an IT MNC which I joined last year right before the lockdown.
While the company is stable and doing well, I am somehow unable to match up to the performance levels of my colleagues despite always having been an achiever in my previous jobs. This could be because I handle a set of accounts which are new and were given to me to be onboarded only six months back.
The problem is that my bosses have high expectations and I hear a lot of advice on how I should approach my work but, in actual terms, my manager never really bothers to support me.
I seem to be working in a silo and, no matter what I do, I feel like an outsider all the time.
There is a lot of politics as well and I often lose orders to other colleagues.
I am not happy here and would like to move on. Is it ok to change a job only after 1.3 years of working in a company?
Please advise.
Regards,
Suchita
Hi Suchita.
This is certainly not the right time to change a job. Since your company is stable, you must stay here and look at ways to be effective.
First of all, set clear expectations with your manager while keeping his manager also in the loop.
Managing her/his team online would be a new experience for your manger as well, so you need to be understanding.
You must have a candid discussion with him and, if possible, move to another process/manager.
Dear Sir,
Just as I thought things were getting better, the second wave has started.
Office had recently started but has shut and it's WFH again.
I feel a lot of anxiety about the future, about falling prey to this disease.
Some of my colleagues have lost their jobs.
I know my anxiety is affecting my work, but I am not able to stop it.
How do I become more productive and better at work?
I deal directly with customers for my firm. I am 32 years old, single.
Ramesh Desai
Hi Ramesh.
Please remember this is a virus, a very dangerous one.
You have to be extremely careful not get the infection but also be prepared in case you get it.
Build your immunity, eat right, exercise and sleep well, rest of the things will fall in place.
Becoming anxious about things you cannot control will not help you.
Plan your professional day and do your job well.
The fact that you have your job shows the faith your company has in you. Continue to do your job well.
Hello Sir,
I am Abhishek, age 41, working in an MNC from last six years, as principal design engineer, electrical, in Mumbai.
I am a resident of Pune with my family settled there.
I have 18 years of experience in electrical design and PLC (programmable logic controller) automation industry.
But due to office politics and partial behaviour from management, I am dead in my career.
I am also getting very less opportunity in PLC automation, hence no new skills additions in my professional area.
I tried hard to change my job but couldn't get any. I also discussed with my manager about my goals and wish to work on PLC automation, but didn't get any major opportunities.
Recently I have got another opportunity in Pune but will have to travel more to foreign locations. I have to travel in my current job as well but the new company is offering better designation, better salary and better opportunities for me to work with new technologies in PLC automation.
However, it is a very small Indian organisation compared to my current MNC I work for.
I am in dilemma whether I should take up the new job or not?
What is your advice?
Thanks,
Abhishek
Hi Abhishek.
If you read my column, you will realise that during this global pandemic I typically do not advise anyone to change their job.
But your case is different as you are getting to work in your area of interest and will also be able to move to your home town.
Do some more analysis and reference check about this new company and management.
If it's positive, then you can go ahead and take this new opportunity.
Today, Indian companies with good management can offer career opportunities far more exciting than any MNC.
---
Mayank Rautela is the chief human resources officer at Care Hospitals.
He is a management graduate from the Symbiosis Institute of Management Studies and holds a master's degree in labour laws from Pune University.
He has over two decades of experience in the field of general management, strategic human resources, global mergers and integrations and change management.
He has held various leadership positions across marquee companies, including the Piramal Group, the Tata Group and multinational healthcare organisations like CR Bard and Becton & Dickinson.
Please send in your workplace concerns to Mayank Rautela at getahead@rediff.co.in. (Subject: Mayank, can you help?), along with your name, age, where you work (eg, Mumbai, Lucknow, Agartala) and job profile. Do let us know if you wish to keep your question anonymous.
Please Note: This is not a recruitment service. This column is an advisory.