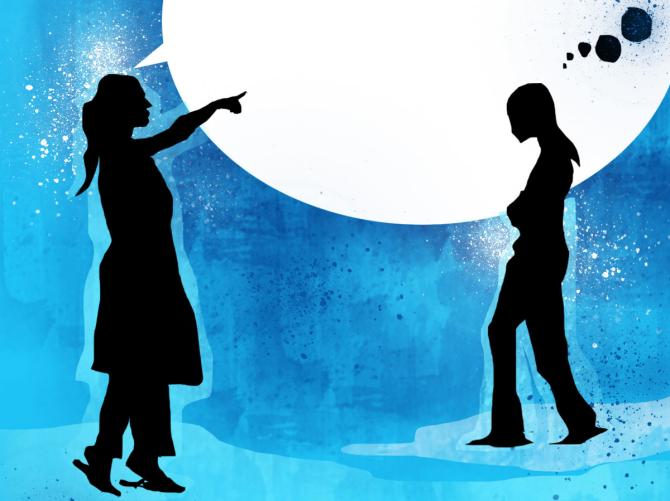 Isolation. Anxiety. Depression.
These are some of the effects of the pandemic that teenagers have had to deal with in the past two years.
They have been locked away from friends and peers with little exposure to the real world.
From missing the golden years of their college life to struggling with academics, admission, internships and placements, teens both in India and around the world have had to face unique challenges and the fear and insecurity that comes with it.
"I am anxious because I can't step out of my home," is a common concern among teens, says Anu Krishna, mental health expert and NLP (neuro linguistic programming) trainer.
While some parents found it easier to track their child's mental health and offer help, "calming them so that they don't do anything extreme or self-harm" was definitely a challenge, notes Anu.
In the second part two of our self-help series on understanding teenagers, Anu explains how you can understand if your child needs help and offers practical solutions.
Interview: Divya Nair/Rediff.com
Videos: Rajesh Karkera/Rediff.com
"Teenage anxiety can get alarming when it's not addressed properly," she explains in the video below. "The channel of communication has to be open."
What is normal, what is alarming? It's important to spot the warning signs, says Anu.
How can a parent ensure their child is in safe company?
Is your child doing something they usually don't do?
Is s/he hooked to the phone/TV/internet all day?
Is s/he sleeping late, skipping food?
Do you see a lot of changes in their daily habits?
"Don't spy. Talk less. Watch and observe your child. Don't take temper tantrums lightly," says Anu, as she shares more advice in the video below.
In India, parents often hesitate to talk about sex, dating or relationships with their children.
Anu warns, "If talking about sex is taboo in your home, you can never have a healthy conversation with your child.
"Like mothers talk to their daughters about periods and body changes, please sit down with your teens to talk about the things that matter to them," she suggests.
You can choose to do it yourself or take help from an expert.
In this video, Anu explains how you can start a healthy, age-appropriate conversation about sex with your teen.
---
Dear readers, if you have a question for Anu Krishna, please e-mail it to getahead@rediff.co.in (Subject: Ask ANU) for her advice. Kindly mention and your request for privacy will be considered.
---
Disclaimer: All content and media herein is written and published online for informational purposes only. It is not a substitute for professional medical advice. It should not be relied on as your only source for advice.
Please always seek the guidance of your doctor or a qualified health professional with any questions you may have regarding your health or a medical condition. Do not ever disregard the advice of a medical professional, or delay in seeking it because of something you have read herein.
If you believe you may have a medical or mental health emergency, please call your doctor, go to the nearest hospital, or call emergency services or emergency helplines immediately. If you choose to rely on any information provided herein, you do so solely at your own risk.
Opinions expressed herein cannot necessarily provide advice to fit the exact specifics of the issues of the person requesting advice.
---