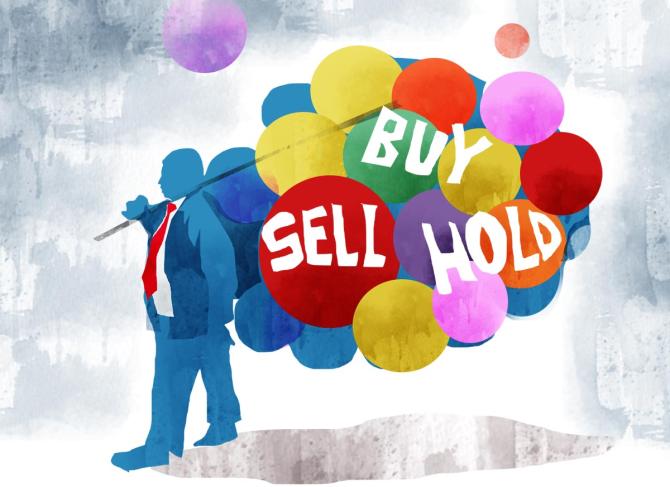 Ajit Mishra, vice president, research, Religare Broking, answers your queries.
---
Abhijit Datta: I have 1500 shares of "Tanla" and 1000 shares "Tata Chemicals". Please advice whether I should hold or exit.
Ajit Mishra: Hold
Amit Sarkar: Please advise regarding:
Ajit Mishra:
Ankur Singhal: I hold the following stocks as on date. I hold a long term vision for all of them. Please suggest whether i should Hold, Exit or Further buy for averaging.
Ajit Mishra:
V K Patil: My Current Portfolio is as follows. Please advice on hold or exit.
Ajit Mishra:
Arvind Swarnakar: I am holding following stocks. I seek your advice on whether to hold/add/exit.
Ajit Mishra:
Ashish Rai: Please suggest hold & exit for the below stocks. My investment period will be anything more than 1 year. Also, I would like to seek your advice on few quality stock options as i am planning to invest additional 2 lacs.
Ajit Mishra:
Himanshu Tiwari: I am holding the following shares. The investment in shares is for long-term. Kindly advice whether to hold or exit. Also suggest the company in which I can invest and the horizon is long-term.
Ajit Mishra:
Manish Singh: I am holding the following shares, please advise whether to hold/exit from the shares:
Ajit Mishra:
Mikdad: Pls advise on below stocks, if exit then advise stocks to be purchased as I do want money to come to my home.
Ajit Mishra:
Azim Arkati: I have invested in the below stocks very late, where I should have done much before during 2020, where most of the stocks sky rocketed. But its fine, and destiny.
I wanted your help to tell me which stocks I should hold for how long and which are the ones I should exit.
Ajit Mishra:
Desikan Kannan: Please advise on the following script, which I am holding currently:
Ajit Mishra:
---
Please mail your questions to getahead@rediff.co.in with the subject line 'Ask Ajit', along with your name, and Mr Ajit Mishra will offer his unbiased views.
Disclaimer: This article is meant for information purposes only. This article and information do not constitute a distribution, an endorsement, an investment advice, an offer to buy or sell or the solicitation of an offer to buy or sell any securities/schemes or any other financial products/investment products mentioned in this QnA or an attempt to influence the opinion or behaviour of the investors/recipients.
Any use of the information/any investment and investment related decisions of the investors/recipients are at their sole discretion and risk. Any advice herein is made on a general basis and does not take into account the specific investment objectives of the specific person or group of persons. Opinions expressed herein are subject to change without notice.
Feature Presentation: Ashish Narsale/ Rediff.com