'Could you please suggest some good penny stocks with good fundamentals?'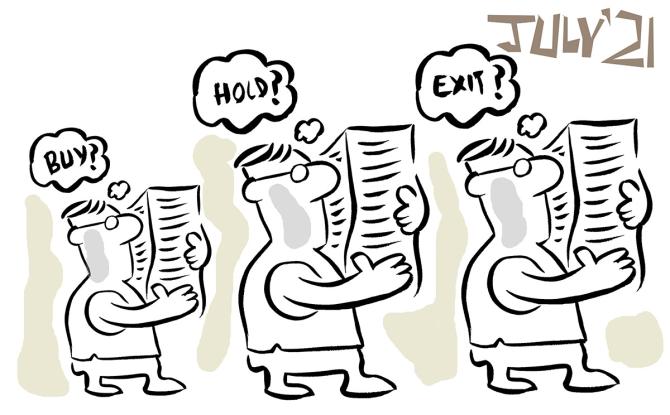 Ajit Mishra, vice president, Research, Religare Broking, answers your queries:
---
Shrikant Deshpande: Pl guide me what to do with the following stocks hold by me.
Ajit Mishra:

vipin dev: Please give your valuable suggestion for the following stocks:
Ajit Mishra:
1. Ashok Leyland, 150 shares @126.55– H0ld
2. Divis Lab, 12 shares @3810.77– H0ld
3. ITC, 500 shares @169.75– H0ld
4. Wipro, 200 shares @430.51– H0ld
ARVIND THAPLIYAL: Holding 50 shares of National Peroxide Ltd purchased @2067/- per share.
Ajit Mishra: Hold
Shaktiraj Guleria: I am having following shares for long term, please advice:
Ajit Mishra:

Delta Corp 4500 at Rs. 106.13– H0ld
DCB Bank 500 at Rs. 79.09 - Exit
Jindal Saw 500 at Rs. 74.00– H0ld
South Indian Bank 10000 at Rs. 9.26 - Exit
Yes Bank 14000 at Rs. 18.00– H0ld if under lock in
Idea Vodafone 7000 at Rs.12 - Exit
amit munshi: I'm planning to buy some penny stocks with a horizon of 1-2 years, please share your opinion on the stocks listed below… Also, please suggest some good penny stocks with good fundamentals for the same horizon.
Ajit Mishra:
1. Yes Bank - Exit
2. Alok Industries - Exit
3. HDIL - Exit
4. DHFL - Exit
5. Unitech – Exit
We do not recommend any penny stocks
Jayashree rao: Please advise on some of the stocks in my portfolio:
Ajit Mishra:
Alok Industries at 22.86 - Exit
GMDC at 131.2 - Exit
Kirloskar Electric Company at 59.4 - Exit
renuka Sugar at 27.8 - Exit
JP associates at 54.57 - Exit
GVKIPL at 48.18 - Exit
Srinivas: Please advice on the following shares I have bought:
Ajit Mishra:
JP associates 300@140, - Exit
DHFL 100@290, - Exit
Bharti airtel 40@320, – H0ld
Tata Motors 100@450, – H0ld
SBI 50@360-– H0ld
HDFC bank 40@900, – H0ld
M&M 12@800, – H0ld
ashok leyland 100@78, – H0ld
Apollo tyres 100@100, – H0ld
exide 10@190– H0ld
aurubindo 10@790– H0ld
fortishealthcare 20@180 – Can't comment due to compliance
Himadri chem 200@48 - Exit
JK Tyre 25@147– H0ld
Kalyani stl 10@390 - Exit
lic hsg 10@540– H0ld
motherson 20@140– H0ld
PEL 25@2300– H0ld
Rel Comm 200@24 - Exit
snowman 100@79 - Exit
Tex Infra 100@90 - Exit
Tech Mah 5@600 - Hold
Infosys 30@860– H0ld
united Phos 25 @600 - Exit
Zee Ent 20@550 - Exit
Also I have 3-in-one demat account with a leading pvt sector bank. I realised late that they have hidden charges bank takes from my bank account for every day of transaction apart from their demat transaction charges. Is there anything i can do to reduce my total transaction shares.
Ajit Mishra: Please consult your relationship manager for the same.
Pranay Mehra: I am new to the stock market. So please guide me which share to buy and at what rate?
Ajit Mishra: If you are a new investor focus on investing in bluechip companies like HDFC Bank, M&M, Britannia, TCS and HUL. Since markets are trading near record highs, invest in these stocks in a gradual manner.
Srinivas: I am holding the following shares please suggest to Sell, Hold or Add.
In case of Sell suggestion please suggest prospective buyers for a 5-7 yrs horizon.
Ajit Mishra:
Rohith Adiga: I am a starter in Stock Market & trading from the last 6 months. Below is the list of stocks I have purchased. Advice me to ADD or HOLD or SELL.
I am also looking for some short term plan of 3-4months starting from March. Please suggest in my existing stock from my list or new stock for short term gain.
Ajit Mishra: For new additions of stocks for short-term, one can look for Voltas, Granules, Bergepaint, Federalbnk, Dlf.
Also would like to know, when to purchase the additional stock, whether it's when it's growing or when dipped: Ex. Tata Motors i Purchased 50 shares @124, then added another 25 when it went to @185 and again purchased 10 @290. Now my avg pricing is @230.
Bhagirath Sahu: Please advise me for HOLD / SELL on following shares:
Ajit Mishra:

1) TCS 300 shares @ 3160 - Hold
2) ICICI 1000 Shares @ 632- Hold
3) UPL 1000 Shares @ 535- Hold
ashwani raina: I am a long-term investor with the following holdings. Would really appreciate your views on this
Ajit Mishra:
Biocon 20@386- Hold
Deepak Fertilizer 50@156- Hold
Glenmark Pharma 20@495- Hold
IRFC 100@25- Hold
Lupin 10@959- Hold
Maruti 5@7000- Hold
Sunpharma 10@484- Hold
Tata Motors 60@166- Hold
ITC 10@244- Hold
Indigo Paints 10@1490- Hold
NMDC 100@84- Hold
SBI Cards and Payment Services 19@755- Hold
Guru S: Currently i can invest upto 4 lacs. Request you to suggest good shares to invest.
Ajit Mishra: One can invest in stocks like Reliance Industries, ICICI Bank, Britannia Industries, HUL, TCS, and M&M
Gururaj Nigale: I have purchased power India 53 stocks @1482, can I hold or sell this stock.
Ajit Mishra: Hold
Lalit Chajed: I am new to stock market. please advice me on following stocks. Shall i invest in these stocks
Ajit Mishra:
1. Welspun india - Exit
2. West Coast Paper - Exit
3. Inox leisure- Hold
4. Gij Alkalie - Hold
5. Nagpur Power - Exit
6. Ufo movies - Exit
7. Ador Fontech - Exit
8. Oil India - Hold
9. Vedanta - Exit
10. KEL international- Hold
11. Greaves Cotton - Exit
12. Pabhat Dairy – Exit
---
Please mail your questions to getahead@rediff.co.in with the subject line 'Ask Ajit', along with your name, and Mr Ajit Mishra will offer his unbiased views.
Disclaimer: This article is meant for information purposes only. This article and information do not constitute a distribution, an endorsement, an investment advice, an offer to buy or sell or the solicitation of an offer to buy or sell any securities/schemes or any other financial products/investment products mentioned in this QnA or an attempt to influence the opinion or behaviour of the investors/recipients.
Any use of the information/any investment and investment related decisions of the investors/recipients are at their sole discretion and risk. Any advice herein is made on a general basis and does not take into account the specific investment objectives of the specific person or group of persons. Opinions expressed herein are subject to change without notice.