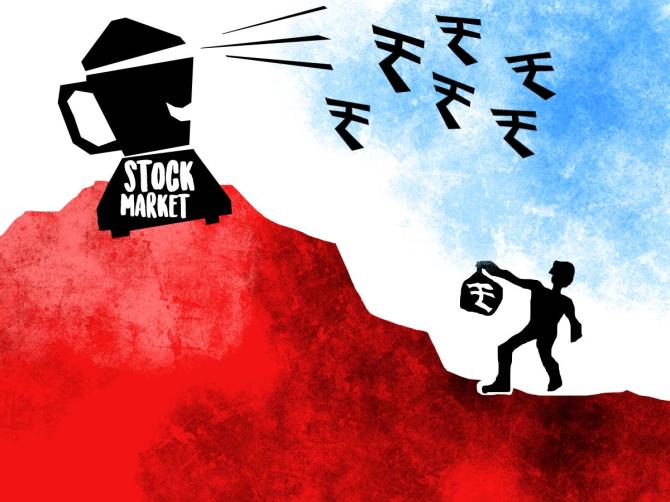 Ajit Mishra, vice president, Research, Religare Broking, answers your queries:
---
Ranjeet Khare: I have the below stocks. Please advice which to hold and which to sell:
Ajit Mishra:
Reliance Industries Hold
Ashok Finance - Hold
Cipla- Hold
Vakrangee Limited- Exit
Bajaj Finance- Hold
NIIT Ltd-Hold
Larsen & Toubro-Hold
Harita Seating Systems- Exit
IDFC First Bank- Exit
Gayatri Projects Ltd- Exit
Thanks in advance for your advice
ASHISH GUPTE: Please advise on the following stocks
Ajit Mishra:
1) Tata Power 100 @ 93- Hold
2) Castrol 100 @ 178- Hold
3) Hindalco 100 @ 241- Hold
4) L & T 100 @ 1127- Hold
5) Bharat Forge 50 @ 450- Hold
Partho Banerjee: Can you please advise me about the following stocks that I have in my portfolio?
Ajit Mishra:
Blue Dart Express Limited- Hold
Castrol India Ltd- Hold
Cipla Ltd- Hold
Escorts- Hold
HDFC- Hold
Larsen Toubro Ltd- Hold
Mahindra Mahindra Financial Services Ltd- Hold
Ujjivan Financial Services Ltd. - Hold
rohit gupta: Can you give me some advice on the following scrips held by me?
Ajit Mishra:
Castrol- Hold
Cipla- Hold
Bajaj Auto- Hold
Bajaj Finserv- Hold
Bajaj Holdings- Hold
Emami Ltd - Hold.
Emami Realty - Avoid
Rasandik Eng . - Avoid
Pitti Eng . - Avoid
Sanjay Jalota: Dear Sir, I have holding following stocks. Kindly advise which one to hold and which one to exit. Also advice which other shares I can invest in for short term period of six months.

Ajit Mishra:
Company No of Shares Price
Arvind Fashions Ltd 6 157.1- Avoid
Arvind Ltd 30 44.05- Avoid
Bharat Forge 25 551.55- HOld
CESC Ltd 10 621.15- Hold
CESC Ventures Ltd 2 268.00 - Hold
Godrej Consumer Product 4 726.55 - Hold
IRB Infra 1 114.45 - Hold
JP Associates 1500 7.70- Avoid
Lanco Infra 479 0.42- Avoid
Motherson Sumi 75 154.30- Exit
Reliance Capital 66 12.68- Exit
Reliance Infra 23 28.75- Exit
Spencer Retail 6 86.50- Exit
The Anup Engg 1 795.40- Exit
Unitech Ltd 1550 2.07- Exit
Vedanta 25 224.00- Exit
Roy K Jose: I am holding following stocks (As investment for 2 to 3 years) please advise
Ajit Mishra:
1 Bharti Airtel Qty 100 Buying price 505.75 - Hold
2 Deepak Nitrate Qty 5 Price 788- Hold
3 Federal Bank Qty 1310 Price 55.67- Hold
4 Grasim Qty 15 740.93- Hold
5 HAL Qty 9 Price 843.09- Hold
6 HDFC BANK Qty 10 price 1208.8- Hold
7 HINDJUNILIVER Qty 40 Price 2237.7- Hold
8 Infosys Qty 8 Price 123.45- Hold
9 ITC Qty 16 Price 294.36- Hold
10 L&T FINANCE Qty 89 Price 68.42- Hold
11 L&t Qty 45 Price 1143.00- Hold
12 MCX Qty 22 Price 1062.27- Hold
13 Power grid Qty 25 Price 196.4- Hold
14 Raymond Qty 21 Price 273.8- Hold
15 SUDARCHEM Qty 9 Price 520.65- Hold
16 SUMICHEM Qty18 Price 314.75- Hold
17 Tata Motors Qty 7 Price 152.00- Hold
18 TCS Qty 14 Price 1752.00- Hold
Veer: Kindly advise for the following stock holdings:
Ajit Mishra:
Adani Enterprises L@117.15- Hold
Adani Gas@300- Exit
Adani Green Energy@1000- Exit
Bharti Airtel@380.51- Hold
DLF Ltd.@663.5- Exit
HFCL@31.55 - Exit
IFCI Ltd.@68.4- Exit
JSW Steel@549.5- Hold
L&@681.82- Hold
NHPC@41.5- Hold
Power Grid Corpo@235- Hold
Reliance Inds.@939.95- Hold
Reliance Power L@141.01- Exit
Suzlon Energy Ltd.@14.18 Exit
Unitech Ltd.@36.98 Exit
Sharad Agarwal: Please give your Expert Advice on the Following Stock:
Ajit Mishra:
Kellton Tech Solutions Ltd; 5000 shares - Purchased at Rs 21; Please Advise on - Hold / Exit / Continue / Any other: Exit
Dilip TMPL: Need your advice on following stocks; if exit then please indicate exit price
Ajit Mishra:
1. AB Capital 450@158 - Exit
2. Cummins 195@668- Hold
3. Bombay Dyeing 260@218- Exit
4. BSE 204@698 – Exit on rise
5. Indusind Bank 60@1480- Hold
6. IDFC First Bank 2280@53- Exit
7. Jay Bharat Maruti 285@425- Exit
8. Tata Motors 640@282- Hold
unnilnan: Update me for the following shares
Ajit Mishra:
1. Laurus Lab - > 50 shares @ 287- Hold
2. Bank of Baroda -> 50 @ 64.5- Hold
3. Rallis India-- > 50 share @ 280- Hold
4. BEL - > 50 shares @ 104- Hold
5. J &K bank 0- > 40 shares @ 23- Exit
6. yes bank 100 shares @ 74 - Exit

Kindly suggest any new scrips fo next week and 2021 too.
Sunil Birju: I am going to retire. What is your advice regarding parking of funds. Should I invest in MFs or stocks?
Ajit Mishra: Use combination of both.
Prashant Chaturvedi: I am holding below stocks. Kindly advice do i need to hold or exit
Ajit Mishra:
A) GVK Power 10,000 @ 14- Exit
B) Suzlon 3000@8- Exit
Senthil Samiappan: I am having 29000 suzlon energy shares at 4.25 .shall I sell or hold.
Ajit Mishra: Exit
kulwant singh: I had invested in some scrips of Indian companies when I was in India. I am now a British Citizen with OCI Card. One of the requirements to claim the unclaimed dividend and shares is to submit an indemnity claim form.
As a British citizen from where can I buy the form and whether it would be acceptable by the IEPF authorities?
I hope you can answer my query.
Ajit Mishra: I suggest you to consult a CA.
Akhil H: I've the following stocks in my portfolio. Please advise
Ajit Mishra:
SBIN 250@164- Hold
ITC 200 @203- Hold
STERLITE TECH 200@123- Exit
---
Please mail your questions to getahead@rediff.co.in with the subject line 'Ask Ajit', along with your name, and Mr Ajit Mishra will offer his unbiased views.
Disclaimer: This article is meant for information purposes only. This article and information do not constitute a distribution, an endorsement, an investment advice, an offer to buy or sell or the solicitation of an offer to buy or sell any securities/schemes or any other financial products/investment products mentioned in this QnA or an attempt to influence the opinion or behaviour of the investors/recipients.
Any use of the information/any investment and investment related decisions of the investors/recipients are at their sole discretion and risk. Any advice herein is made on a general basis and does not take into account the specific investment objectives of the specific person or group of persons. Opinions expressed herein are subject to change without notice.