Photographer and TEDx speaker Aanchal Dhara shares the lessons she learned after going bald along with an important message for society.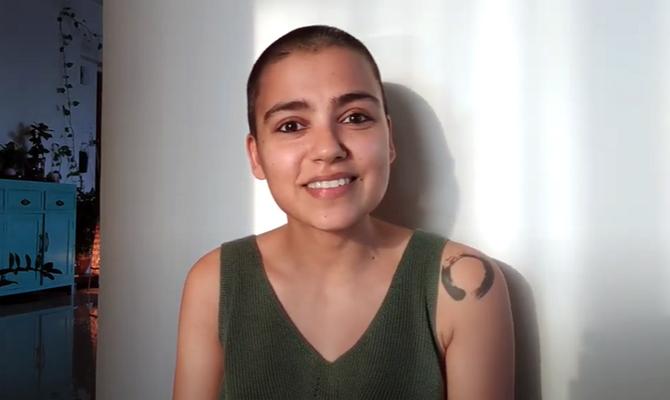 Aanchal Dhara is a professional photographer based out of Mumbai.
Tired of her short hair, six years ago, Aanchal decided to go bald to experience what it felt like.
The decision surprised and shocked many, including her friends and people in society. Some of the reactions and opinions she received during this period, were startling to begin with.
In 2015, she along with her husband Prashant Madan started The Audacious Project, to promote people to follow their dreams and passions and "find out what we're truly capable of is the greatest gift we can give ourselves." She shared the lessons she learned as part of a TEDx event held in Viman Nagar, Pune.
Recently, Aanchal penned a short poem in Hindi putting together some of the lessons she's learned over the years, which has been viewed by over 21,000 users on Facebook.
'I've always had short hair. Around six years ago, I decided to take a step further and go bald. For me, this decision was fairly simple…I wanted to experience it...see if I could reimagine myself in a new avatar, feel feminine and confident at the same time. Today it's become such an integral part of my personality that I don't miss the hair on my head at all,' Aanchal says, in the post she wrote on Facebook.
'However, over the years, the fallout of this simple and very personal decision has been unexpected. I've had a flurry of opinions on the length of my hair...a majority of those have been very heartening and encouraging, and yet I've also been a target of draconian thinking that still equates the beauty of a woman with the length of her hair. I mean it's just hair, right? Unfortunately, that's not always been the case with me...and I'm sure with many women who choose to make radical changes in their lives.'
'For me, it's hair! For many other women, it could be their weight, the colour of their skin or a million other parameters beauty gets weighed in.'
'There's a silent stigma that follows us around. The rules of beauty are many. Opinions aplenty. So, for the vigilant gatekeepers of beauty...the naysayers, I decided to write a poem and a short video on my opinion of their opinion. I posted the poem with a sincere hope that my experience gives strength to women to attempt at living their lives the way they want to and also to shine a tiny light into how I would like to be understood. After all, silence is often misunderstood as acquiescence.'
Do listen to the poem below!
"I think what really prevents us from living our lives is the age-old 'log kya kahenge' mindset. I'd just love to see people especially women shed their inhibitions and take charge, decide for themselves and just get ready. The wings will appear on their own the moment they decide to fly," Aanchal told Rediff.com.