Amitabh: "There is a very famous limerick that aptly describes my presence tonight, ladies and gentleman:
A funny young man from Clyde
In a funeral carriage was spied;
When asked, "Who is dead?"
He giggled and said,
"I don't know; I just came for the ride."
Vaihayasi Pande Daniel reports from Day One of the Tata Literature Festival.
The most extraordinary book launch Bollywood's first couple, Amitabh and Jaya Bachchan, may perhaps have attended must have been the launch of their neighbour Siddharth Dhanvant Shanghvi's The Rabbit and the Squirrel at the Tata Theatre, National Centre for the Performing Arts, Nariman Point, on Thursday, November 15.
Bouquets? Roses? Cutting red ribbons? Opening a wrapped book?
Bah, nothing so pedestrian for the release of the Juhu-now-north-Goa-located author's third book.
Shanghvi, 41, who was on stage 20 minutes before the start of the event, fussing about, angling the chairs, his stool, adjusting the lights and the position of Japanese violinist Mika Nishimura, ultimately choregraphed a remarkable book launch that was like the first act of an elaborate play.
One wasn't at an ideal vantage point to observe the Bachchans' faces but one could bet that their expressions would have been of politely concealed bemusement as Shanghvi's carefully-planned spectacle delicately unfolded before a hushed, rapt audience.
A spectacle that this Mumbai audience may have been unused to, who had come perhaps expecting a more Bollywood-ish evening.
The launch began more or less dot on time. When the Bachchans regally but quietly entered the theatre at 6 pm, the folks sitting in the Tata Theatre applauded delightedly.
Then the lights dimmed and Shanghvi's choreography kicked in.
Violin compositions were interspersed between him reading aloud, in a Mumbai accent that was layered over with British and American inflections, a letter he once wrote to his nephews about life and its lessons.
Shanghvi, the author of the acclaimed The Last Song of Dusk (which he wrote when he was 22), and also a photographer and curator, clad in an elegant long dark blue sherwani, a white churidar pyjama and pointed black mojris, was perched on the edge of a round leather stool. The pages he was reading from were placed on a reading stand, the kind a conductor might use to place his music.
The lights were turned especially low so that together Shanghvi, the violinist and the shuffling pages were like a faraway vision in the mind's eye.
The violin would emit a string of glassy, haunting notes and then would, in deference, become silent to allow Shanghavi to continue reading.
Shanghavi after reading a para or two would, in deference, become silent to allow the violin to continue wafting. And so it went -- bursts of song followed by bursts of prose.
At one point even this very low lighting irked Shanghvi who told someone at the back of the room: "Too much light, can you turn the light down?"
Eventually the only glow in the room were spotlights over Shanghvi and Mika and the scattered blue glow of cell phones in the crowd.
"Dear Abhishek and Ishan: In truth, life is impossible. People will leave. Love can fail. Your job may be a bore. But if you accept this then you can have fun with the rest of it. The midnight stroll on a Goa beach. The health scare that wasn't one. The lottery of good conversation..."
"It is okay to be thought of as a difficult person. I am. I'm considered prickly and hard. This is not a bad thing because the opposite -- smooth and soft -- belongs only in one place: your butter dish..."
Amused laughter from the audience.
As he read, Shanghvi would from time to time look directly into the faces of the Bachchans and Anil Dharker, the Tata Lit Fest director, and then away. His hands throughout made extravagant gestures or were folded together covering his face. It seemed like each gesture or crossing of feet or nod of head Shanghvi made had been pre-planned.
Even his movements across the stage were light, like a ballerina's, as he oscillated between the podium and his stool, adjusting his sherwani with a flourish when he sat down.
After a short video message from his Sweden-based illustrator Stina Wirsen, Shanghavi read two passages from The Rabbit and the Squirrel, the book described as a fable and a "love story about friendship" which Dharker while introducing Shanghavi remarked was a "very, very unusual book by a very unusual young man (who) has a gift of eternal youth... It is a fable for adults much like (George Orwell's) Animal Farm was."
When the reading ended -- all this one hour later -- Shanghavi, who believes in summoning ancestors at auspicious times, very respectfully invited the Bachchans -- who he termed "two dearly beloved friends of the heart, spiritual elders in my extended family" and called them "JB" or "Jayaji" and "Amit Uncle" -- on stage for a chat.
The man behind me had muttered earlier: "What do they mean conversation with! Give a subject at least!"
The Bachchans ascended on stage -- Amitabh, in a refined beige, checked jacket with brass buttons, worn over white loose Pashtuni pyjamas and rich black slippers; Jaya simply clad in a white and beige kurta, her silvery white hair and the silver edging of her chunni providing elegance.
Shanghvi engaged in a meaningful tête-à-tête with them about books, growing up in homes where their parents were authors, Big B's blog (he is on its 3,896th day), almost as if the audience was invisible.
The conversation was first between Shanghvi and Jaya, before her husband picked up the mic to speak.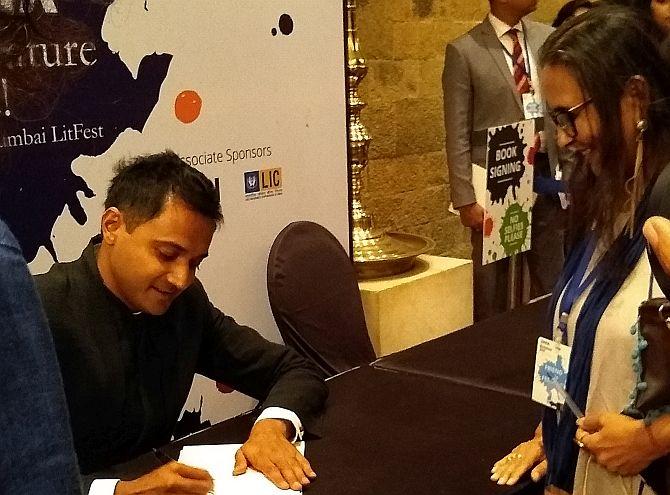 There is no sound more mesmerising than Amitabh Bachchan's voice both for its deepness and perfect diction in both Hindi and English.
Shanghavi first asked why they agreed to come to his book launch.
Jaya in a matter-of-fact voice: "Because you asked me."
Laughter.
Amitabh: "There is a very famous limerick that aptly describes my presence tonight, ladies and gentleman:
A funny young man from Clyde
In a funeral carriage was spied;
When asked, "Who is dead?"
He giggled and said,
"I don't know; I just came for the ride."
Shanghavi probed Amitabh about what it was like to have a father as a writer.
"You kept away from his room and there was an unwritten code of conduct that when my father is writing in his study he is not to be disturbed..." Bachchan recalled. "Then Mother explained to us it was important for creative people, particularly writers, to have their moment of solitude."
"He was asked by Pandit Jawaharlal Nehru to translate a biography on him written by Michael Brecher... He was working day and night and he put out a placard almost like a gatekeeper outside the door of his study that meant nobody was allowed to go in... and this used to happen for days and days..."
Bachchan spoke too how his "respect" for writers being the most "important aspect of film-making" came from having the distinguished Harivansh Rai Bachchan as a father.
He remembered his childhood days in Allahabad (Bachchan chose to eschew the city's new name :)))) was always all about discussing the "words of literature, poems, writing."
Shanghavi asked the Bachchans about their great reluctance to part with books.
Jaya: "I don't know. Amit, he is worse than me." She went on to speak about how her father -- Tarun Coomar Bhaduri, for many years The Statesman's correspondent in Bhopal -- taught her to give books as gifts because a "book remains on the shelf" unlike gifts of chocolate or cookies.
As a young girl she was in charge of dusting the books in her home that allowed her to often browse through them, which she believes taught her to value them more than "a piece of jewellery."
Amitabh chimed in: "You know you go to a bookstore... Most of the time these days one doesn't have the opportunity to go to a bookstore, so it is mostly at airports when you are catching a flight... You rummage through the bestsellers, spend a lot of time in selecting a book, then while you are in the plane you start to read it."
"You make your little note on top of the first page, write the date that you bought the book, you write the shop that you bought it from, the flight you are on, how long it is going to take to reach your destination..."
Laughter.
"It is there on the front page of the book. I am not going to part with that book."
Much laughter.
It was Jaya's turn to mournfully interject about how from time to time she collects the books already read in the Bachchan household to have it sent to schools for their libraries.
"Then I get to hear from the office Sahib ne pura vapas mangwayah (Mr Bachchan has asked for all the books back). Futile. No place on the shelves for the books. And now they are on the floor..."
Amitabh to Jaya: "Can we stop this domestic conversation?"
Applause.
Shanghavi wanted to know from the Bachchans the "sensible way to deal with criticism."
Jaya, flatly: "I am the wrong person to ask. I don't actually care."
Amitabh, diplomatically: "It is the first assurance you get that actually someone has read your work. Very important for us. If nobody goes to see your film that's really bad!"
Applause.
"I would accept criticism, I would like to accept criticism... They add perception that goes beyond what you have written... Most of the times the critics are right we are wrong."
He added with a serious face: "When you feel that they have been unfair cut that criticism out from the piece of paper and stick it on your bathroom wall and every morning look into the mirror and say, 'One day buddy I am going to disprove you'."
Excited round of applause.
As the evening came to a close Shanghvi gave a copy of the book to Amitabh (Jaya already had one) and asked him: "Is there a line of your dad's poetry that would serve as a blessing (for the launch of the book)... So all our ancestors can smile?"
WATCH: Amitabh Bachchan recites from father's poem Jeevan ki Aapa-Dhaapi Mein. Video: Vaihayasi Pande Daniel/Rediff.com
Amitabh opted to read in his velvety deep voice a stanza from his father's poem Jeevan ki Aapa-Dhaapi Mein that he said described the "kind of the rush of life we all go through."
जीवन की आपाधापी में कब वक़्त मिला
कुछ देर कहीं पर बैठ कभी यह सोच सकूँ
जो किया, कहा, माना उसमें क्या बुरा भला।
जिस दिन मेरी चेतना जगी मैंने देखा
मैं खड़ा हुआ हूँ इस दुनिया के मेले में,
हर एक यहाँ पर एक भुलाने में भूला
हर एक लगा है अपनी अपनी दे-ले में
कुछ देर रहा हक्का-बक्का, भौचक्का-सा,
आ गया कहाँ, क्या करूँ यहाँ, जाऊँ किस जा?
फिर एक तरफ से आया ही तो धक्का-सा
मैंने भी बहना शुरू किया उस रेले में.
(In the hustle and bustle of life, when did I find any time
That I could sit at some place for a while and think
of what is good or bad in what I did, said, assumed...
On the day I claimed my consciousness, I saw
I am standing in this fair which is life,
Every one here is lost in an ambiguity
Everyone is busy in one's own give and take
For a while, I remained astonished, bewildered,
Where have I come, what do I do here, where do I go?
Then, from a direction, did come a push
I too began to flow in that surge.