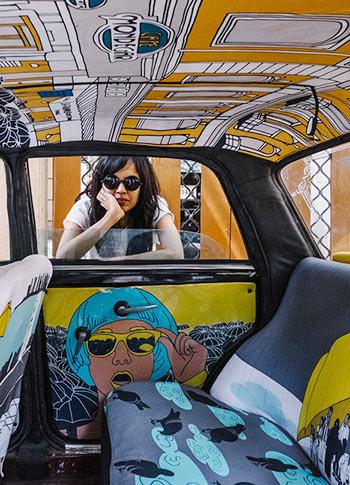 Sanket Avlani along with a bunch of young designers is using art and talent to provide a new platform for budding designers and also aligning it with a social purpose.
Find out how they're making a slow but sure dent!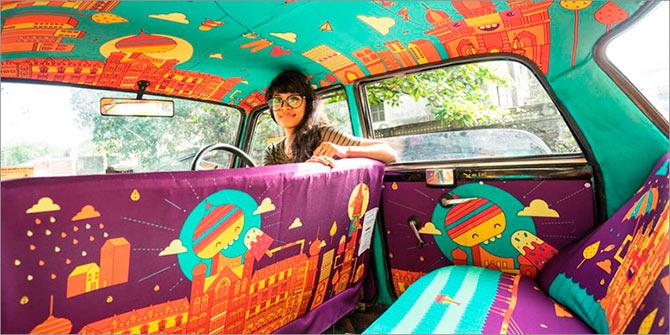 A taxi may be an unusual canvas for an artist to unleash his creativity.
But, for Sanket Avlani (left, below), it became the perfect medium for a project that quickly evolved into a platform for artists to add their aesthetic touch to what many may consider eyesores on our roads.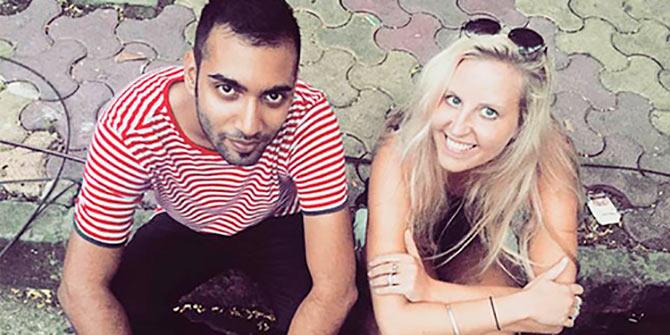 "I would take a taxi to work every day. The covers on the seats appealed to me so I started taking pictures of the fabrics already on and catalogued them on a blog.
"It didn't come as a business idea, it was a basic instinct of a designer; and the same instinct told me that this space can be more relevant, more contemporary and can speak to people, even though many insisted it was a blind spot" says Sanket Avlani, then just an aspiring saviour of the sanctity of everyday design.
Taxi Fabric was born out of pure interest and inclination to transform that space.
"It started out only a design project until recently. But it struck me that thousands of people would be noticing my work if I was putting my design in a taxi. So from a design project, it turned into a platform for young and upcoming designers who deserve a stage."
Sanket teamed up with a bunch of other designers in his circuit and tried creating their first few designs of taxi seat covers and fabric to cover the inner frame.
"It was up to me to translate the designs into fabric, and further onto a taxi's requirements.
"From the quality of fabric to its stitching, finding vendors, skilled labourers and printers -- it all seemed to be a rather laborious and daunting process at first.
"It took me a year of chatting with fellow designers, taxi drivers, entrepreneurs and friends to figure out that it is best to just get off on a start anyway and learn along the way."
Sanket's career took him to London for a year, but he took his ambitious project there with him. He was close to executing his first taxi in Mumbai from there when he met Natalie Gordon, to whom he pitched his plans.
She suggested taking it to Kickstarter, the most popular crowdfunding platform for creative projects.
"I saw a lot of their campaigns being successful, and started researching on what kinds of projects were getting funding. Soon, we were ready to launch our campaign. We invested into the project and did five taxis initially.
"Designers like Gaurav Ogale came on board for one of our taxis. I did the second one, and got three more designers on board for the remaining ones. We documented the process, the response and pitched to Kickstarter, saying, 'Here is a platform that will allow designers showcase their work on one of Mumbai's most popular modes of transport'."
The pitch struck a chord with them instantly, and they were able to raise close to Rs eight lakh, so that Taxi Fabric would dole out a fleet of 25 taxis oozing with the pulse of contemporary India.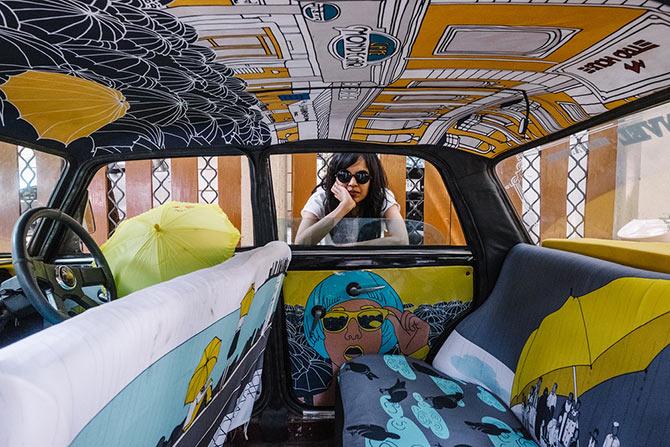 "We reached this goal in two weeks, even though we had anticipated it taking four! My company in London believed in the project and gave us the core fund of Rs one lakh. Even today, much of our campaign is funded by Americans."
Now that they had received funding for close to 30 taxis, they started thinking about how to make the best use of them.
The taxi driver is providing them the space to exhibit their designs for free, which was the most crucial requirement of their business model.
"In return, we gave them the fabric for free and paid them for the sitting period that we held up the taxi for," says Sanket.
While every designer was given leeway to do as they please with their designated taxi, there was an overarching theme running through all the artwork.
The oldest symbols of the city, country, culture and people were depicted with nimble, tidy yet eccentric strokes of modern art -- all culminating in a technicolour detonation.
While one design was a summary of Mumbai through the eras by depicting its evolving buildings, another was something as simple a seat covered in scattered candy-brown drinks of Mumbai's darling cutting chai on an electric blue background.
All the designs were impossible to miss, and invoked heartwarming reactions.
"While this is a medium for designers to show their art, they can also be used for social good. Design can also communicate and it has the power to bring about change in a beautiful manner, without being preachy," says Sanket of their diversification.
One such campaign, arguably closest to Sanket's heart, was their Independence Day special edition.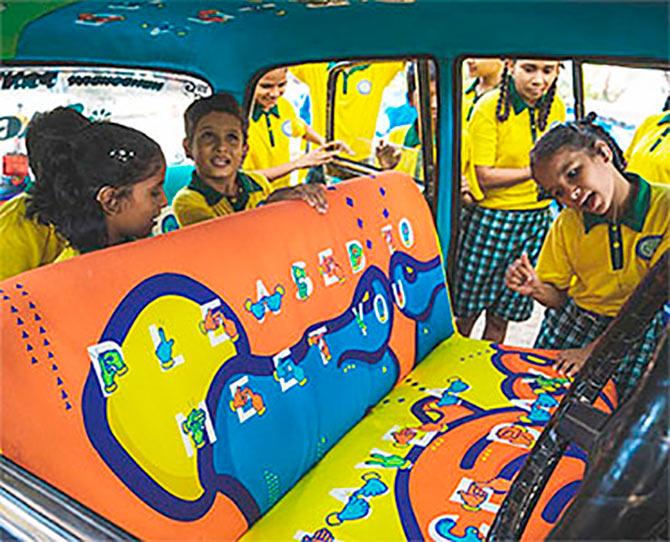 "It really upsets me that the enmity between our nations has stood the test of time, and that we still harbour such strong and moreover -- wrong preconceived notions of the people across the border.
"We tied up with a Karachi-based designer Samya Arif, to bust some myths. She replied to me immediately without a quiver or a shred of doubt in her heart.
"A big milestone is Samya receiving an e-mail from a UN representative just to let us know they were talking about us, and were greatly appreciative of our efforts towards trying to bring about peace between two countries notorious for rivalry," says Sanket.
Even though their venture is not a revenue generating entity yet, some established designers who joined them pay for their own fabrics, which eases the burden off the team.
Another campaign which they executed was the Indian sign language project.
India's population of hearing-impaired persons exceeds that in all of Europe even, but the gap in communication and expression for them is astounding.
TaxiFabric's solution is taxi fully covered in a consumable guide to learning the basics of sign language.
When some students from a school for hearing impaired persons were introduced to the taxi they could not contain their happiness seeing their language had found place in such a public space.
What's on the anvil now is a design inspired by truck art -- with messages for road safety the same way trucks have them immaculately painted.
"Going ahead, we wish to create value in the eyes of various organisations. We would like to associate with any brand which is trying to do culturally sound campaigns.
"We have been approached by brands that have urged us to make designs their way, but we haven't taken up anything which alters our core -- which is to offer a meaningful design interpretation or a solution. The dream, though, is to be approached by the government to take our art to various public spaces."