This is the story of two youngsters from Bengaluru, who converted adversity to their advantage.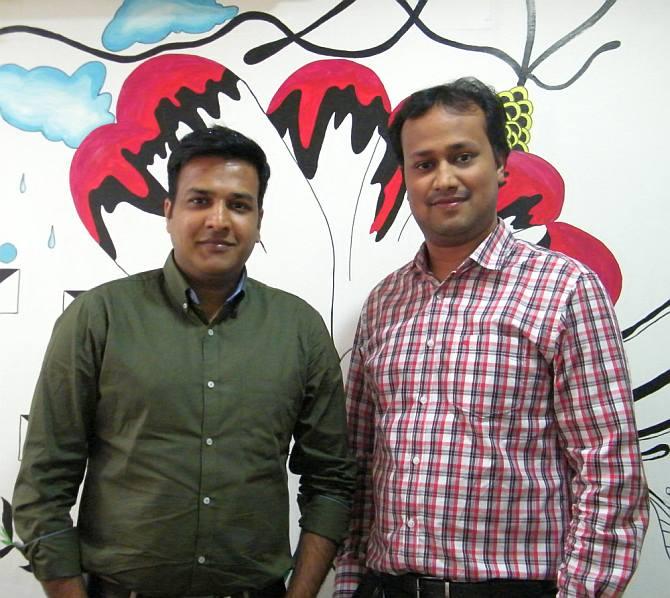 From left: Aniketh Jain and Ashish Agrawal
It was 2008. The world was suffering from the economic meltdown that started in the United States of America.
India did not escape its effects, though much less than other countries. Indian companies that used to recruit thousands of students from college campuses suddenly found themselves with more employees on the bench with no work. Recruitment was temporarily shelved.
Among the thousands of engineering graduates who passed out that year with a placement order in hand but no joining date, were Ashish Agarwal and Aniketh Jain in Bangalore, majoring in Computer Science.
After waiting for six months for a joining date, they decided to join hands and become job creators and not job seekers.
Today, their enterprise, Solutions Infini, has more than 100 employees.
Aniketh Jain narrates the story of how the two youngsters converted adversity to their advantage.
Entrepreneurship was in their blood
We come from typical Marwari business families and business is in our DNA. But we had no inclination to be part of our family's business.
I felt if you had your own family business, you had to be working 365 days a month.
That was why we decided to do engineering in Computer Science and work for some big company.
Ashish was a techie and used to make software products and create and host websites even as a student.
I was the marketing person. I used to sell his products and also get clients who wanted websites to be created.
We also did poster designs for companies. We must have made around Rs 20,000 this way, as students, but we didn't have a plan to become entrepreneurs.
The final project we did was a product that sent SMS or text messages to parents from schools and colleges if their children bunked class, and it was well appreciated.
Got placed but there was a long wait to join the company
Both of us got places in very good companies in the campus interviews, and we were quite happy.
Then started the wait for the joining date. It kept on being postponed.
That was when we decided to do something of our own and not waste time till they called us to join.
Why not become entrepreneurs?
In December 2008, we got an order worth Rs 50,000 to design a website for a company that sold flowers online.
We knew we would not be able to do this work on our own. We needed people to help Ashish. We decided to hire.
That meant we had to start a company and have an office.
We collected Rs 4 lakh from family and friends and decided to float a company of our own.
We named it Solutions Infini and registered it.
Ashish's family offered us a small office in their office building for free, till we established ourselves. We bought some office furniture and computers and started work.
The first employee of the company
The first person who came to us was an MCA graduate. He asked for a salary of Rs 6000. We thought it was high and let him go.
After a month, we called him and found that he was still searching for a job. We offered him Rs 6000. He became our first employee but he is not with us now.
After two-three months we hired an interesting employee. He was the fourth person we hired.
When he came for the interview he didn't know the technology we were working on.
He came back after a month having mastered the technology and we hired him. We are proud that he is still with us.
Making Rs 50,000 in the first month
We made Rs 50,000 in the first month and that was mainly because we didn't have to pay for office space and both of us were not drawing a salary.
In the next six months, our revenue increased to Rs 2 lakh a month, and till today we have been growing at 210 per cent every year.
Last year, our turnover is $10 million. We expect to achieve $20 million this year.
Designing websites did not excite them
We got many orders to create websites. After 18 months of designing websites, we knew what we were doing was not right for us.
It was not economically viable to continue and also satisfy clients.
A mentor arrives and helps them dream big
In the first 18 months, we didn't have any vision for the company. We were rather clueless.
So we decided to take the help of a mentor. We had seen only our people do traditional business and what we were doing was so different.
Our mentor helped us realise that we could take Solutions Infini to higher levels.
He showed us the potential of the market in which we were and how far we could go.
That was when we started dreaming of building a Rs 100 crore company.
The first thing he asked us to do was concentrate on what we wanted to do and after that, start expanding.
Infi-Buzz: Technology to send bulk SMS to customers
In the meanwhile, Ashish was working on the SMS project we did as students and fine-tuning it. We felt that was where the future lay.
Today, when you book a bus ticket or a train ticket, you get the details on your phone. When you draw money from the ATM, you get an SMS from the bank.
Similarly, our product Infi-Buzz helps companies to send bulk SMS to their customers.
They integrate our technology into the system so that the moment their customer does a transaction -- say draw money from a bank, or buy something, or book a ticket -- he gets an SMS.
Next advice was to expand to conquer the market
Even today, there are only four or five players in the Indian market who create this technology.
In India, with 1.5 billion people, SMS is the most used mode of information transmission.
Only urban India is in the SMS loop and we are yet to tap the huge rural market. For example, the Grameen banks are still not active on SMS.
So in the second year, we started our first operations outside Bangalore (now Bengaluru) -- in Mumbai.
In no time, we had branches in Delhi and Hyderabad too, all sales and service offices.
First, we had only one person in each city working from home. As they brought in more customers, we opened our own offices in these cities too.
Now, all our centres are contributing handsomely to our revenue.
One more product
With Infi Buzz a huge success, we decided to add one more product.
It is the welcome audio message that you hear when you call most companies. We named it Dial Street.
Our aim is to simplify communication for businesses as we work with B2B customers.
Wanting to be a global player
We started dreaming of becoming a global player as we knew our product could be used anywhere in the world. But we knew if we wanted to be a global player, we had to have a strong base in India.
In our third year, we became a truly global player.
Today, we have customers in the Middle East, European countries, Malaysia, Singapore. Of course, 95 per cent of our customers are Indian companies.
4000 customers in six years
The first customer of Infi Buzz was a lights and bulbs manufacturer, in 2009, and it earned us Rs 2300. I still remember going and collecting the cheque for Rs 2300 from them.
One of our earliest big customers was Tata Communications. Then, we got United Colors of Benetton. Today, we have 4000-odd customers from across the world.
We have many banks like Vijaya Bank, Syndicate Bank, Bank of Baroda, Dhanalakshmi Bank, etc as our customers.
The Reserve Bank of India has mandated that all banks should send SMS to their customers after each transaction. With Jan Dhan Yojna, we see a lot of business happening in the rural areas.
We see the banking, financial and insurance sectors as our biggest customer base soon.
Next will be the e-commerce sector and then retail. These are going to be our target areas.
Giving employment to 110 people
In the first year, we had eight people working for us. In the second year, 12 people and by the end of the third year, we had 25 people.
We decided to move out of the old premises into a more spacious office. Today, we have 110 employees.
In the next five years, we see ourselves as a global company with 300-400 employees, aiming to do $100 million worth of business.
Challenges so far
The biggest challenge was to function without any support, and with lots of interference from the various departments in the government.
Doing business in India is not easy. We have to deal with multiple departments and we waste so much time and money on this even though we are 100 per cent compliant.
The next big challenge is the highly competitive market with new players entering the field at regular intervals.
This can be overcome by innovation and that means you have to be innovating all the time, which we are doing.
Another challenge is to get good quality talent. It is tough as we cannot offer huge salaries like the MNCs.
Things to change for more start-ups to come up
First and foremost there should be ease in doing business. We should be able to start a business in 24 hours, but there are rules and regulations that stop you from moving ahead fast.
Many start-ups shut down because of government regulations and interference.
Government should understand how start-ups function; we need only little space and a couple of people and a great idea to start with.
India's ecosystem has to change urgently if more entrepreneurs are to come up.
We also need a better education system. Imagine, we still teach age-old technology in schools and colleges. It is high time to update the syllabus.
Lessons learnt
We learn only by making mistakes. All entrepreneurs should be open to ideas from others. They should understand their customers well.
We should be focused all the time. We should have both long-term and short term vision.
Advice to young entrepreneurs
If you have an idea, don't think too much about becoming an entrepreneur; start immediately.
You should be courageous enough to take risks. Only from failures and mistakes can you learn.
Despite all the shortcomings, we feel this is the right time to be an entrepreneur in India.