A brief class by his teacher on the Rameswaram seashore on how birds fly and the locomotive force behind their flight gave former President A P J Abdul Kalam his aim in life and helped him in understanding physics better.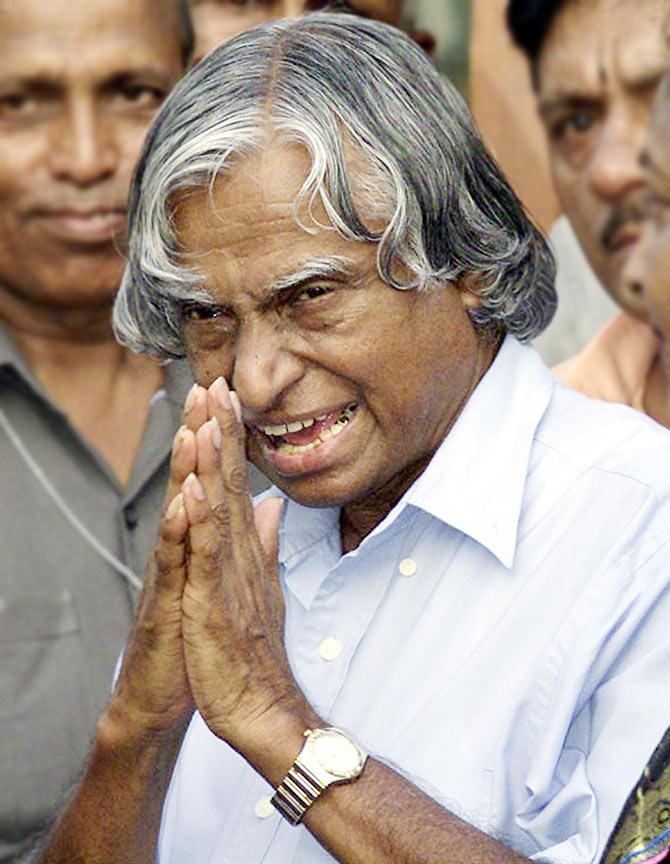 This and several nuggets about Kalam's life besides advice for young people on careers in areas like robotics, aeronautics, neurosciences, pathology, paleontology and material sciences find mention in a new book Reignited: Scientific Pathways to a Brighter Future, co-authored by Kalam and his former scientific advisor Srijan Pal Singh.
Kalam says as a young boy, he used to love the stories of the pilots and their planes and was curious about planes. Also he wanted to be a pilot himself. "Back in my village there were few people who could discuss aircraft. I was a disadvantaged child from a non-educated family; yet I had the advantage of being in the company of great teachers. My curiosity was fulfilled by a very special teacher when I was a 10-year-old boy in class V. This was indeed a life-changing event," he writes.
He then goes on to describe one of the most important event of his life. "My science teacher's name was Sivasubramania Iyer. One day, the topic of discussion in our class of 65 was 'how birds fly'. He went to the blackboard and drew a sketch of a bird with a tail, wings and head and explained how a bird flew. "The same day he took us to the Rameswaram seashore where we saw dozens of seabirds flying. My teacher said, 'Look how the birds are flapping their wings, now see how they change direction using their wings and tail. What is the locomotive force behind this flight -- it is the life energy of the bird'." The teacher told the students that the same principles make an aircraft fly and within an hour of the lesson, Kalam learnt how birds fly.
According to Kalam, that single lecture transformed his life and led him to make a profession out of his passion: rocket engineering and space flight. "What I learnt that day was unique. My teacher gave me an aim in life. Later I realised how important it was to study physics. I chose physics. I opted for aeronautical engineering, and then became a rocket engineer. Then a space technologist."
MUST READ: CBSE Class 12 results: Visually impaired boy scores 91.4 per cent
Kalam also mentions how as a child he used to wait with eagerness to read the newspaper filled with photographs of fighter aircraft and stories of Second World War. He was in class V when he took up his first job as a newspaper boy. His elder brother used to lend him his bicycle. Kalam would pick up a bundle of Tamil newspapers from the station at 5 am and begin his task of delivering them to some local offices, some tea stalls and occasional homes. But before he set out distributing the papers, he would spend time at the station itself.
"I used to sit on the bench there and open the bundle and carefully pluck out a copy of the daily newspaper Dinamani. The first page always caught my attention: it was usually filled with photographs of fighter aircraft and stories of Second World War."
The stories would be about brave pilots from both the sides, and how they manoeuvred their aircraft and bombers. Published by Penguin Books, Reignited: Scientific Pathways to a Brighter Future explores the realm of science and technology, their extraordinary achievements and their impact on lives in the days to come.
Image: In this file photograph, newly elected Indian President A P J Abdul Kalam greets supporters outside his house in New Delhi July 18, 2002. Dr A P J Abdul Kalam spearheaded the country's missile programme and was overwhelmingly elected to the post of president of the world's second most populous nation.
Photograph: Kamal Kishore/Reuters