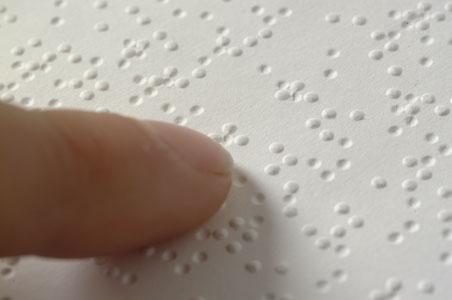 Eighteen-year-old Sana Samad is the second student after Kartik Sawnhey to have been allowed to pursue mathematics after Class 12 at the Delhi University.
Life will no longer be a blind alley for Sana Samad, one of the two visually impaired students from the city, who opted to study mathematics in Class XII despite opposition and has secured admission to a prestigious Delhi University college.
Eighteen-year-old Sana, who proved her detractors wrong by scoring 93 per cent in Maths, is elated about getting admission in Sri Ram College of Commerce (SRCC) -- where she will study the subject.
The odds were stacked against both Sana and her visually impaired batchmate-friend Karthik Sawhney when they decided to pursue the less-trodden path by opting for Maths at the CBSE board.
Sawhney, after a long fight with IIT-Delhi, has been accepted at the renowned Stanford University, while Sana is happy at being accepted at SRCC, where she will pursue Commerce.
The challenge to study Maths, for both Sana and Karthik, was stupendous, in the absence of any study material in Braille.
Sana perhaps encountered more problems than Karthik.
Bluebells School, where she was enrolled, had a new Maths teacher for Class XII and her grades fell. She was advised to study music instead. But Sana did not budge.
Her mother Dr Pakiza Samad, who teaches Commerce at a Delhi University college, recalls, "I would spend a couple of hours each day and help Sana with (audio) recordings.
I would record Math problems and possible solutions and then Sana would work on it."
At school too, help from classmates was difficult to come by. "Sometimes I would ask what was written on the blackboard and I would get no answers or told they (classmates) were busy!" Sana says with a grin.
The challenge was obviously immense, but it was Sana's hard work that eventually paid off.
"Apart from SRCC I also got accepted for business management studies," she says cheerfully.
Sana is excited about attending the orientation course in SRCC, though she is not quite sure if she will be taking the metro to the campus in the long-term.
"I attended a six-week life skills workshop recently to become truly independent. I learnt to cook, to housekeep and also about mobility," says Sana, who has learnt to take the harshness of life in her stride.
But sometimes it does irk her.
"I was on a bus and a lady, my co-passenger, had a lot of questions for me: 'Are you blind by birth?'; 'How did you become blind?'; 'Are you completely blind?' Sometimes I think people should be more sensitive towards us," she says smilingly.
It has been a long journey for Sana and her mother -- right from the time Pakiza had to fight to get her daughter accepted in a mainstream school, and helping Sana survive in this big, bad world.
"Sometimes I've just had people staring down at my daughter and then bombarding me with personal questions. It's not been easy. But I was determined to help Sana and raise her as normally as I could," says Pakiza.
Sana isn't really complaining.
She has risen above the pettiness of it all, except for the routine sisterly fights over sharing the study desk with younger sibling Nadia.
Photograph:Lrcg2012/Wikimedia Commons