Don't compromise. Balance it between work and family. How?
Here are few valuable life lessons that India's top banker Chanda Kochhar points out in a heart-touching letter to her daughter.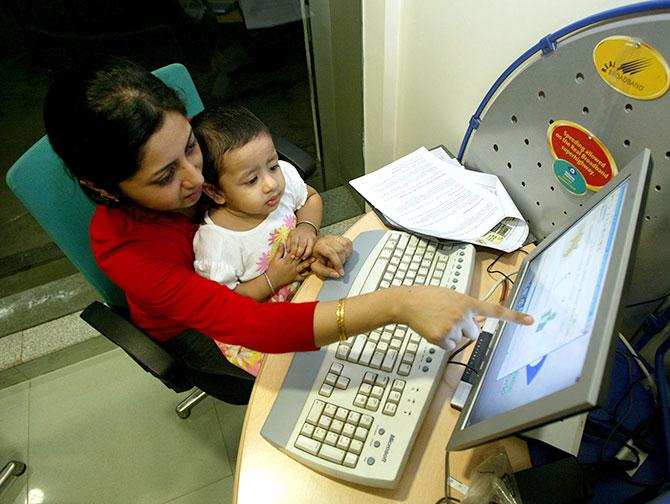 IMAGE:
Photograph used only for representational purposes.
Photograph:

Jayanta Shaw JS/TW/ Reuters
Working mums have a tough life for sure, juggling the unending tasks and taking care of work and kids at the same time.
It's interesting, however, to see how famous personalities who also happen to be mothers deal with their pressures and fears.
One such personality that everyone looks up to is ICICI Bank MD and CEO Chanda Kochhar. While she is an inspiration to all women, not many know that Kochhar is a doting mother as well and believes that values are integral for a family and must be passed down generations.
This is what you can feel when you read a letter that she recently wrote to her daughter Aarti, which has some valuable lessons for every mum, working or not.
Here are seven important life-lessons for every working woman from Chanda Kochhar's letter to her daughter.
It is important to focus on what gives you satisfaction and work towards it with utmost dedication.
The first thing that Kochhar writes about is that one should always do what gives them satisfaction and work with all honesty to fulfill their passions.
"Our parents treated all three of us -- two sisters and a brother -- equally. When it came to education or our future plans, there was no discrimination between us based on our gender. Your grandparents always had the same message for the three of us -- that it was important to focus on what gave us satisfaction and to work towards it with utmost dedication. That early initiation enabled us to develop into confident individuals capable of taking decisions independently," Kochhar says.
Mothers can turn the tide in times of crisis
Kochhar writes that she lost her dad when she was only 13, and that was when their lives changed overnight, without any warning.
"I was only a young girl of 13 when my father passed away from a sudden heart attack, leaving us unprepared to take on life without him. We had been protected from life's challenges so far. But without warning, all that changed overnight. And my mother, who had been a homemaker till then, faced the responsibility of raising three children all on her own. It was then that we realized how strong she was and how determined to do her duty in the best possible manner. Even today I can remember the equanimity and calmness with which she handled the crisis on hand when my father passed away," she avers.
As a parent with a full-time job, one must not let work affect the way you relate to your family
All of us are in such stressful situations in life that many-a-times our family bears the brunt of it. But that should not be the case, feels Kochhar.
"Your father and I nurtured our relationship despite the fact that we were both busy with our own careers, and I am confident you will do the same with your partner, when the time comes. If you had complained and whined about my extended absence from home, I would never have had the heart to make a career for myself. I am blessed with a great and supportive family and I really hope you too will be as fortunate when you set out on your own!," she writes.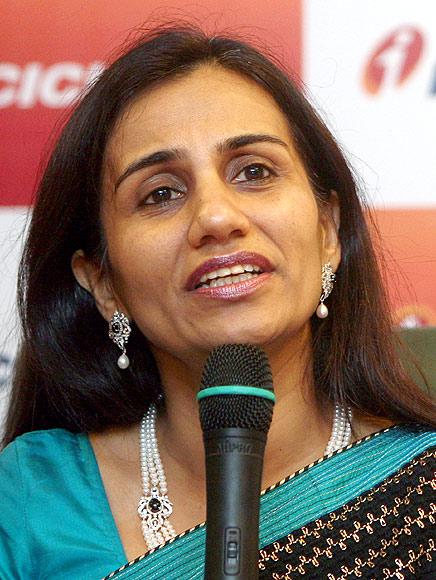 IMAGE: India's ICICI Bank's new Chief Executive Officer and Managing Director Chanda Kochhar speaking at a news conference in Mumbai. Photograph: Punit Paranjpe/Getty Images
You have to handle the challenges and emerge stronger from them
Challenges are a part of life and they also have the power to make or break you.
While it can be a tough task overcoming the challenges, one should always emerge stronger from them.
"I also learnt from my mother that it is very important to have the ability to handle difficult situations and keep moving forward in life, no matter what. Even today I can remember the equanimity and calmness with which she handled the crisis on hand when my father passed away," she writes.
Relationships are important and they have to be nurtured
At many places in her letter Kochhar emphasises on the fact of having a strong and supportive family.
She also talks about the importance of relationships in life and how they have to nurtured.
"While working hard for my career, I looked after my family, and have been there for my mother and in-law when they needed me around. They reciprocated in kind with their unconditional love and support for my career. Remember that relationships are important and have to be nurtured and cherished. Also keep in mind that a relationship is a two-way street, so be ready to give a relationship just as you would expect the other person to be giving to you," she writes.
Hard work and diligence play a very important role in our lives
While fate and luck are important, Kochhar says that it is hard work and diligence that help you rise the path of success.
"I believe in fate but I also believe that hard work and diligence plays a very important role in our lives. In a larger sense, we all write our own destiny. Take destiny in your own hands, dream of what you want to achieve, and write it in your own way. As you go ahead in life, I want you to climb the path to success one step at a time. Aim for the sky, but move slowly, enjoying every step along the way. It is all those little steps that make the journey complete," she writes.
Don't cut corners or compromise to achieve your dreams
There are no shortcuts to success feels Kochhar.
"Aarti, there is no limit to what a determined mind can achieve, but in achieving your goal, don't compromise on the values of fair play and honesty. Don't cut corners or compromise to achieve your dreams. Remember to be sensitive to the feelings of people around you. And remember, if you don't allow stress to overtake you, it will never become an issue in your life. Remember that good times and bad times will be part of your life equally, and you have to learn to handle both with equanimity. Make the most of life's opportunities and learn from every opportunity, and challenge that life brings along," she sums up.