Two Indians, Arsh Dilbagi and Mihir Garimella, were among the winners of Google Science Fair 2014, held on September 22, 2014 at the Fox Theatre, Redwood City, California.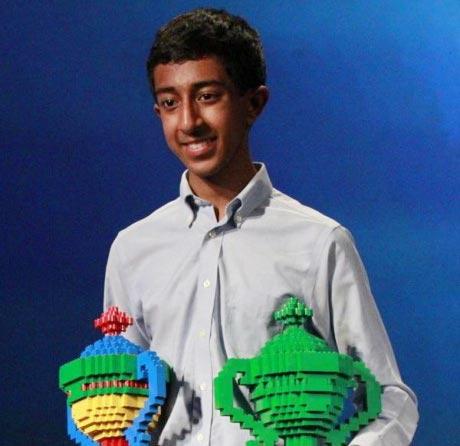 Mihir Garimell; Photograph: Google Plus
First introduced in 2011, the Google Science Fair awards are open to 13-18-year-old students around the globe. The online science and technology competition is sponsored by Google, National Geographic, Lego, Virgin Galactic and Scientific American.
Garimella won in the under-13 category and Dilbagi won the Voter's Choice Award.
Arsh Dilbagi, 16, studies in the 12th standard at DAV Public School in Panipat, India. He won the award for his project 'Talk: An Innovative AAC Device For People With Developmental Disabilities'.
The Voter's Choice Award is decided by public vote. It is given for a project that the public deems has the ability to make the greatest impact to change the world.
Arsh Dilbagi with his device; Photograph: Google Plus
Dilbagi's invention helps people suffering from developmental disabilities such as locked-in syndrome (LIS), a condition in which a patient is aware but cannot move or communicate verbally due to complete paralysis of nearly all voluntary muscles in the body except for the eyes. It is also useful for people having Amyotrophic lateral sclerosis (ALS).
Estimates show that approximately 1.4 per cent of the world's population suffers from such disorders.
Fourteen-year-old Mihir Garimella is a student at Fox Chapel Area High School in Pittsburg, Pennsylvania in the US. His project is called 'Flybot: Mimicking Fruit Fly Response Patterns For Threat Evasion'.
He has developed flying robots. These are being used for a variety of tasks. For example, after the 2011 earthquake in Japan, rescuers used a Kinect-equipped quadrotor to autonomously carry out search and rescue missions in collapsed buildings.
Garimella says he aims to create a simpler, faster and more practical method of onboard threat evasion, inspired by the way fruit flies detect and respond to threats.
He wants to become a researcher or entrepreneur and has been participating in science fairs since sixth grade.
His idols include Alan Turing, whose fundamental work continues to shape the field of computer science, and Elon Musk, who applies his knowledge and vision to solving large-scale problems.
The grand prize winner receives a $50,000 scholarship, spends 10 days in the Galapagos Islands from National Geographic Expeditions, a behind-the-scenes tour of Virgin Galactic Spaceport, a prize pack from LEGO, and one of three experiences offered by LEGO, NatGeo, and Google.
The winner's school will receive $10,000 for computers or lab equipment as well as one year access to Scientific American.
The age category winners like Garimella enjoy experiences at LEGO Education, National Geographic or Google, $25,000 scholarships, and other exciting perks.