On her 40th birthday, Gauri Jayaram, an IIM-Bangalore alumnus, quit her job, sold off her car and bought a bike.
What she did next will inspire you.
Read on to find out...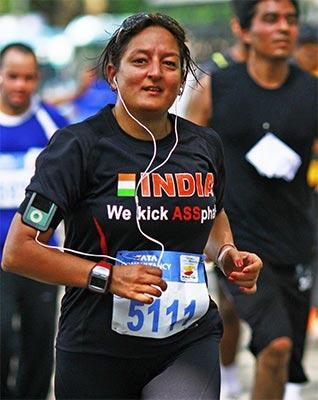 It is about discovery and enjoying the journey instead of focusing on the destination,"says Gauri Jayaram.
With a passion for travel and an appetite for risk, Gauri has never been afraid to jump off one boat and get on to another without a moment of thought or hesitation; she believes, "it will take me some place or I will take it somewhere!"
Gauri Jayaram is the founder of Active Holiday Company, an international adventure tour company that specialises in guided and self-guided adventure holidays.
Given her vast experience with international travel, she decided to keep her focus on international destinations for Indian travellers.
Her spotlight was on others, who, like her, are into trekking, cycling, hiking tours internationally and also travelling to run marathons.
She started this venture of hers in 2013.
Life of an entrepreneur
Running one's own start-up, according to Jayaram, is like a roller coaster ride.
As an entrepreneur she is hard pressed for time and wishes there were more than 24 hours to a day.
She feels the biggest problem in building an enterprise in India and particularly for a niche start-up, is to attract the right talent to build the team.
She says, "We get a lot of people showing interest but the skill set and quality is rarely a match with what one needs for a start-up."
Another issue Jayaram faces as an entrepreneur is the general awareness level of her target segment.
According to her, many Indians simply don't understand adventure travel.
"We still have people coming to us asking for adventure packages to Disneyland and at times like that, for a fleeting moment, I want to hit my head on the wall," she says.
The journey called life
The daughter of a pilot in the Indian Air Force, Jayaram has had a nomadic upbringing.
She was five days old when she went on her first road trip, courtesy her 'fauji' father.
Eleven long years in Mumbai saw her through graduation and her first job at 20.
While working with Air Mauritius as Regional Manager in 2001, she moved to Chennai post marriage.
After motherhood, she moved out of her job and dived into the world of entrepreneurship. She started with zero capital in 2001.
Her start-up was into curating holidays.
Though things were running smooth, Gauri felt her brand was not recognised and she felt restricted.
At this point, she received an offer for the top spot for South Asia with the world's largest coach touring company.
It was love at first sight in every way. She joined them in 2005 and stayed with the company for eight-and-a-half years.
After this long stint she decide to risk it again and got started a second time.
Road to self discovery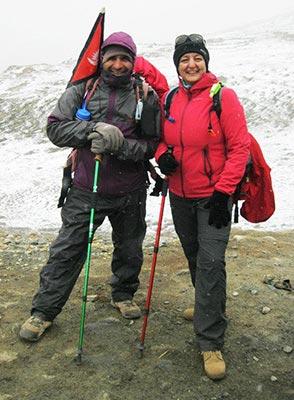 "For my 40th birthday, in a sort of spiritual pursuit to minimise my belongings and maximise my experiences of life, I sold my Honda City and bought myself a bicycle."
Gauri was not sure if she was bored of her job or was in entering mid-life crisis where she felt she had nothing left to accomplish.
She started looking outside her work and home to stay inspired.
She took to running, writing and even published a book -- Wise Enough To Be Foolish -- in 2013.
She even started planning her holidays around marathon races.
That same year she went to Jordan to run the Dead Sea (lowest point of earth) marathon and then came back to swap bags and went to Nepal to trek to the Everest Base Camp.
Her trip to Everest Base camp just living out of one bag, without any gadgets made her realise how much real 'excess baggage' she had collected in her life back home.
Gauri came back a different person and began minimising various aspects of her life.
It was then that she sold her fancy car, quit her job, and started up.
She has had a near death experience too.
In 1999 she almost drowned after she fell off a raft in Nepal.
"It made me take stock of my life and rewrite my bucket list," she says.
"Men don't have it all either!"
According to Gauri, women who choose the right partners and right professions can have it all.
For all the travelling Gauri does she often gets asked the same question, 'Who takes care of your daughters?' Gauri has a simple response.
She says, "The other parent does. I am lucky because my husband believes that they are as much his responsibility as they are mine. I admit that I do miss out on many things because of my work but so do many men who travel for work. I don't think men have it all either."
Gauri does not nurse guilty feelings about spending time away from home because it is a choice that makes her happy.
"Going to work is a choice I make. I never tell my daughters that their Mom has to work because she has to earn money; I work because I have awesome fun at work and that makes me a happier and a better mom. They will get it when they start doing what they love," she says.
Learn to travel light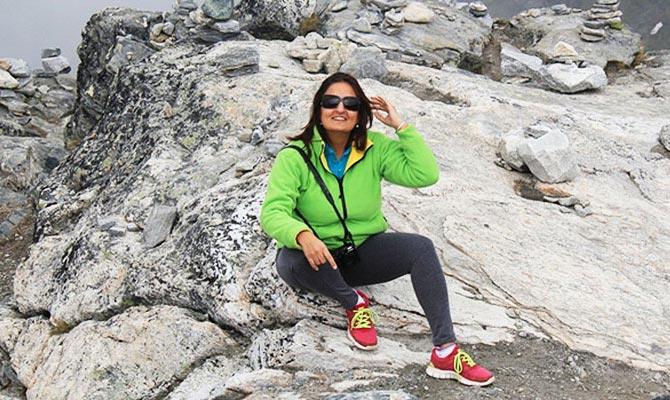 Gauri feels that many women will benefit from learning to travel light.
It makes one feel light, stress free and also gives one a sense of freedom and independence.
It's best to leave a set of your travel documents home as well as in your checked-in luggage and to keep a phone charger along with your multi-pin plug in the hand bag.
Gauri is happy being an entrepreneur, seeking joy from what she loves most -- Adventure!
"I love the opportunities that an empty canvas gives me, the thrill to write my own story, the butterflies that the end of the month brings me when payments have to be made. But most of all I enjoy the ride. Each day is new, and every morning brings with it the chance to learn, grow and take risk. And when the going gets tough -- I just go for a long run and it clears the cobwebs."
Photos: Courtesy Yourstory.com