Indian mathematician and founder of Super 30, Anand Kumar (Read more about him here!), has been invited by the prestigious Massachusetts Institute of Technology (MIT) and Harvard University to speak on his globally acclaimed effort to mentor students from the underprivileged sections for admission to the prestigious IITs.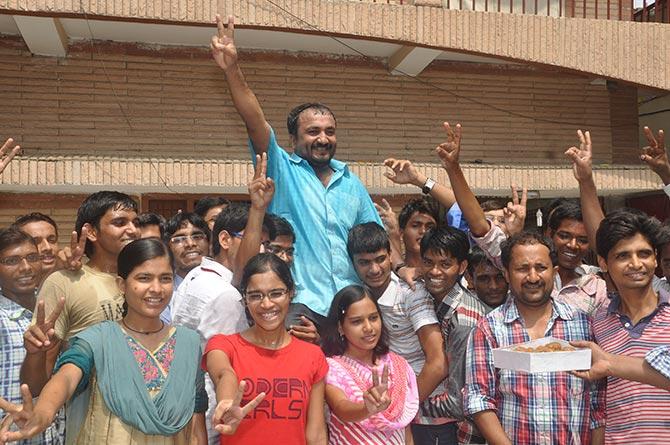 Kumar, who could not study at Cambridge University years ago due to acute financial constraints, will speak at MIT Media Lab, an interdisciplinary research laboratory, on September 30, a media release said.
"I will talk about how the world can be a better place using inclusive education as a powerful tool to usher in psychological and societal change. What I have done in the last 14 years in the backwaters of my home state Bihar is a small initiative to provide the right opportunity to a bunch of talented and passionate students from the underprivileged sections, but the results have been astonishing," Kumar said.
"It needs to be replicated on a larger scale, as education alone has the power to tackle all the world's problems," he said.
On October 1, he will speak at the International Education Policy programme of Harvard University.
The programme promotes global social justice through their unparallelled and effective leadership of innovative and sustainable education reform worldwide, the statement said.
IEP alumni work as education specialists for international development agencies like UNICEF, UNESCO, Save the Children, USAID, and the World Bank as policymakers within ministries of education worldwide, and as social entrepreneurs launching their own global education organisations.
Kumar's pioneering Super 30 initiative has captured the attention of global media for successfully mentoring students from underprivileged sections for Indian Institute of Technology (IIT).
Anand, who has been featured in Newsweek, Time, Focus, Monocle and various other international newspapers and channels like Discovery, French TV and Al Jazeera, said it was a big thing for him to get an opportunity to speak and share his experiences and vision at premier institutions of the world.
He has also been honoured by University of British Columbia, Canada; Tokyo University, Japan; Education without Borders, Dubai as well as various IITs and IIMs.
US President Barack Obama's special envoy Rashad Hussain also visited Super 30 a couple of years and described it one of the best.
Super 30 is an initiative that has achieved global acclaim for the way it has mentored students from the underprivileged sections -- irrespective of caste and creed -- over the last 13 years for admission to IITs. It offers them free accommodation, food and mentoring without taking any assistance through donations or from any government and private agency.
ALSO READ: 'I had no money for school fees, but my son is going to IIT'
Super 30 founder Anand Kumar in list of world's top 20 teachers
Meet the truck driver's son who cracked IIT-JEE
He trains India's poorest students for the IIT
Bihar's Super 30 inspires Japan to start Global 30
IIT JEE: Super30 scores 100 per cent results for 3rd year running
With inputs from MI/Khan in Patna
Image: A jubilant Anand Kumar (in blue shirt) celebrates with his students in Patna.
Photograph: MI Khan/Rediff.com
© Copyright 2022 PTI. All rights reserved. Republication or redistribution of PTI content, including by framing or similar means, is expressly prohibited without the prior written consent.