Start-ups in the information technology domain are quite common these days. But three young entrepreneurs have ventured into a comparatively lesser known area of food: snacks. Arul Murugan, co-founder, Chloroplast Foods, tells Shobha Warrier/Rediff.com, how he is bootstrapping his start-up.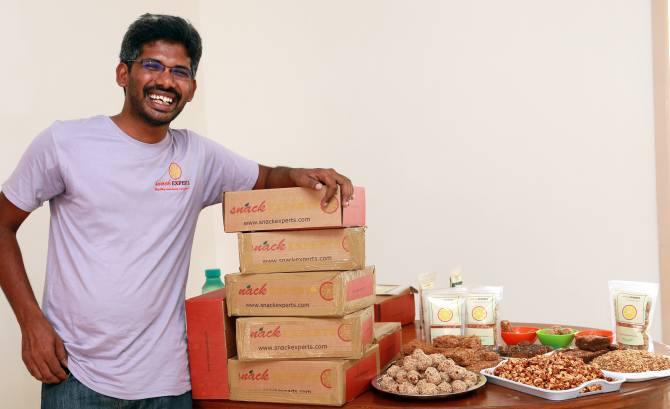 Photographs: Sreeram Selvaraj/Rediff.com
Two of them studied at the Tamil Nadu Agricultural University in Coimbatore and shared a hostel room.
"There were only two choices before us: join the civil service or become entrepreneurs. Becoming entrepreneurs won over the civil service," says Arul Murugan, one of the three.
To get the necessary capital to invest, they worked for a while in the corporate world.
Working and brainstorming
The two college friends continued to have discussions over the phone on various possibilities for the start-up they had in mind.
After a lot of brainstorming, they chose the snack space to be in, as they knew that the food market was very crowded.
Arul Murugan, 28, is the face of the start-up. His friend has a month to go before resigning from the company he works in.
Arul's friend's sister, an engineer, is the third partner.
Arul Murugan comes from a family of farmers and wanted to work in that area.
He did a degree in Horticulture and worked for seven years in a multinational company that specialised in food processing.
"My dream is to provide a complete business solution where I can source directly from the farmer, process it in a factory and then supply to the consumer.
"I had seen how tough it was for my parents as this kind of link did not exist for them.
"Due to the inefficiencies in the system, the product goes through many hands before it reaches the consumer, but the benefit never reaches the farmer," says Arul.
The friends were sure that whatever they did, technology would play a major role as they had a technology background.
"Only technology can clean up the system by eliminating middle men so that the benefit reaches the producer, who is the farmer here.
"If we eliminate middle men, we will be able to take the product faster to the consumer and without any middle man in the middle!" Arul reasons.
Resistance from families
The decision to strike out on their own met with stiff resistance from their families.
Arul Murugan is a first-generation graduate and his parents wanted him to earn a monthly salary as he was doing in the company he worked for.
"My parents were not at all pleased with my decision. They wanted to know why I wanted to get into 'trouble' when I was earning a good salary."
Arul resigned from his job only after the start-up began getting orders.
His two partners also had to convince their middle-class parents that they were on the right track.
The beginning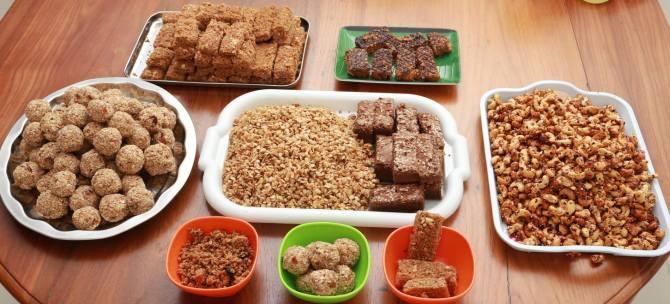 The three pooled in Rs 2.5 lakh and started the company, Chloroplast Foods. They named the brand Snack Experts and sell online at snackexperts.com.
The major portion of the capital went in to developing the website. The rest went into product development, packaging and shipping.
"In two months everything was in place. We were confident about the space we were getting into; people love snacking and if the consumer likes our products, there will be repeat orders," Arul said.
Why an online store?
Their experience told them that those living in Tier 1 cities do not have the time to buy healthy snacks, though they are available.
In Tier 2 cities, availability is the problem. An online store would cater to both, they reasoned.
The website was ready in December 2014.
Healthy snacks
The USP of the product is that it does not contain any preservatives and uses natural ingredients.
Arul and his friends did a lot of research to come up with healthy ingredients that are missing in our food today.
"For example, oats and honey. Oats is not used as a snack. Honey is very healthy but people use only sugar. Palm sugar, which was used in many traditional recipes, is not in our regular recipes today.
"We dug out traditional recipes from our agricultural university library."
They have currently sourced 30 recipes and arranged them under the categories Flapjack Fairies, Sweety Retreats, Fruits and Nuts Extravaganza, Fruits Fosterage Scintillating Savouries and Sassy Seeds.
Oats is a major ingredient in almost all the snacks. For example, Nosh n Josh is a flapjack of mixed seeds and dry fruits.
Sassy Seeds has pumpkin, cucumber and sunflower seeds.
Nutrition facts like total calories, carbohydrates, protein, fibre and fat are displayed for each snack.
"We also add Fantabulous Facts about each snack. For example, 100 gm of '3 Pm Tea', made of roasted watermelon seeds, contains 557K calories, 15 gm carbohydrates, 28 gm proteins, 47 gm fats and 0 fibre.
"But the fantabulous fact about it is that watermelon seeds are a good source of vitamin B, like thiamin, niacin, folate, fatty acids, essential proteins and lots of minerals."
A customer can place an order for five items costing Rs 700. The order is delivered in seven days.
As yet they can't source the ingredients from the farmer directly, but they plan to do so once orders pick up.
The shelf life of the products is around one month.
In December last year, when they became operational, they got orders only from friends.
Then, the unbelievable happened.
Winning the '10 Minute Million' at IIT-Bombay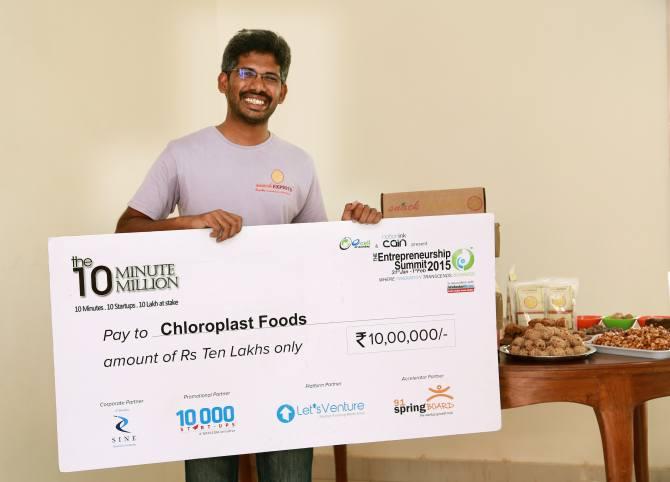 The turning point was the '10 Minute Million', an Entrepreneurship Summit organised by IIT-Bombay, to encourage pathbreaking ideas.
Arul Murugan represented the start-up at the summit in February this year. Theirs was one of 10 ideas short-listed by the IIT from 260 applicants.
The entrepreneurs had five minutes to present their idea to the public that included many investors, and another five minutes to field questions from the audience.
Four investors were sufficiently impressed to fund Arul's young start-up to the tune of Rs 14 lakh. But the competition was designed in such a way that they were allowed to take home only Rs 10 lakh.
The four investors will own four per cent equity in the company, which is valued at Rs 2.6 crore.
This experience gave the young entrepreneurs the confidence that their idea was viable and interesting.
After the win
Life changed dramatically after the win.
Says Arul Murugan: "The day after we won the award, we received 40 orders.
"Food companies and leading VCs started enquiring about our products. An Indian in the US ordered snacks for his old parents in Maharashtra as a present."
In February, they delivered 70 boxes.
Future plans
The friends want this number to go up to 500 boxes a day, with snacks produced in their own factory and not outsourced as now.
"We want to develop a better customer-friendly website where a customer can finish all the work in one minute. People should think of us when they think of snacks.
"By the end of the first year, we want to have 15,000 users and want to deliver 60-70,000 boxes with a turnover of Rs 4-5 crore.
"We also want to make our company Chloroplast a one-stop destination for snacks specific to the elderly, children, pregnant women, office going people, vegans, even size zero boxes for the health conscious," says Arul, thinking big.
Advice for new entrepreneurs
Arul believes this is the best time for entrepreneurship in India, so if you have a good idea, go with it.
However, "unless you are deeply passionate about the idea, don't go ahead."
Another bit of advice: Don't wait for the market to get ready for your product; you create the market.
Some amount of experience is necessary to make a product like theirs. "Because of our experience, we understood what the market wanted."
You may get an investor today or you may not get one for many years, but you should have the patience and passion to carry on, Arul says.
And the support of your family will always help.
Ecosystem for a start-up
Bureaucratic hurdles are legendary, but Arul believes things are improving.
Registration has become much easier, and if the single window system becomes operational, it will be even easier.
Investors are ready to invest in start-ups in Tier 3 cities. "You can be from a village but if your idea is good, it will take off," Arul says.
Social media is a great help.
"You can get connected with well-known investors on social media who are willing to guide you. The good news is that investors with money are looking out for good ideas," Arul concludes.