In the Karnataka Secondary Education Examination Board results that were announced May 18, Shalini, who worked as a maid servant in Bangalore, secured 84.8 per cent.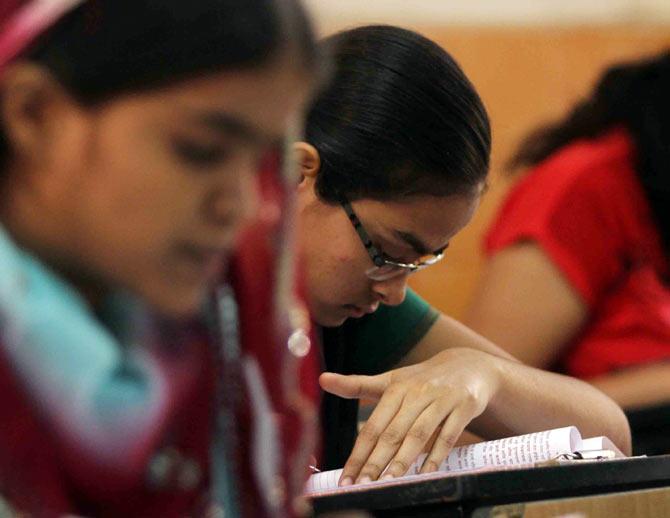 She searches for opportunities amidst difficulties and is not overwhelmed by pain and misery.
That's 17-year-old Shalini, who helps her mother as a maid servant in five houses, while juggling studies, and scored 84.8 per cent in science stream in second PUC (Pre-University or Class 12) board exams.
"I search for opportunities amidst difficulties. I am not overwhelmed by the onslaught of pain and misery," Shalini told PTI with a philosophical touch.
Life has not been kind enough for her as she had to face agony while pursuing her studies.
"From past seven years, I have been helping my mother as a maid servant in five houses while juggling my studies," she said.
Shalini said she started helping her mother after her father was paralysed after falling off a building over a decade ago.
"There was no other option for me but to help my mother in her chores because my father fell off a building and was paralysed. He is bed-ridden for over a decade," she said.
Just before the second PUC exam, she was struck by misfortune again as her brother was diagnosed with third stage blood cancer.
"I aimed for scoring marks in the range of 90 to 95 per cent, but could not. I had to attend to my brother, who is hospitalised for having diagnosed with third stage blood cancer," she said.
"Nevertheless, for me marks are not that important than my brother's well-being," she added.
Though Shalini underwent trials and tribulations of the life, she never failed to keep the smile on her face.
"Until now I did not know anything about her father and brother's health condition. I came to know through newspaper reports. She never gave an impression of the hardships she faced. She is extremely hardworking girl," SGPTA PU College principal Prathap Naidu said.
Among other notable performers this year is Barnita Mondal, daughter of an auto driver, who has been an inspiration for students by securing 95 per cent in the PCMB (Physics-Chemistry-Maths-Biology) stream.
Mondal's father faced financial challenges but did everything to cater to the academic needs of his daughter and provided her financial support.
"My father faced financial challenges but he fulfilled all that I desired, academically. In the last two years, Samruddhi Trust has taken care of my financial needs," she added.
Shalini wants to study electronics and become successful and make her parents proud.
"I also want to give something back to Samruddhi Trust and want to help poor students," she said.
Lead image used for representational purposes only.
Photograph: Sahil Salvi
ALSO SEE
Mumbai girl, ICSE national topper, wants to become lawyer
ICSE, ISC results declared; girls outshine boys
© Copyright 2022 PTI. All rights reserved. Republication or redistribution of PTI content, including by framing or similar means, is expressly prohibited without the prior written consent.