Saima Hasan, founder and chief executive officer of Roshni Academy that works to empower girls from government schools in New Delhi and surrounding areas to achieve their full potential in college, jobs and life in general, tells P Rajendran what drew her to help poor girls.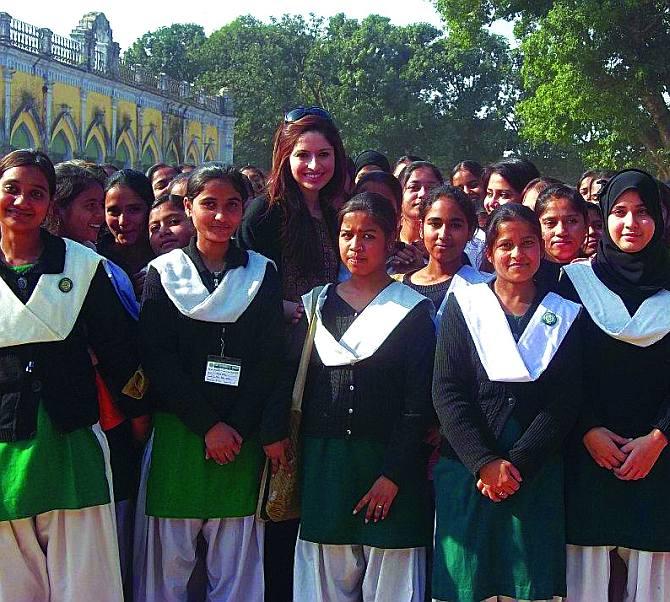 After college, Saima Hasan was looking at a career as an analyst in a hedge fund. But after spending her days helping rich people get richer, as she puts it, and her nights discussing plans for her non-profit in India -- three weeks of being miserable -- she quit a lucrative job to move to India.
But the seed for what later became Roshni may have been sown when Hasan was still in high school.
She had gone over to visit her family in India with her parents and was complaining about school. "It became apparent to my family that I needed a dose of reality," she says.
She was taken to a government school and introduced to Priya, who had topped the school. "I asked her, 'You're the valedictorian. What do you want to do?' She told me she plans to work as a maid for less than a dollar a day because that's what her family had always done," Hasan says, describing her surprise that someone who was so unaware of her potential and yet worked so hard. "Why was she working so hard in school if it's not a means to get to a top college or a top career? That was the perspective I had… (But) education for her was an end in itself."
According to Hasan, she also realised that there were millions of girls worldwide who had a lot of potential but were not aware of the options available.
She was also influenced by her grandfather, who was a historian and a fierce champion of women's education, and her parents, Kamil and Talat Hasan, whose doughty academic credentials -- from MIT and University of California, Berkeley; and from Oxford University, respectively -- would make any offspring quail before the high standards set for them.
She began studying journalism, but then took a leave of absence to work on fundraising for Steve Westly's gubernatorial campaign. That experience spurred her interest in policy and her subsequent transfer to Stanford to study political science.
She worked with Robert Reich at the Hoover Institute there, doing research on understanding the deep-seated developmental problems in India. For Hasan, who still wondered how she -- born, raised and educated in America -- could make any difference to the chaotic, buffeting masses within India, the research was a step in the right direction.
She spent her summers working as an analyst at a hedge fund. Then during her senior year at Stanford, she worked on a two-week programme to teach self-confidence and life skills to girls in India.
The day she graduated in June 2008, she flew off to India to implement that pilot programme.
She describes the experience of working with 30 girls from four government schools as life changing.
"(At first) they were not making eye contact. At the end of two weeks, they were speaking on stage before 100 parents and dreaming of being doctors and lawyers," Hasan says, adding that the girls had the support of parents, teachers and siblings.
The work involved increasing their self-esteem, bringing in successful mentors from various industries but from the same background as them, teaching them communications, conflict management, negotiation, a general awareness of health, hygiene, rights, and other soft skills.
It was a way to crystallise the knowledge they don't get in schools," she says, adding that, most importantly, it was fun and interactive, in a way school never had been for them.
She came back to join the hedge fund, but realised her heart was not in it and so decided to move to India.
Her parents were morally supportive, Hasan says; they left it to her to decide what she was doing and how. "The move was complicated by the fact I was engaged," she adds, but fiance Sharjeel Hasan, shifted with her to India.
Saima Hasan is prepared to see the project through, measuring her success by seeing if her girls became vehicles of change in their community, get admitted to top colleges. Though originally the cost per girl was $15 per month, it dropped to $4 as the girls were encouraged to go past their initial scholarship and support themselves through college.
The project now involves infusing the girls with self-esteem and awareness, interpersonal and soft skills before finding out their aptitudes and interests, and their leadership potential. The next phase involves giving them relevant skills, while the final phase worked on job placements and other networking elements. Started to help the top 10 per cent academically and the bottom 10 per cent economically, Roshni's base has broadened to include others.
Saima Hasan's has reputation grew sufficiently for the Indian Supreme Court to ask her to be on a panel on rehabilitating prostitutes.
Once Roshni Academy was up and running, she returned to the US -- this time to join the Harvard Business School.
"Once you are at a point that you have made programmes… a vast majority of the groundwork is done," she says.
But she does admit that the problems Roshni deals with are universal and she might just go back -- she is still on the board -- to help scale it globally.