Years ago, marketing professional Abhijit Jejurikar set his heart on a two-fold mission -- turning pieces of scrap into musical instruments, and also turn children of rag-pickers, factory workers, domestic helps, and other marginalised backgrounds into rock stars.
Today, with a team of 100, his band Dharavi Rocks is going places.
Dharavi is a republic on its own within Mumbai.
What would you imagine falling on your ears, when you enter this supposedly lawless land -- the constant rumble of machines interspersed with the moans of animals being laid down for leather?
Perhaps the whimpers from a domestic brawl gone fowl?
Definitely enough swear words in five minutes to last a gentleman his lifetime?
What I heard instead, was something rather unforeseen.
Amongst the brouhaha of my preconceived notions and judgements, those harmonised, vigorous sounds managed to stun me enough to want to trace down the source of it.
I followed my ears into a colourful little community centre perched atop a dreary leather manufacturing unit -- the contrast incidentally being symbolic of what all of us think of Dharavi, compared to what it really is.
A banner reading Acorn Foundation marked the entrance.
Beyond it sat a group of boys -- the tiniest one being no more than four feet tall, and the burliest one with a wide chest and the deep voice of a man.
Yet, all of them, with the same levels of vim and verve, were beating down on plastic barrels, paint cans, plastic boxes and all the other junk, you would throw out every month without a second thought, to create a beautiful symphony.
The Pied Piper
Their Pied Piper, who was orchestrating this concert, stood strumming his guitar at the centre.
His mission was not only turning pieces of scrap into musical instruments, but to also turn children of rag-pickers, factory workers, domestic helps, and other marginalised backgrounds into rockstars.
Abhijit Jejurikar, was on a mission to show the world, that Dharavi Rocks.
What brought him to Bombay was your conventional corporate job at Essar Group as a marketing professional, after which he moved to the media giant like Times Group with The Economic Times, until he finally became a consultant for setting up strategic programmes and partnerships for INK Talks.
But all this while he was leading a dual life.
It turns out, the man moonlights as a band manager, roadie, performer, lead guitarist, agent and publicist of an indigenous band from Asia's largest slum.
"I came to Bombay four years ago following my corporate career, but a more dominant side of me always wanted to stay a die-hard musician and contribute to making social change using the skills I had. My father, Pramod Jejurikar, is a veteran Rotarian and inculcated that quality in me early on. My music took me to BlueFROG very often, where I met a man through a common friend who was doing something spectacular."
The man was Vinod Shetty, the director at Acorn Foundation, an NGO and Blue Frog music club working for the welfare of slum children and waste collectors and rag pickers. He was looking for a musician who would musically incline the beneficiaries of his foundation.
"I exclaimed immediately -- this sounds amazing! Let's do this. One thing led to another, and I met all the kids for the first time at Xavier's Institute, Matunga, heard their backgrounds, and was moved beyond words. I knew right away I want to play my part in turning their lives around, because they all deserve it."
Music out of scrap and musicians out of troublemakers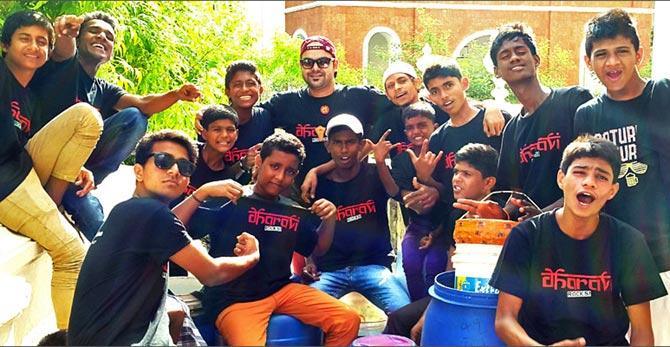 How did Abhijit round up these gems from such an unexpected place, you might think?
"Oh, this one's a no-brainer. You'll only find such raw talent in ghettos in pockets. Sure, rich people might have the money to get their children's talents noticed -- but god has distributed talent equally amongst everyone. And you'll be convinced of that when you spend even a day with this lot. Some are singers, some are dancers, some even actors -- some, good enough at everything to be showstoppers! Considering we have so much awesomeness to showcase, we pack it into 40-minute long, non-stop, highly energetic and engaging shows."
Even as the children steal the show with their struts and strums of fame, what's peculiar about their music is that it is created out of absolutely unlikely instruments -- pieces of scrap and junk.
And this was the brainchild of Abhijit, again.
"Our foundation's motto is 'Recycle, Reuse, and Respect.' I even performed with this African band called Taal Inc back in the day, whose music was very earthy and simple to connect with the village folk -- that was another prime influence."
"With Dharavi being the largest recycle hub of Asia, it made sense to make the most of what was readily available -- and make junk percussions.
"And then getting 50 people together -- and just making them drum. It doesn't matter if you are a music connoisseur or not -- drumming comes to everyone naturally. I turned them all from drumming enthusiasts into drumming maestros.
"Not only were their beats on point -- their jargon seemed to be getting close to perfection too."
"Ustaad Aquif padhaar rahe hai!" yelled Sahil Shaikh -- a tiny 14-year-old singer and performer in the band, who I discovered, was as cheeky as he was gifted.
"He was announcing the arrival of his supposedly 'Eid ka Chaand' friend Asif, who had become infrequent as his family had to move to Nalasopara overnight."
For those of you who don't belong to Bombay, Nalasopara might as well be declared beyond city limits -- it was that far away.
This Asif though, a mere 13-year-old, made that two hour commute to be able to practice with his band for an hour.
And this week, the little champ was needed frantically.
They had a show coming up in Chennai the next weekend, and had to prepare a soundtrack to pander to the whimsical razzmatazz that the folk down south just lap up.
Don't let me tell you, let me show you
Out with the Uptown Funk, and in with the Kolaveri Di!
Abhijit taught the lead singer all the words, with not a waver in the accent, in less than an hour.
The drummers picked up the beats, the singers picked up the diction, the performers added that extra spunk to their moves, and voila! The band made the necessary amends to their style to clear the South Indian rite of passage.
"Hold on! Did you just say you perform Uptown Funk?"
"Don't let me tell you, let me show you."
This hit…
That ice cold!
Michelle Pfeiffer
That white gold
This one, for them hood girls
Them good girls
Straight masterpieces
Stylin', while in
Livin' it up in the city
Got Chucks on with Saint Laurent
Got kiss myself I'm so pretty."
These kids may not speak the most impeccable English otherwise, but this rap, disposition, just that attitude, could easily fool you into believing they ate an Eminem album for breakfast that morning.
Biggest moment of their lives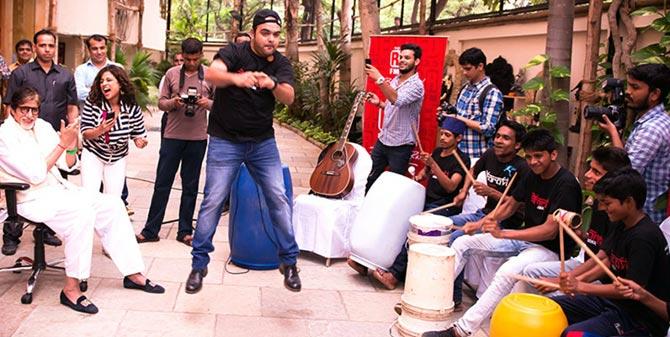 "We have done more than 100 shows across India, but this song we whipped up especially for our performance at -- wait for it -- Amitabh Bachchan's house!"
That's right. Big B hosted the maestros himself to see for what the whole hype was about.
"Dharavi Rocks has become an entity of its own. Through our associations with veterans like Agni, Karsh Kale, Indian Ocean, Papon, and many more -- the kids get really good exposure. Lots of Americans and Europeans have shot documentaries on our routines. If you ask me, it's all about social media. Thanks to social media, we conveyed what we were.
The band even found place on the Bigg Boss stage, as Salman Khan couldn't resist shaking a leg with the dons.
Apart from stages on the screen, the band has graced BlueFROG, KalaGhoda, Talaash -- which is Jai Hind College annual festival, where they opened for Raghu Dixit, Bandstand Revival, NH7 with Karsh Kale, recorded mainstream Bollywood track with Vishal and Shekhar, Shantanu Moitra and Usha Uthup … the list goes on.
Once a year, they even do their own event -- the Dharavi Rocks Fundraiser, where they have artists perform with them for free, and the funds go to Acorn.
"We have recurring accounts for the children too -- they are the artists, and get 60–70 per cent of the income we get from all our events and performances. They will get access to them a few years later, when they become adults."
What used to be a group of 30 to 40 children is now 100 strong.
A 'community leader' gets the word out in all his friends about how Dharavi Rocks will get them on television!
You give some, you get some
Even as the change in children is evident -- with the lot becoming more disciplined, civil, and self-confident, I was interested in knowing what change in perspective it brought to Abhijit.
"Where do I even begin? How you can transform something in such a spectacular way -- all it takes is passion and dedication. The challenges were at every minute -- with the kind of things I have endured. To get them disciplined was a task. How to behave, how to talk -- I had to be strict initially, whether I liked it or not. The kind of backgrounds they came from, since they never received respect, giving respect didn't come to them easy either. But today, they are fine young men. And so grounded, even with all this success!"