How a mother's search for a suitable boy gained global coverage.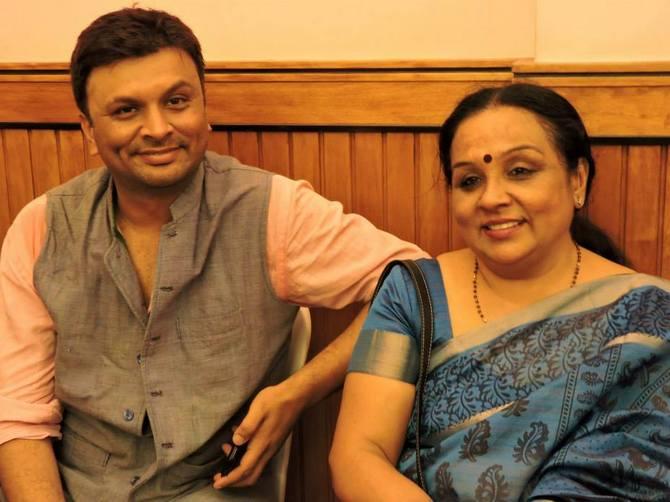 Padma Iyer placed a matrimonial ad for her son, that made her famous.
People from around the country cheered for her. She received telephone calls and emails from all corners of the globe.
News channels and newspapers reached out for a quote or an interview.
They put her before the camera and asked her about the ad.
"I just want a nice boy for my son," she said. "He cannot take care of himself. He needs someone."
A suitable boy.
Harish Iyer is Padma's son. There's no missing him. He's been on television, in the papers, on the Internet.
He advocates for animal rights, stricter laws against child abuse and equal rights for the LGBT community.
Harish is a child abuse survivor and he's openly gay.
So when the familiar topic about finding someone to spend his life with came up again, Padma asked him if she could place a matrimonial advertisement on his behalf.
"I didn't know you couldn't do that. I thought there might be these sites on the Internet where you could advertise for a groom if you are gay," Padma says.
Harish told her that most of them offer an opportunity to hook up. There wasn't a shaadi.com for gay people, he said.
"So I asked him why not place an ad in the papers?"
And that is pretty much how the idea for India's first gay matrimonial ad came about.
Oh yes. There was his grandma too. She would prefer an Iyer boy for her 36-year-old grandson, she said. It'd be nice to have someone from the same community.
And so, armed with the text for the advertisement, Harish Iyer began calling newspaper offices.
First came DNA, a newspaper that had on several occasions carried Harish's columns on gay rights. They politely turned him down. The legal department had raised a red flag and the money was refunded.
"I argued that Article 377 of the Indian Penal Code criminalises sexual activities 'against the order of nature'. It does not technically ban same sex marriages."
(Technically, while same sex marriage has no explicit legal sanction in India, it does not invite any punishment.)
But the arguments fell on deaf ears. After DNA, all other major newspapers in the city turned him away. None of them gave him a reason in writing, Harish says, but he managed to get a written response from Hindustan Times that promptly went viral along with the ad.
It was Mid-Day that printed the ad the next day without so much of a protest. "I was very amused by the way they went about their business. They treated it like any other ad. The sales representative even haggled over the word count," he laughs. "It was that normal. But I was half expecting them to not print it."
The ad was printed. And people went berserk.
***
Padma Iyer never meant to create a sensation. She only wanted a spouse for her son.
Overtly, Padma Iyer is (for the want of a better phrase) your stereotypical mum. She will insist you have a cup of coffee; remind you to have it while it is still hot and will then apologise for not offering anything else.
But, if you think about it, Padma Iyer is the real hero of this story.
True, she wasn't by Harish's side during his darkest years -- both admit to that. But today, by simply accepting Harish for who he is and what he does, she has become his greatest strength.
Padma's upbringing was unremarkable. Born to an administrative officer in the Indian Air Force, she travelled from one air force station to another every three years leaving behind friends, schools and homes.
"We also didn't know most of our relatives," she says.
So when she and her elder sister were deposited at their grandmother's home in Sion, central Mumbai, because her father got posted to Moscow for four-and-a-half years, she was, for all practical purposes, living with strangers.
"It wasn't that they ill-treated us. But it wasn't my home; I was aware of it. I always looked forward to visiting my cousins who were of the same age as me and where I felt comfortable. These were my most impressionable years and I felt terribly lonely."
Years later, in a strange twist of irony, Harish began to do the same thing.
"He would visit his cousin and end up staying for months. I think he spent close to two years like that," she recollects, looking away. "I didn't make much of it. After all, I had done the same thing too."
The difference was that Harish was running away from his own home.
"It never occurred to me. I regret it every day. If only I had been a little more attentive, he wouldn't have had to go through what he did."
Revealing that you like people of the same sex -- in other words, coming out -- is a difficult process as it is. In Harish's case, the path was fraught with obstacles.
Harish Iyer was abused as a child for years. He has spoken and written about the experience extensively.
The story is all too familiar: An uncle decides to take advantage and continues doing so for years. No one in the family takes note of the change in Harish's behaviour.
"I have always been a loner," Padma says, "As a child, I was quiet and kept to myself. I didn't think much when Harish became quieter and withdrew into a shell."
Harish, meanwhile, was battling his inner demons. On the one hand, he was trying to come to terms with his sexuality and, on the other, he was beginning to hate men because of the abuse.
All this while, Padma Iyer remained unaware. She castigates herself for this.
"I wish I paid more attention," she keeps repeating.
When Harish told her about his abuse, she cried but it wasn't until his appearance in Aamir Khan's Satyamev Jayate that she understood the full extent of it.
"I don't think I had the guts to listen to what he went through," she says.
Harish was left to deal with the pain and suffering by himself.
When he was 18, he finally mustered the courage to stand up to his uncle.
"All I said was 'Stop!' And that was it. He never tried to abuse me again," he recollects.
The abuse may have ceased but the scars remained... remain.
Like several abuse victims, Harish experienced several memory blackouts.
It was only when he started speaking about his abuse that memories began coming back.
Each time he spoke about it, he would remember a detail of which he had no earlier memory.
It was painful, he says, but also liberating.
His mother had begun to notice the change too. "It was like a burden being taken off his chest," she says.
In some convoluted way though, sex talk was still a taboo at home.
"When I told his father about the abuse, all he said was 'He should have told us sooner'. That was the end of our conversation!" Padma recollects.
But Harish kept speaking out -- at home, with friends, on television shows -- to the point that people began to write him off as a drama queen.
"Our relatives began to call us and ask us why he had to go about shaming the family," she says.
No one came to help, but everyone had an opinion about why he should just keep quiet and go about his business.
Just as the dust around the abuse was settling, Harish came out as gay.
"I thought it must have been an outcome of the abuse," she says.
Harish adds: "I must confess I had the same thoughts at first. But it was evident that I was gay.
"It was difficult for me to come to terms with this not because of what people would say but because of what I had gone through.
"At first my mother asked me to keep it to myself and suggested I get married. I asked her if she would knowingly ask a girl to live a life of falsehood.
"She understood. That was the last time she asked me to marry a woman."
When I visited the Iyers to speak with Padma, her husband welcomed me inside but disappeared into another room soon after.
Padma told me that she had never explicitly told him of Harish's coming out.
Harish's grandmother (who was asleep when I visited), however, is another story.
"I think my grandmother always knew (that I was gay)," Harish says. "And privately, she had no problems about it."
Her concerns were different. In the most amusingly dichotomous way, while she was perfectly acceptable of Harish's sexuality, her only hope was that the boy Harish brought home would be an Iyer.
The 'Iyer preferred' bit in the ad was an acknowledgment of her wishes.
It was, also, a funny conventional touch to an unconventional matrimonial ad.
Both Harish and Padma have had to defend those two words endlessly. There was a backlash; they were denounced as casteists.
Padma had to issue a statement assuring that she was perfectly open to Harish marrying anyone of his choice, irrespective of their caste.
But for all those who critisised the Iyers, there were many who felt it was a matter of choice and there was nothing wrong if someone sought a partner based on a shared cultural upbringing.
Padma's email address was flooded with proposals. Harish took over at some point and began responding to them.
"They (proposals) came from all over the country. There were some parents writing in too, which was heartening," Harish says. "But several of them weren't out."
The ad proved to be a way for them to finally speak about their sexuality. It was a conversation starter for several respondents and, in some cases, their parents.
After a pause, Harish continues: "Sometimes I wish there was a part of my life that was private. Not everything I do has to be activism."
But what do you expect when you place the first gay matrimonial ad?
"Yes, that is true too..." he smiles.
In a recent development, Harish announced he had indeed met someone because of the advertisement. When he told me about it a few days before he posted it on Facebook, he sounded like a lovestruck teenager.
He was already talking about getting married!
When I mentioned it to Padma, she laughed and shook her head. She approved of his choice, of course, but thought they should get to know each other better.
"They should live together, perhaps. Learn more about each other before coming to any decision. That's how any relationship works, doesn't it?" she asks.
I ask if it bothers her that something that should have been private and intimate for the family has become a cause of activism?
She says: "If we were so worried about being in the public eye, we shouldn't have spoken about it in the first place.
"We came out. Now it's all in the open.
"We just have to accept it because that's how it is going to be.
"And also because, by being this way, we are giving someone hope... and letting them know that there's nothing wrong in being gay."
In her own quiet way, Padma Iyer is bringing about change.
Photographs courtesy: Harish Iyer