A student of commerce from SNDT College, Ghatkopar, Monika More scored 63 per cent in the Maharashtra HSC examination this year.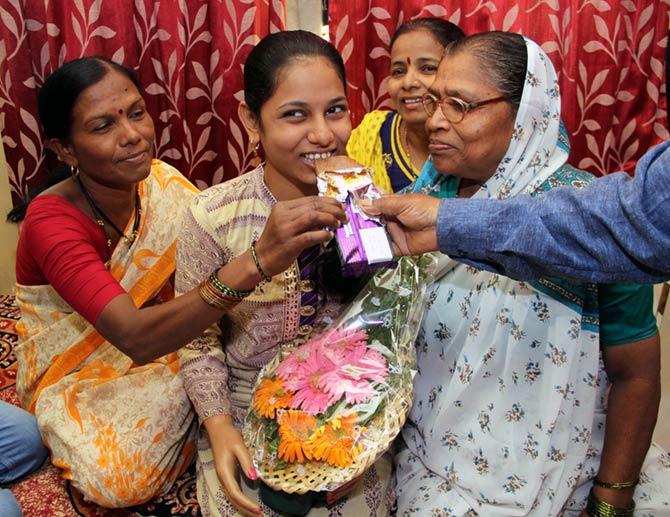 Monika More, 18 who lost both her limbs in a train accident last year has scored 63 per cent in the Maharashtra HSC Class 12 board examination this year.
A student of commerce from SNDT College, Ghatkopar, Monika spent a good six months at KEM (King Edward Memorial) Hospital recuperating from the tragic accident.
(Read all about Monika's accident and recovery here and here.)
The determined and cheerful girl that she is, Monika More resumed college only in August 2014 and since then gave it everything it takes to reclaim her life.
Speaking to Rediff.com, Monika's father Ashok More said, "I cannot explain how happy I am today.
"Whatever she has achieved is through her will power and the combined effort of her teachers and friends."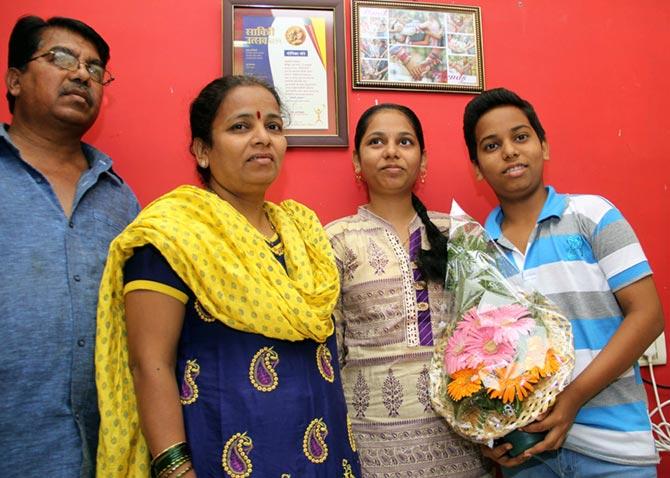 Monika who had to take the help of a writer to appear for the board examination, is full of gratitude as she talks about her results.
"I am thankful to my teachers and batch mates who helped me with notes and cleared all my doubts.
"I would study during the day and take small breaks in between.
"I am glad I got a good writer too who could comprehend my answers and helped me complete the paper," she shared.
Monika's mother Kavita is also thrilled with her daughter's performance.
"We are more than happy with her grades. She had only six months to prepare but she never complained. Every day was a challenge -- physically and emotionally -- but Monika was very determined and positive that she would clear the exam. Her friends and teachers have been her pillars of strength."
Monika who lives in Kurla would travel to her college in Ghatkopar in an auto rickshaw accompanied by her mother.
She has artificial limbs and is gradually getting used to living with it.
Sharing her progress, Kavita informs us that Monika is now able to use the computer at home.
Talking about her immediate plans, Monika says, "I would like to complete my graduation in commerce from the same college (SNDT). After that, I would like to apply for a job and help my family. Let's see."
Maharashtra HSC results: 91.26% pass in the state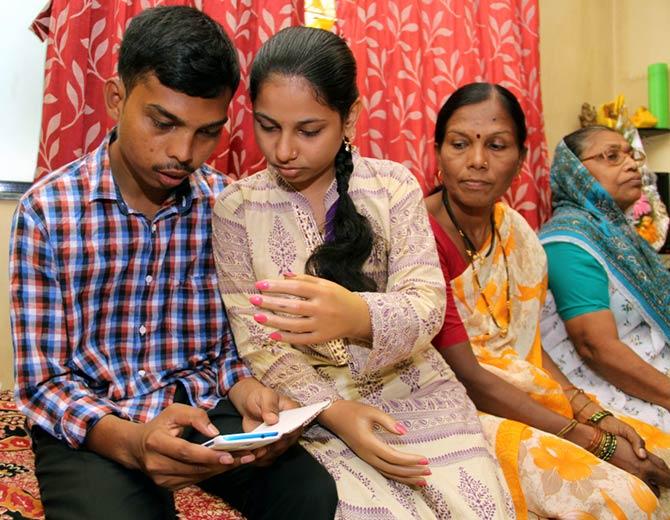 According to her mother, Monika has put the accident behind her and wants to lead a normal life.
"In the evening, she goes to eat pani puri with her friends and even plays games with them after college. When we see her smile, we feel positive too," says Kavita.
Photographs: Sahil Salvi
ALSO SEE