"It was quite unusual in our community (for girls to be educated and independent) but my father was different.
"For him, education was of utmost importance.
"I wanted to be a part of the nation building process and I felt I would be able to contribute positively if I became an IAS officer."
Atheela Abdullah, 29, talks to Shobha Warrier/Rediff.com about how she achieved her dream.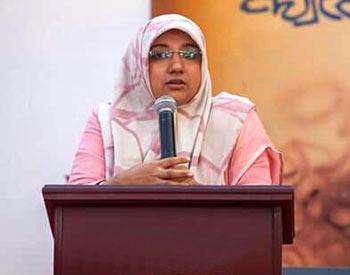 Atheela Abdullah (pictured left) grew up in a small village in the Malabar region of Kerala where Muslim girls were not generally encouraged to study or work. Her father, however, encouraged his wife to work and his daughters to study and pursue their dreams.
He worked in the Middle East and her mother, a school teacher in the village, took care of their children.
Although Atheela studied medicine, she wanted to become an Indian Administrative Service officer. Her husband, who was her classmate at medical college, encouraged her to follow her dream.
Thus began the inspiring story of a young mother -- Atheela has two small children -- and her single-minded pursuit of her dreams, discovers Shobha Warrier/Rediff.com.
Growing up in a village
I grew up in Kuttyadi, a small village near Kozhikode in Kerala.
My mother was a school teacher and, till Class IV, I studied at a primary school there. After that, my father sent me to a boarding school in Kozhikode because he wanted his children to study in a good English medium school. My elder brother and sister were already in boarding school.
My father wanted both his daughters to grow up into independent women. This is quite unusual in our community (for girls to be educated and independent) but my father was different. For him, education was of utmost importance. He used to tell us how he met a German lady in the seventies who advised him to give his children the gift of education.
My father never differentiated between his son and his daughters.
The atmosphere at the boarding school helped develop my interests like reading, elocution, essay writing, participating in quizzes and debating.
A passion for nation building
In school, I used to scratch the letters 'IAS' on the desk; it was the only way I revealed my hidden desire.
I wanted to be a part of the nation building process and felt I would be able to contribute positively if I became an IAS officer.
Sometimes, I thought of becoming a scientist instead and contributing to the nation like Abdul Kalam but I knew I didn't have the scientific temperament that is needed. So, I decided to be an administrator.
It was unusual for a girl from a middle class Muslim family in a small village, who had never seen an IAS officer, to dream of becoming one.
The options available to me as a student were to either become an engineer or a doctor. I chose the latter as I felt I would be able to do something for the community as a doctor.
Joining medical college
I joined the MES Medical College in Perunthalmanna. Believe me, I would scribble 'IAS' on the desk here too, perhaps to remind myself that it was my ultimate dream.
Though I was studying medicine, my reading involved a wide range of topics. I spent a lot of time in the library reading magazines and newspapers.
Meeting her husband
I became friends with Rabeeh, (the man she would marry, Dr Rabeeh V) who was studying medicine in another college, because of the interests we shared. He used to write, while I was a public speaker.
I was 23 and doing my house surgency (internship). My parents were looking for a match for me. Rabeeh and I thought, why not get married? After all, we were from the same community and shared the same interests. Our relationship started off as a literary bond, we became good friends and, after four years of knowing each other, we got married.
By then, I realised that my interest did not lie in giving injections and prescribing medicines. My passion lay in working for the community; at the same time, I knew I did not want to study community medicine.
Even as a medical student, what interested me was talking to patients, understanding their background and needs, and their socio-economic condition. I felt there was a gap somewhere that needed to be filled.
In January 2011, I completed my studies.
From medicine to IAS
My husband was extremely supportive of my desire to become an IAS officer. He told me that though we had not seen anyone from our community achieve such a dream, if I were to achieve this, I would motivate more women to become IAS officers. Both of us want women from our community to come to the mainstream and be independent.
It was at that time that one of Rabeeh's friends got selected as an IPS officer. We went to meet him to take his advice on how to prepare for the examination. He asked me a couple of questions and I could answer them so he asked me to go ahead and write the exam.
I went to Delhi to attend a three-month coaching class. Rabeeh came along to help me find a place to stay. He was with me for 10 days. He was preparing for his postgraduate entrance exam then.
When I returned, I took up a job as a pathology tutor in a medical college. This time, I decided to support the family as Rabeeh was preparing for his examination.
I didn't have much time to prepare for the preliminary exam but I didn't find it difficult; in fact, it was easier than my medical examinations. Here, I was studying subjects I really liked -- English, social science, etc.
I knew I was risking my career in medicine but I was prepared.
Luckily, I got through in the preliminary examination in the first attempt itself. For the next two months, I prepared for the main exam. I was in Delhi for a month to prepare for the public administration paper; the other optional paper was medical science which I had studied in medical college.
This time, I stayed at the Hamdard Study Circle, which the government had started for the minorities in India; it is a free study circle.
While I wrote the mains, my husband wrote his PG exam.
The Attapadi community centre
As we did not have children then, we decided to work at the Attapadi community centre, which is a rural tribal area. The experience was an eye opener; we were exposed to a government system that didn't work. We also understood some of the deficiencies in the system when we saw a tele-medicine unit worth Rs 4 crores lying unused.
We felt really helpless when we were unable to treat emergency cases. Nobody wanted to work there. At times, when you needed a workforce of 60 people, you had only six people to work with.
The mains hurdle, cleared!
While I was at Attapadi, the mains results were announced; I had cleared it. It was time for another trip to Delhi for another round of coaching. This time too, I stayed at the Hamdard Study Circle. The coaching, which lasted for a month, was quite helpful.
Though I was pregnant and had all the uneasiness connected with it, I tried to forget the difficulties and concentrated on the preparation. I didn't want to waste an opportunity. I wanted to prove to the family that I could achieve whatever I want to and also do what was expected of me as a daughter, wife and daughter-in-law.
I knew was charting a new course for someone like me in our community. As the first one, I had to work hard to prove myself so that, tomorrow, perhaps my daughter will have it easy. There was no question of my complaining about anything as I liked taking up challenges and coming out victorious.
Facing the interview board
My interview was scheduled in April 2012. I was four months pregnant then.
They asked me a lot of questions on the kind of work I was doing at Attapadi and also about the tribes there, their lifestyle, their traditional occupation, the common health problems they face, etc. They also asked me about the role of technology in medicine, my opinion on euthanasia, etc.
They wanted to know why I wanted to be a civil servant when I was comfortable with the profession I was in. I told them that I always wanted to be a civil servant; it was a dream that I had carried with me from the time I was in school.
I was quite hopeful after the 30-minute interview.
When the results were out, I had secured a rank of 230.
I think I am the first Muslim woman from the Malabar area to become an IAS officer.
Becoming a mother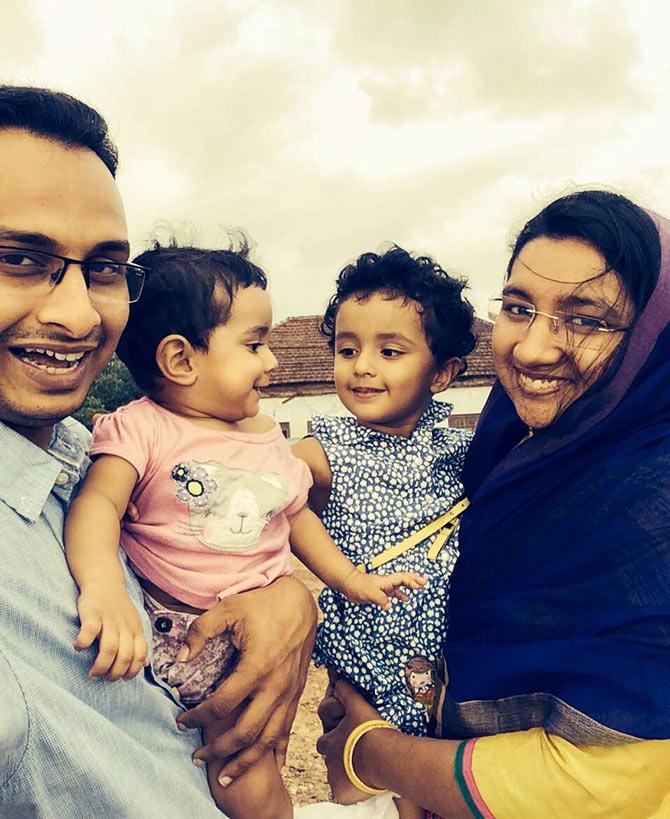 I couldn't complete my training as I had to take leave for my first delivery. I went back after my child was born and completed the training.
I was posted as assistant collector at Kannur for a year. By then, I was pregnant with my second child. After my second maternity leave in 2014, I was posted in the Tirur sub-division as an assistant collector. I could not complete my training at Mussorie -- I have eight months left and will be leaving soon to complete it -- as I had to go on maternity leave.
Childbirth and bringing up children come with a lot of sacrifices and responsibilities for women, but I feel they still have the ability to have a successful career.
I am glad this happened at the beginning of my career so I need not take breaks later. I hope to focus on my career in the years to come. I am able to manage both the kids reasonably well with support of my husband and our family.
It is extremely important to have the support of your husband if you want to chase your dreams. My husband is extremely proud of me and encourages me to be independent. If he sees someone really smart, he urges me to be as smart as him/her.
Wearing a hijab
People ask me why an independent woman like me wears a hijab. You won't believe it, but I didn't know till now that what I wear is called a hijab.
I grew up in northern Malabar, which is a very conservative area. All Muslim women wear a thattam (the cloth with which you cover your head) here. I have seen my grandmother and mother wear a thattam. I've worn a thattam since I was a school kid. When I wear a sari, I just cover my head with the sari.
I never wore the headgear which the Arabs use.
Just because I am an IAS officer now, should I change the way I dress? I believe that as long as the Constitution gives you the freedom to follow your traditions and beliefs, I can dress the way I always have.
I can say that these things have never come in the way of my job as a doctor or as an IAS officer.
For the first time in my life now, I am asked questions about the way I dress. I feel I need not answer such questions. According to me, we shouldn't waste time talking about such symbols.
India is a great country that allows you to be what you are. That is the beauty of our country. I don't think any other country gives this kind of personal freedom to an individual.
Even when we were growing up, my father had told me I should have the willpower and strength of character to move forward even if something pulled me backwards. So people commenting on the way I dress do not bother me. What matters to me is my integrity.
Those who influenced her
What guided me forward are the teachings of Mahatma Gandhi who, according to me, was a yogi and a bhakt.
It is because of the influence he had on me that I want to serve my country.
Our country is fortunate to have three great people to guide us; Mahatma Gandhi, Bhagat Singh and Abdul Kalam.
Kalam, according to me, was a yogi like Mahatma Gandhi.
But the three people who have helped me realise my dream are my father, mother and my husband.
Working as an IAS officer
The experience I had at Attapadi made me all the more determined to be in the system and make a difference, even if it is a small one.
Although we are a very developed civilisation, we have not been able to bring the entire population to a desired level socially in the last six decades. Many more people have to be part of the nation building process; only then we can make our country a developed country for all.
A good politician can also bring about positive changes in the society but I was not sure if I could be a politician.
Nobody has told me anything negative about being in the civil services, I have only positive views about it.
I have just started my career and have only idealistic thoughts in my mind, which I know is unrealistic. I would say, let me have my idealistic thoughts till I face reality!
Advice to the young
~ Have faith in yourself and work hard.
~ You should have the will power and strength to face adverse situations. You should always be focused.
~ The positive energy you get from your family only adds to your contribution. Your efficiency improves if you have very good support from the family.
~ Don't ever think about what society or others think about you; believe only in your ability.
Photographs: Courtesy Ateela Abdullah