'If science is questioning, religion is also equally questioning. That is what Hinduism is'
'In Sanatana Dharma, there is only questioning'
'But today, if you question a religion, you are called communalist'
28-year-old Dusyant Sridhar, an engineer by day and a Upanyasakar by night, speaks to Shobha Warrier/Rediff.com.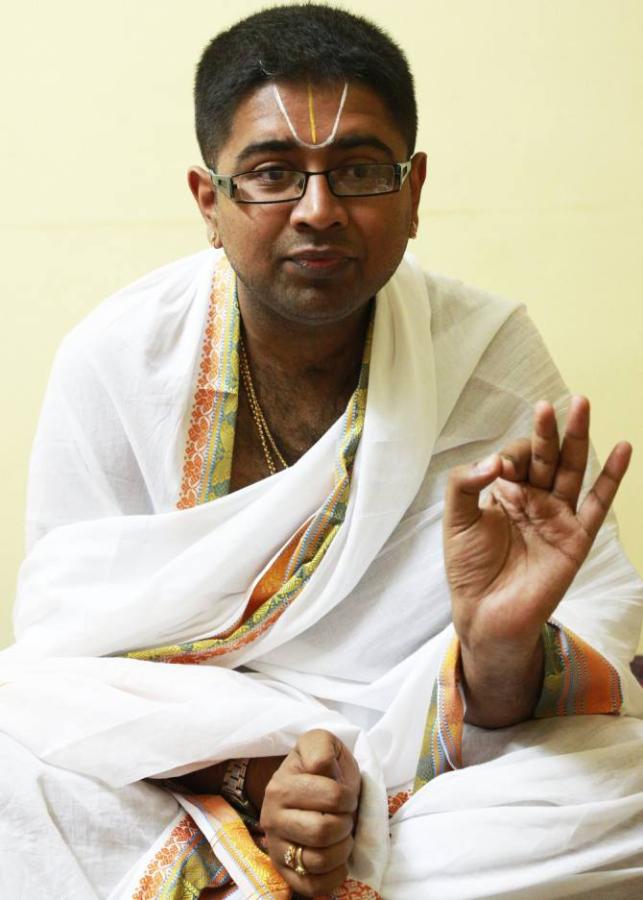 Photographs: Sriram Selvaraj/Rediff.com
Meet Dusyant Sridhar, 28, a Jekyll and Hyde character. During the day, he is a techie in jeans and T-shirt working for Tata Consultancy Services.
After office hours, he is an Upanyasakar in white veshti and angavastram with a naamam on his forehead, discoursing on ancient scriptures.
There is no conflict in these two roles for him, and he switches from one to another quite effortlessly.
His journey as an Upanyasakar started with a discourse in Tamil on Seetha Kalyanam when he was a young engineering student at BITS, Pilani, in 2004.
By now, he has given 1500 discourses in Tamil and English, in India and abroad.
He is very popular. Says an elderly fan, "Slokas and stories just flow from him. It is a delight to listen to him singing and speaking without any pause or interruption. He has been gifted by God with an unusual power."
When talking to a young crowd he intersperses his lectures with Harry Potter, Hrithik Roshan, cricket and video games.
Born and brought up in Bangalore to modern and unconventional parents -- his mother used to wear skirts and sing in a choir -- Dushyant was spiritually inclined even at the age of two.
When his mother introduced him to Sanskrit, a new world of ancient literature opened to him.
In this hour-long interview with Shobha Warrier/Rediff.com at his residence in Chennai, Dusyant Sridhar talks about how he became an Upanyasakar and what his beliefs in life are.
Were you spiritually inclined as a child?
My mother told me that the first thing I told them was that I could see Lord Guruvayoorappan in the lamp-lit puja room.
I was less than two and had not started speaking then; I was a slow speaker.
I am religious, aspiring to be spiritual.
When did you really become interested in ancient scriptures and discourses?
It was not an orchestrated event. It was accidental.
I grew up listening to P Leela's Narayaneeyam which my grandmother put on in the morning. She was an English literature student who enjoyed reading Shakespeare.
I learnt Sanskrit at a very young age at the instance of my mother because she felt it was a scientific language and if learnt properly, it would help one learn other languages.
Like any middle class boy, I studied well and got into BITS, Pilani, for a dual degree, in 2004.
At Pilani, I found that every other student had more marks than me though I had scored 97.8 per cent.
That was when I decided to give a religious lecture. I approached the vice chancellor and said I wanted to give an upanyasa or a lecture.
Why a religious lecture?
I was interested in scriptures, I knew Sanskrit and I was a good public speaker.
I thought I would do something different and gain attention.
I knew at least a few students would come to listen to me. Believe me, there were 40 students in the hall in the days of no Facebook, Twitter and WhatsApp!
The VC, a Tamilian, was also there with his wife.
I spoke on Seetha Kalyanam in Tamil. It was a very cold day in January and I was wearing jeans and two pullovers with a hood.
Why give a discourse in Tamil in a place where there are students from all over India?
I give a lot of discourses in English today, but I think in Tamil. I thought it was better to speak in the language in which I think. And there were a lot of Tamilians at Pilani.
I never prepare for my discourses; I just go there and speak.
What was the response to your upanyasa?
After the event, the VC wrote me a mail asking me to meet him. He congratulated me and asked me to complete the entire Ramayana in my four years at Pilani.
That was a great encouragement and I did just that.
Why did you choose Seetha Kalyanam for your first upanyasa?
I am a great Harry Potter fan. I used to wait outside the shop to buy the first copy of Harry Potter.
At that time it was the rage, but today how many people are talking about it?
But look at an epic like Ramayana. Thousands of years have passed, and still people love to read it and listen to it.
That is the beauty of Ramayana; every time you read it, you can interpret it in a different way.
I spend many hours at night reading and understanding our ancient scriptures.
Is it a passion?
Not only a passion, a sense of responsibility.
If I don't read and pass the knowledge to the next generation, I would be ungrateful.
It is for them, the next generation, that I do this.
You are a student of science. Didn't you feel there was a conflict between what you studied and what you practised as an Upanyasakar?
Science is beautiful and I love studying science.
I feel science to a large extent believes in evidence and to a small extent, believes in theory.
But you can question…
If science is questioning, religion is also equally questioning. That is what Hinduism is.
In Sanatana Dharma, there is only questioning. Krishna tells beautifully to Arjuna, I am very happy that you are questioning.
But questioning should come after contemplation and that is what our predecessors did.
Parikshit questioned and Suka Rishi gave answers and that is Bhagavatham.
Valmiki questioned and Narada Muni answered and the compilation is Ramayana.
Yudhishtir questioned and Bhishma answered and that is Vishnu Sahasranamam.
Arjuna questioned and Krishna answered and that is Bhagavad Gita.
Maitreya questioned and Parasara answered and that is Vishnu Puranam.
So, in our scriptures, you see only questioning.
But today, if you question a religion, you are called communalist.
Were you able to connect to both science and religion?
How many people are able to connect to science completely? I feel connecting is an art, an effort and a blessing.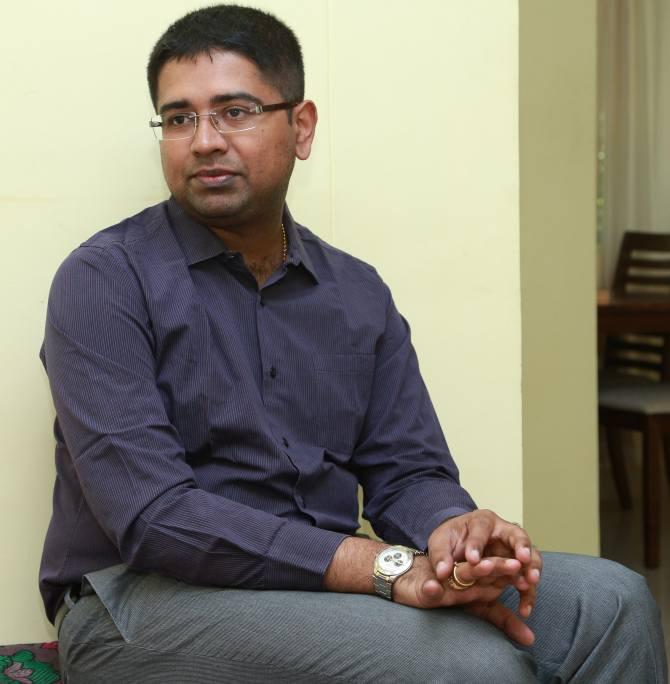 Let's not ridicule great minds like Arya Bhatta. Let's not undermine our ancient minds while appreciating the scientists of today.
Do they have parallel paths or do they merge?
They are parallel and there is no harm in being parallel. A train runs on parallel tracks. The body runs on parallel tracks with science as one path and religion the other.
If you accept only religion and not science, you will become a fanatic. When you accept science alone and fail to understand the emotion in religion, you will become a moving robot.
Only when you run on these parallel tracks can you understand both.
And they do meet at times. For example, in Rigveda Samhita, the Rishi tells the students in scientific terms how a tree grows and what photosynthesis is, but in a different language.
The concept remains the same, only the terminology changes.
Science and religion are not mutually exclusive. They have common elements.
We shouldn't connect them unnecessarily. Like, for example, superimposing religion on Darwin's theory citing Dasavatharam as an example. Let them walk separately.
We are a large country with an ancient and rich civilisation and we should be proud of it.
The moment I bring in the words 'religion' and 'rishis' of the past, people are shocked.
Let's not ridicule great minds like Aryabhatta. Let's not undermine our ancient minds while appreciating the scientists of today.
Do you think the younger generation is not interested in spirituality, religion etc?
The way religion is projected today, even I wouldn't be interested.
If you make religion interesting and make a connect, the young will come to listen to you. When I say that probably Sita didn't see Ram earlier as Facebook didn't exist then, I connect to the new generation. You have to make religious lectures contemporary.
I give examples of films so that youngsters connect. I watch all kinds of films including Bipasha Basu's Alone and Hrithik Roshan's Krish and Bang Bang.
I give lectures in schools and colleges dressed in shorts and T-shirt and talk in a language they understand.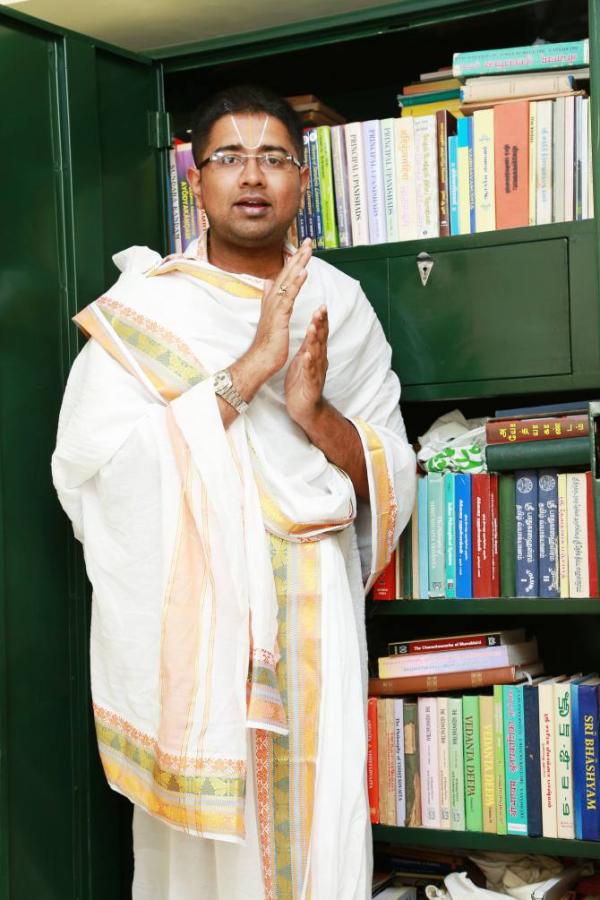 I never say Hindu dharm hi sarva shresht hai. It is sarva sresht because it believes every other religion is sarva shresht.
Do young people come to listen to you?
I have travelled to 36 cities in India and I give a minimum of 200 lectures a year.
I have noticed that 70 per cent of my audience is over the age of 55 or 60.
Children don't come for my lectures and I don't encourage them to. I prefer talking to them in their schools.
But when I go to the US and Canada, 70 per cent of my audience is under the age of 40!
Some 400 of my lectures are on YouTube. I upload them after each lecture. Close to 55 per cent my listeners on YouTube are under the age of 40.
I never say Hindu dharm hi sarva shresht. It is sarva sresht because it believes every other religion is sarva shresht.
Are you disturbed by the way some hard-core Hindu organisations are behaving after the Bharatiya Janata Party came to power?
I feel each religion has to respect the other. You should learn to respect the other from a young age.
But Hinduism should not lose its USP, and that is tolerance...
I have studied comparative religion as a course. For that, I visited a church for nine weeks in Vienna and learnt the Bible. I was also with a Muslim scholar to learn the Quran.
I've been brought up in an environment that taught respect for all religions.
But Hinduism should not lose its USP, and that is tolerance. We should be calm. This is applicable to all religions. World over, people have become impatient.
In your profession young people often come under stress and many marriages break up. What do you tell them?
Sacrifice and doing things together will help families. However big you are, you should take care of the house. The husband should take on part of the responsibility of the house.
Yes, work is stressful for everyone these days. The only solution is to contemplate a lot.
Find time to contemplate. Sit back and think what went wrong.
With contemplation and the right kind of meditation, we can find solutions to all our problems.