"We are a treasure trove of culture and tradition. The government needs to safeguard our heritage. We talk about our problems, but no one comes forward to help."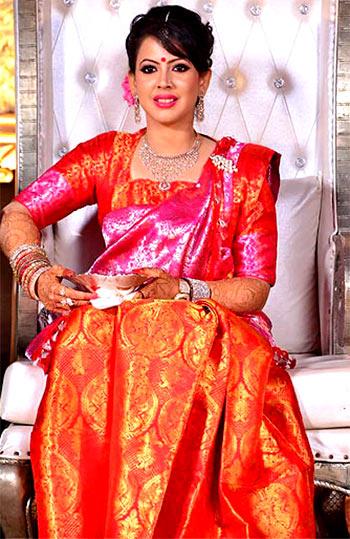 In the second part of the series on the hurdles faced by North East Indian designers, Meghna Rai Medhi tells Tista Sengupta/Rediff.com how she battled her way out to protect the age-old tradition of weaving in Assam, and brought a modern twist to their traditional attire.
Don't miss the first part of this interesting series: The Silk Route to Success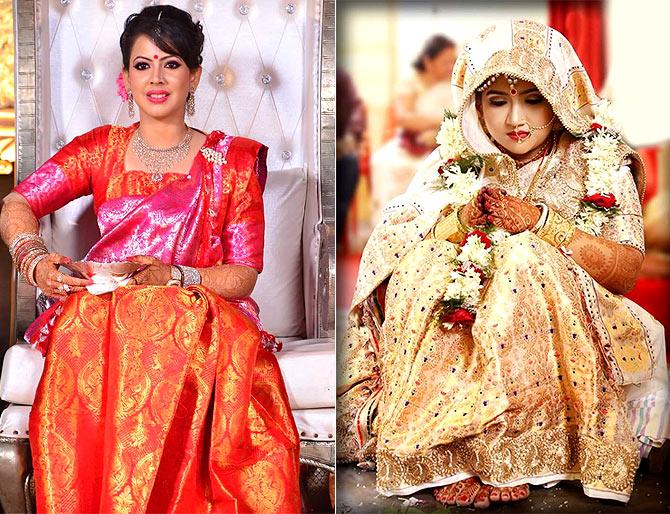 For as far back as she can remember, Meghna Rai Medhi wanted to be a fashion designer. Her parents, however, didn't feel it was a good career choice for their daughter.
In order to keep them happy, she signed on for a course in travel and tourism in New Delhi but continued to design on the side.
When she returned home to Guwahati, her friends pitched in and helped her take her first steps as a professional designer.
Meghna always wanted to showcase Assam's ethnic culture and she decided to specialise in the traditional Mekhela saris with its beautiful motifs and patterns.
Her desire to promote local silk and the local weavers faced many barriers, but she found a way around each problem.
Yet, even after 17 years in the profession, she feels she has only taken in initial step in preserving this aspect of her heritage.
How it all began
Becoming a designer wasn't easy. The people in Guwahati didn't know much about designer wear. Designing was not considered a serious profession.
Instead of going to a design school like I wanted, I had to take up a course in travel and tourism in New Delhi to make my parents happy.
Luckily, destiny had something else in store for me.
I returned home and reached out to few friends who owned weaving units. They let me hire their karigars (artisans) for my work.
To retail the outfits I had created, I opened a small boutique at home. Very soon, I had women walking into my boutique and business picked up.
Passion for tradition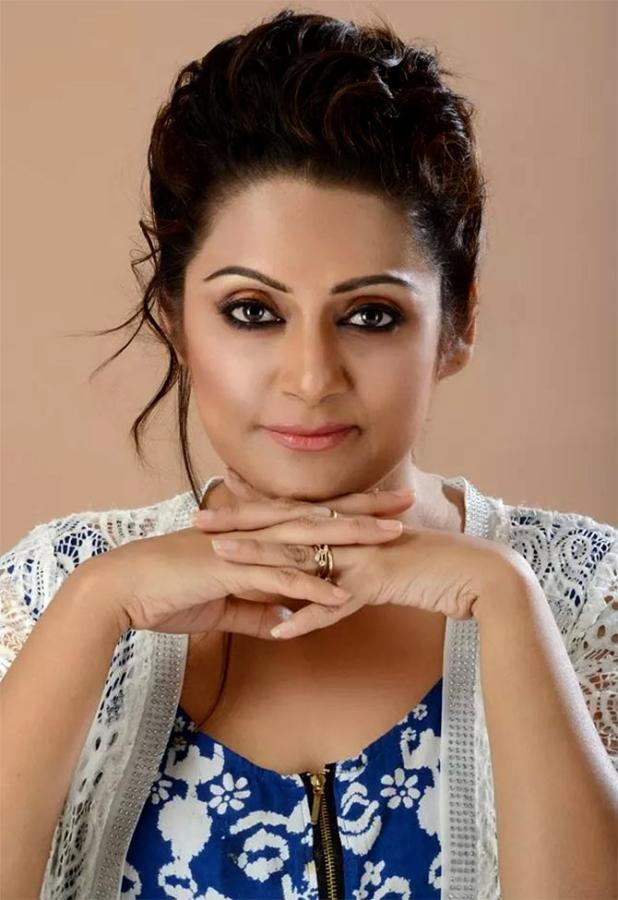 As a designer, I wanted my creations to showcase Assam's ethnic culture with a superb modern twist. I design traditional Mekhela saris with beautiful motifs and pattern.
Earlier, it was rare to find a Mekhela Chador with kachchi embroidery on it. It still is.
The challenges
My biggest hurdle was that the weavers lacked consistency. Some were excellent, while others needed training. I had to monitor them regularly to ensure that work wasn't hampered.
Sometimes, they would go on an extended leave. Later, I got to know they were working elsewhere because they were offered more money. This happens only when there is lack of education and help from the government.
Three years ago, when I started my weaving unit, I made it a point to provide shelter and proper wages to all my workers. They live in my ancestral house.
I have also built a personal relationship with them over the years. It helps me understand their problems better.
Boosting their confidence was important so I kept telling them how talented they are.
I wish the government can help weavers by providing them with a fixed stipend.
People talk about my creations on social networking sites after I started showcasing my work at several handloom shows in Pragati Maidan, New Delhi and Kolkata. But how much business can appreciation on social media yield?
There are times, even now, when I fail to get sponsors for shows. I am unable to connect with potential buyers in the country and abroad.
The need of the hour
Everyone needs to take north east India seriously. We are a treasure trove of culture and tradition. The government needs to safeguard our heritage.
We talk about our problems, but no one comes forward to help.
There is no unity among the designers here. We should form a fashion council to ensure we all get a chance to promote our designs globally. More fashion shows and buyer meets should be organised.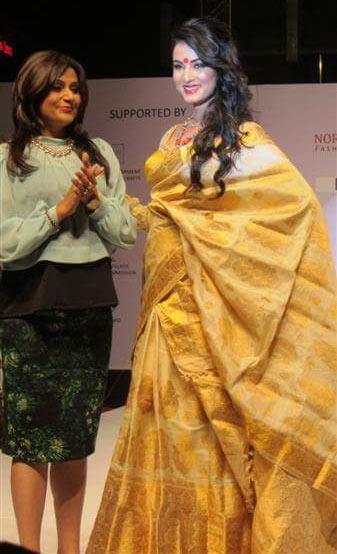 Achievements
Despite these difficulties, I am happy that people now understand the concept of designer wear.
I have successfully created label loyalists in my hometown and neighbouring states and that number is going up :)
Coming soon
I will be showcasing at Guwahati's Designer Festival this December.
And I hope to participate in the Lakme Fashion Week and Wills Lifestyle India Fashion Week next year.
My label will soon be available on Amazon.
Point of sale
Meghna's -- The Design Studio
Uzan Bazar
M C Road
Borowari
Guwahati
Online: http://bit.ly/MeghnaRaiMedhi
Price Range: Rs 1,500 -- 50,000
Don't miss the first part of this interesting series: The Silk Route to Success