Rutavi Mehta completed the 12-day autorickshaw run, from Jaisalmer to Shillong, considered one of the 'most dangerous races' in the world.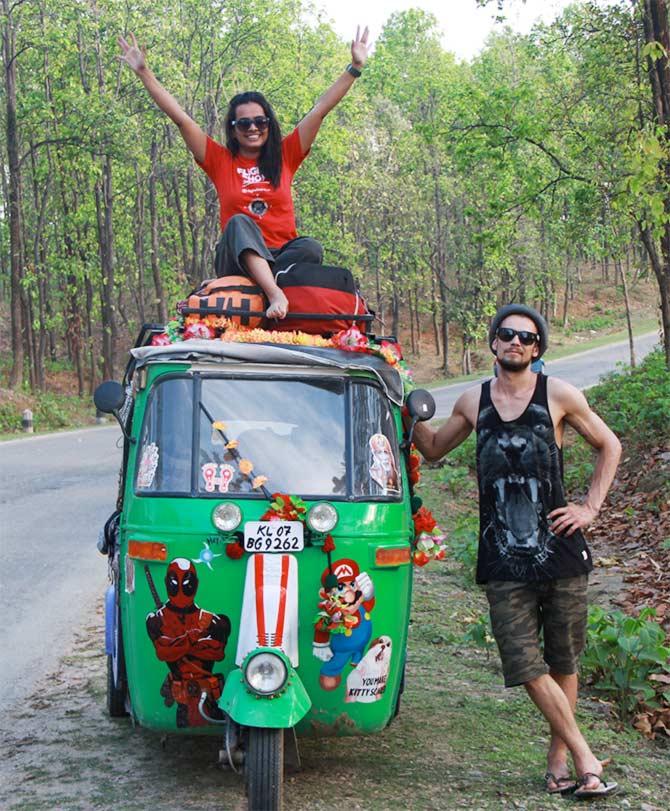 Rutavi has achieved much more, as she describes, "the mission was to prove that Indian women, and in fact all women in general, can take on incredible journeys and travel safely across India. It all starts with the realisation that they can overcome any fear."
Rediff.com spoke with Rutavi about the experience and learnings of the journey, which is considered one of the 'most dangerous races' in the world, about partnering with American travel bloggers, Derek and Ryan, as a team called Teen Romanchaak Yaar.
The team travelled for over 3,000 km, in a 7 HP 3-wheeled rickshaw. The event organised by a UK based group, The Adventurists, also saw each of the total 100 participating teams raise a minimum of $1550 for charities, helping out local communities.
A resident of Mumbai, Rutavi says, "I started travelling alone at an early age to Kolhapur where we have a summer home, and took my first solo trip to Pushkar, Rajasthan when I was 21."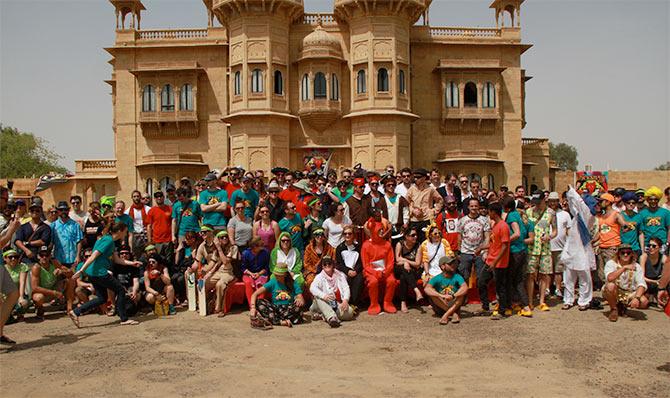 When Rutavi first heard about the Rickshaw Run, which usually attracts foreigners, she grew curious about it. "I contacted many bloggers and was able to connect with Derek and Ryan on this. We met just a few days before the race and prepared together for this long journey."
During the 12 day journey, covering 6 states and 17 cities, the team had to ensure they covered 300 km of distance or more every day. "The average speed wouldn't be beyond 55 km. On high terrain, it even reduced to 25 km/hour," says Rutavi.
One of the challenges was to overcome cultural differences and work as a team with her American partners.
"There are many differences, I liked to travel in the mornings, while both Derek and Ryan would stay up till late in the night and start late in the mornings. They liked to eat from roadside joints and experiment with junk food, while I preferred to play safe," recalls Rutavi.
"One of the most arduous task while travelling on an autorickshaw for a long journey is to get used to the bumpy ride. Also, one cannot carry too much luggage on an autorickshaw. In fact, I had to courier back most of my belongings which I carried with me initially," she recalls.
Rutavi had chalked out the itinerary for the travel, and partnered with Zostel, an international chain of backpackers' hostels wherever these were available, and elsewhere, with other hotels for stay during the trip.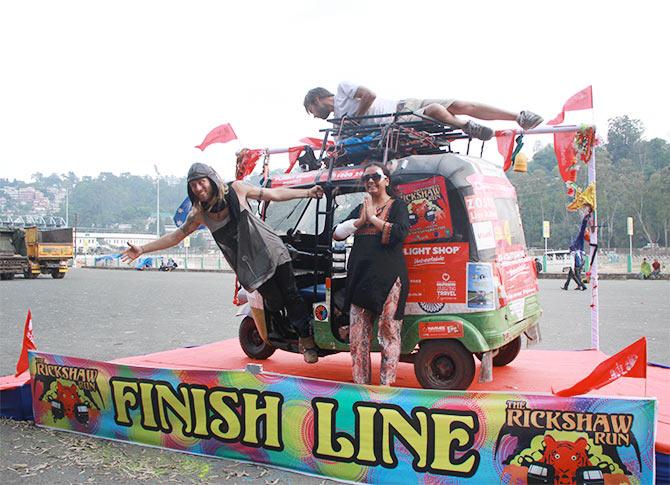 Rutavi recalls how the trip helped dispel the perception that India is not a friendly country and women should avoid travelling alone.
"I felt absolutely safe in the heart of the country. We met with a small accident in Allahabad where we were surrounded by strangers who came to our rescue. Even the local police was helpful. I had another accident 100 km away from the finishing line near Guwahati. It was strangers who helped in taking me to the hospital despite the language gap with the American team members. I was given medical attention and my father was also informed about the incident but I decided to continue to complete the journey," says Rutavi.
"I want to say that women need to be conscious about the environment when travelling alone, so one can be safe anywhere in the country. Also, it is important to travel light," says Rutavi. She adds that she chose to wear jeans and t-shirts through the trip, a dress which allowed comfort during the driving.
"People were very happy to meet us, they took pictures with us and were quite impressed to see an Indian woman doing this," she recalls.
Rutavi blogs at www.photokatha.in.