Pune's Vaidehi Reddy is the winner of this year's Doodle 4 Google competition.
Her drawing of Assam is featured on the home page.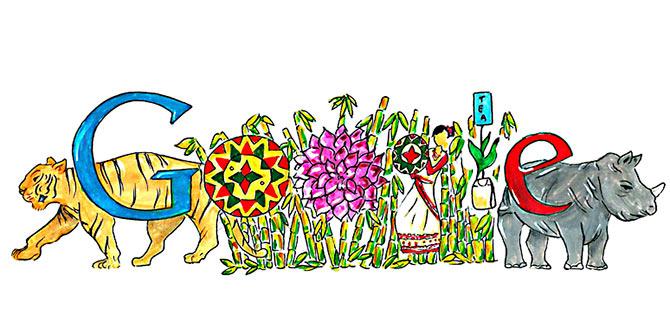 The doodle you're seeing on Google's home page today is created by Vaidehi Reddy from Pune.
Reddy, a class 9 student of Army Public School, Pune is the winner of Doodle 4 Google, Google's annual doodle competition for students.
The Pune girl's entry featuring the beauty of Assam in her doodle was chosen from among a million entries.
Every year, Google invites students from classes 1 to 10 from across the country to send in their drawings based on a theme.
The winner's doodle would be displayed on the home page on November 14, to celebrate Children's Day.
The drawings of twelve students from India were shortlisted for the main entry this year of which Vaidehi Reddy's doodle made the cut.
The competition which commenced in 2009, entered its sixth edition this year had the theme 'A place in India I wish to visit'.
Google is reported to have received more than a million entries this year covering 1700 schools across 50 cities in the country.
The 12 shortlisted doodles were further shortlisted through online voting.
A national jury comprising political cartoonist Ajit Ninan, Savio Mascarenhas, art director, children's publishing at ACK Media and Ryan Gerick, Google Doodle team lead declared Vaidehi Reddy as the winner of the competition.
Reddy's winning drawing titled 'Natural and Cultural Paradise -- Assam' truly reflects the beauty of the state.
Describing her art work, Reddy said: "I want to go to Assam because it is rich in both, natural beauty and culture. Its music and rich folk arts are also very good."
Besides the national winner, Google also shortlisted three more winners -- Group 1 winner from classes 1 to 3; Group 2 winner from classes 4 to 6 and Group 3 winner from classes 7 to 10.
All 12 finalists (whose doodles are featured here) will receive a certificate of achievement, a Chromebook laptop, while the national winner will receive a medal from Google, a Chromebook laptop, a 3 night-4 day trip with his/her parents to the place in India s/he has doodled.
Let's take a look at the winning doodles that made it to the list.
Group 1 winner
Title: God's own country Kerala
Winner: Sarvagjna Miriyala, DAV Public School, Panvel, Mumbai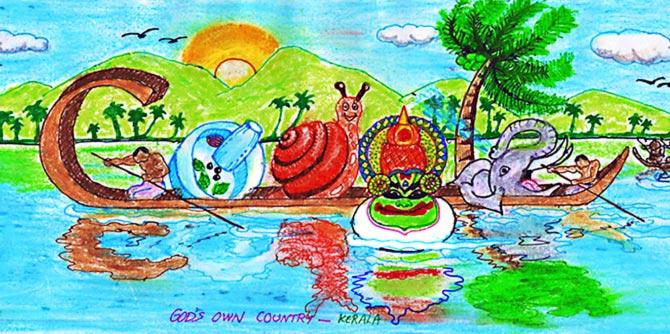 Group 2 winner
Title: Ooty's Beauty
Winner: V Sai Latha Rani, Sri Prakash Vidyaniketan, Vizag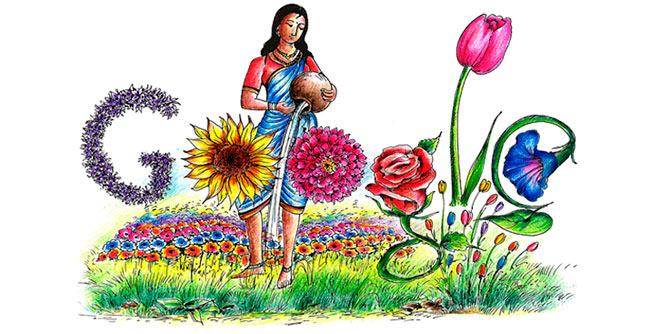 Group 3 winner
Title: Heritage Glorified -- Hampi
Winner: Y Sai Greeshma, Sri Prakash Vidyaniketan, Vizag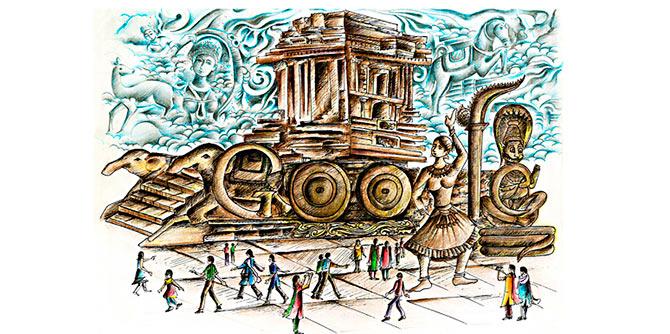 To view all the 12 doodles, please click here!
Photo courtesy: www.google.co.in/doodle4google
Meanwhile, you can write in and tell us what you miss the most from your growing up years here -- #ChildhoodMemories -- and we will publish them on Rediff.com!
Or you can share with us your cuties, i.e., cute selfies with kids #CutiesWithKids!
We wish you a very Happy Children's Day!