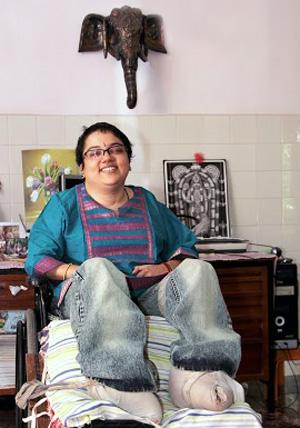 Preethi Srinivasan is a former state-level cricket player who has taken on the University of Madras after having been denied admission for a distance education programme after an unfortunate accident left her quadriplegic for life. In an online chat, she interacted with Rediff readers on September 11 between 1 pm and 2 pm.
Preethi Srinivasan was eight years of age when she joined the State cricket team.
She was also the youngest to be selected for the game.
In 1997, Srinivasan's captained the Tamil Nadu women's under-19 team for a national tournament and led them to victory.
She is also a champion swimmer and has won a state gold in 50 m breaststroke and silver in other events.
Unfortunately, 15 years ago, her sporting career came to an abrupt end after an unfortunate accident injured her spinal cord and left her paralysed for life.
Three years later, when she applied for a distance education programme at the University of Madras, she was denied admission into the course.
In 2001, she was denied admission for BSc Psychology by prestigious universities like the Madras University, Annamalai University and Bharathiar University, due to her inability to attend contact classes (preparatory sessions for a distance learning programme) and also because these institutes did not have the necessary infrastructure like ramps for wheelchair accessibility.
She eventually enrolled for BSc medical sociology, which apparently did not require these contact sessions.
Recently she'd approached the Madras University for admission to MSc in counseling psychology, but has been refused yet again for the same reasons. This time, however, she is determined to apply and if her application is rejected, she is even willing to go to Court for her rights.
The 34-year-old has even launched Soulfree, a charitable organisation to help those with severe disabilities lead a productive life with dignity and purpose.
Srinivasan was invited to chat with Rediff readers on September 11 between 1 pm and 2 pm.
For those who missed the live chat on September 11, please click here to read the unedited transcript!