Though one would expect him to follow in his family's musical footsteps, Tejas Mangeshkar is creating waves in the realm of design. Read on to find out more...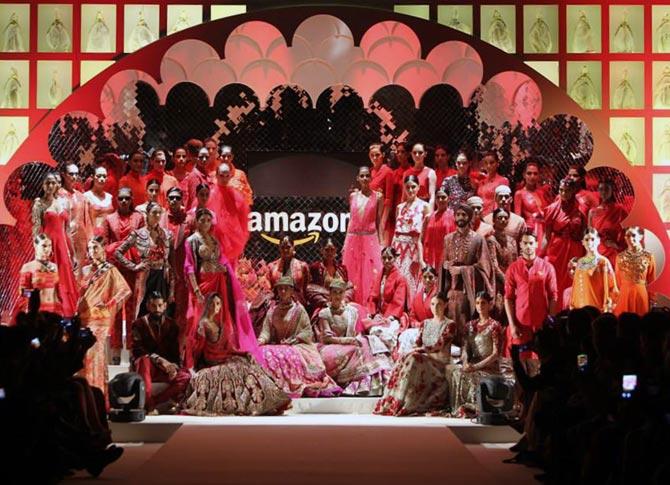 For someone who has legends such as singers Asha Bhosle, Lata and Usha Mangeshkar for aunts, one would expect Tejas Mangeshkar to follow in their footsteps and carve a niche for himself in music as well.
However, his calling lay elsewhere -- in design.
As he says with a disarming smile: "A doctor's kid never wants to hold a stethoscope."
An example of his design skills was on view at the Amazon India Fashion Week, held recently in New Delhi, where he created a beautiful backdrop for the shows, complete with LED lights and neon colours.
Keeping in mind that India's famous fashion trade event was celebrating its 25th edition, Mangeshkar decided to give his design a futuristic look.
"I looked at it from a completely new point of view. The week celebrates 25 years of fashion, so the idea was to see what the future holds," he says.
"The grids and lines are simplified versions of the warp and weft patterns of fabrics. There is a bit of chaos, but that's what makes you think, right?"
The idea was to keep the design minimal and austere. But the pops of colour, ranging from neon to hot pink, were part of the reinterpretation of past ideas.
Mangeshkar did not want to employ the usual techniques such as calligraphy.
Instead, he looked at mirrors, tube lights, metal, jaalis, gates, LED lights, graphic images and cool sensory techniques to create installations, some of which reflected guests walking past them.
The use of black-and-white lines in his 2D and 3D installations created an illusion of space.
Each zone flowed into the other seamlessly, following an amoebic pattern.
The sense of optical illusion prevailed throughout the venue.
"The cubic installations narrate the story of the Fashion Design Council of India -- the event's organiser -- and it was important to present all perspectives, be it past, present or future," he says.
Given his lineage, it is not surprising to find a musical side to Mangeshkar.
Lata Mangeshkar's father, Dinanath, and his grandfather were brothers.
"We all used to live as one big happy family at Shivaji Park in Mumbai, before we moved to Pedder Road," he says.
"I used to play the tabla as a kid, but then graduated to drums and eventually changed streams to design."
To fulfil his ambition of becoming a designer, Mangeshkar studied computer science at the prestigious JJ School of Arts in Mumbai and subsequently launched Bhavishyavani Future Co, a venture that specialises in graphics, sound design, interface and strategy design and has its own music division.
From a boutique company that was launched in 1990, Bhavishyavani Future Co has grown big.
Back in the 1990s, the company used to do animation for MTV and Channel V and was responsible for discovering talents like MIDIval Punditz.
"Bhavishya means future and vani means sound -- it seemed perfect for a name. We started Bhavishyavani as a platform for artistes, film makers and musicians to contribute to underground subcultures through electronic music. In early days our mascot was a robot predicting the future on headphones," he smiles.
From his alternative view of life and the novel way in which he approaches things, it is not surprising that the tagline for Mangeshkar's company is: "We don't build spaceships. We are spaceships."
Photograph courtesy: Fashion Design Council of India/Facebook