Mythili Mishra who scored 99 per cent marks in the CBSE Class 12 exams is also the top scorer in Uttar Pradesh.
The 17-year-old aspires to become an IAS officer.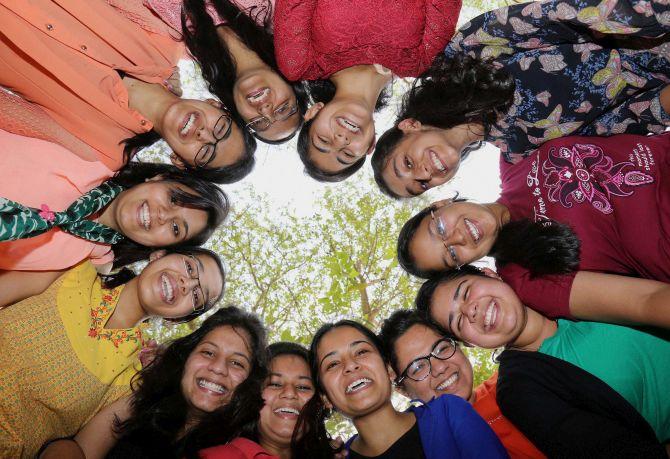 Mythili Mishra of Amity International School, who achieved a second rank in the Central Board of Secondary Education (CBSE) Class XII exams, wants to become an IAS officer.
With 99 per cent marks, she is also the Uttar Pradesh state topper.
Mishra wants to procure a bachelor's and master's degree in Political Science and then aspires to be an IAS officer. Both her parents are advocates.
17-year-old Mishra loves to paint and read.
When she checked her results at home after they were declared, she did not know that she was the second topper in the country.
It was only when calls started pouring from her school and the media.
She used to study regularly for 4 to 5 hours per day after attending school. And during exams she studied for over 12 hours daily.
Always present in the class, she said she never bunked classes.
Continuous attention in class provides strong base to students and revision at home helps imbibe the chapter while it is in the second revision when the chapter is completely understood, she says.
The second topper says she did not take tuitions but got help from parents and teachers who devoted extra time for her.
Her aunt, a teacher in Delhi, taught her economics.
According to Mishra, one should not be tense during exams and must study regularly throughout the year.
She said students should rest to relax their minds before studying and also listen to music of their choice to de-stress themselves.
Lead image: Students celebrate their success after announcement of CBSE Class 12th results at a school in Gurgaon on Monday.
Photograph: PTI Photos
ALSO SEE
New Delhi girl tops CBSE Class 12 results
Working as domestic help, girl scores 85% in Class 12
Mumbai girl, ICSE national topper, wants to become lawyer
ICSE, ISC results declared; girls outshine boys
© Copyright 2022 PTI. All rights reserved. Republication or redistribution of PTI content, including by framing or similar means, is expressly prohibited without the prior written consent.