"I never wanted to be a model."
"I had been an NCC cadet and was used to walking in boots."
"You cannot afford to make a mistake when the event is being recorded live and there are so many cameras following you."
"The winner had to be honest and have good intentions to work for social good."
"I am glad I could represent my country at the international level."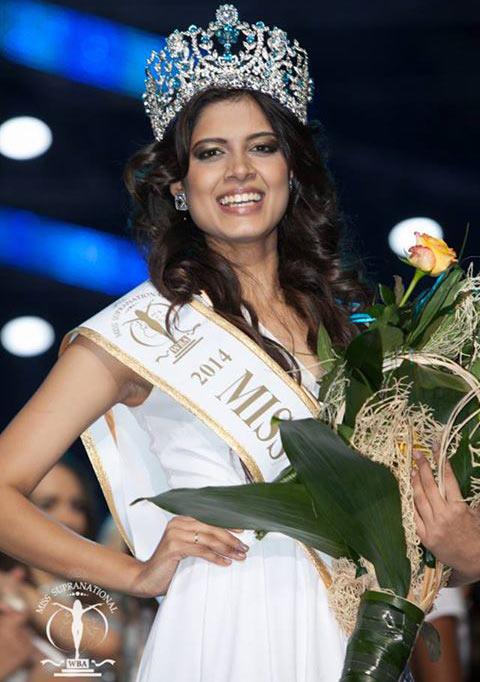 Image: Asha Bhat is the first Indian to win Miss Supranational. Courtesy: Miss Supranational 2014
For someone who has been a member of the National Cadet Corps and loved her khakhis and brown boots, winning a beauty pageant never occurred even in her "wildest of dreams".
On December 5, 22-year-old Asha Bhat surprised the world by becoming the first Indian to win the Miss Supranational 2014 title, defeating 70 contestants from around the world.
The contest was held in Poland.
"I had no clue about the glamour industry and how it works. I started preparing for the pageant only in the second week of November.
"It has been an amazing journey so far -- meeting new people, experiencing different cultures, talking about India.
"I am really looking forward to working for the cause of women and primary education," says the international beauty queen, speaking from her home in Bangalore, Karnataka.
Asha Bhat is currently in her final year in electronics and communication engineering at RV College of Engineering, Bangalore.
Both her parents are laboratory technicians and her elder sister is a paediatrician in the United States.
In a candid interview with Rediff.com, the young achiever takes us through the various moments that helped her win the contest, her big plans for the country and why it is important to listen to your heart.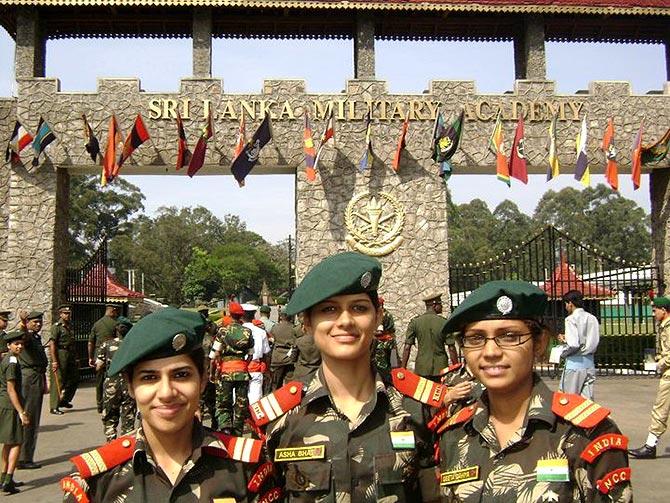 Image: Asha Bhat (centre) is a trained NCC cadet. Photo courtesy: Asha Bhat's Facebook page
Did you always want to be a model?
I never wanted to be a model.
When I came to know about the Miss Diva contest in September 2013, I went for the auditions with no formal preparations.
I had been an NCC cadet and was used to walking in boots, not high heels.
I realised that the contest would help me travel, meet people from other countries and put our country on the global map.
Besides, I have always looked up to Lara Dutta for inspiration -- I admire the way she talks and walks.
When I discussed the contest with my parents, they encouraged me to go for it.
How did you prepare for the contest?
I had no experience of walking the ramp. Since I am a trained classical dancer, I had no stage fear. That was a huge plus for me. I was confident.
It's only after I got through the auditions that I realised the rigours of being in a pageant.
The last few months were really hectic.
Thankfully I had no weight issues; I have a strong metabolism and can digest almost anything. But I had to practise weight training every week.
Two weeks prior to the contest, we were working with a team of choreographers, fitness and healthcare experts and designers -- each trying to help us improve the way we present ourselves.
What were your thoughts when your name was announced?
I was too thrilled to react. It took me some time to realise that I was the first Indian to bag the title.
It's only now that I realise the power and responsibility of this position.
I am glad I could represent my country at the international level.
What was the most challenging part of the contest?
The Miss Supranational pageant is a television show.
We reached Poland in the second week of November.
We had to rehearse for at least 10 hours every day -- to prepare for different styles of performance -- jazz, contemporary, freestyle and mostly in groups.
It wasn't easy -- you cannot afford to make a mistake when the event is being recorded live and there are so many cameras following you.
Between rehearsals, you have to find time to give interviews, talk to people and do several photo shoots for the organisation. So we were working round the clock.
Did you make any friends?
Oh yes, my early roommates were from Malaysia and Indonesia. I made friends with Julia Njoroge (from Kenya) and Elena Zama (from Romania).
We used to talk extensively about our respective countries. It was amazing to know how different they are in the way they celebrate festivals, enjoy food etc.
Every time I talked about India, they would be curious to know more about our culture. I have invited them all to come and visit India whenever they can.
There were girls from 70 different countries -- you can imagine the diversity in languages, food and the way of life.
How has the pageant transformed you as a person?
The pageant has helped me improve my patience!
Winning the contest has made me realise that I am a public figure and that I need to be more responsible.
It has helped me mature as an individual and improve my decision-making skills.
What do you think helped you win?
I think the panellists were looking for someone who could best represent the organisation at the international level.
The winner had to be honest and have good intentions to work for social good.
To win the contest, you need to be good on the inside and outside.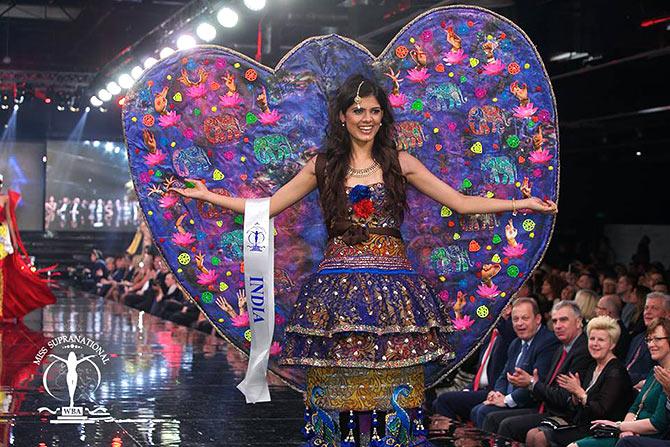 Image: Asha Bhat represents India in the National Costume Round. Courtesy: Miss Supranational 2014
How do you intend to make use of the title?
The itinerary will be out only in January 2015. But I'm told I'll be travelling to many countries and will be involved with social and charity activities in the field of education and empowerment of women among other things.
What are your plans for India?
Back home, I intend to take up the cause of compulsory education of the girl child.
Education alone will help them be aware of their rights and duties as a citizen.
Since I have been a part of the National Cadet Corps, I realise the importance of fitness and self-defence for women.
I urge every woman in our country to sign up for a basic course in self-defence.
I would also like to see more women being involved in the decision making process. I would like to see them take financial decisions not just for their own family but also for the country.

What are your thoughts on feminism? How important is it?
I think feminism is a healthy thing. It upholds the cause of equal rights for men and women.
For a country like India, it helps us become more powerful and gives courage to its women citizens.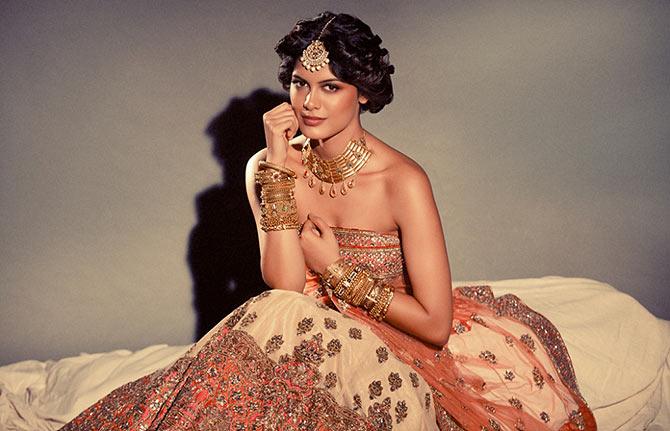 How do you stay fit?
I'm a foodie so I like to eat everything.
I don't do cardio. I like to dance. I ensure I work out two hours, at least three times a week.
Please share your beauty secrets.
Water is my secret ingredient. After those long hours of working out, water helps me stay hydrated.
During the contest, I had to apply different types of make up, which would leave my skin dry. So I had to moisturise it from time to time.
I would regularly oil my hair and use a mild shampoo and conditioner.
An important tip: No matter how tired you are, never go to bed with your make up on.
Your skin needs to breathe, so wash your face well and get a good night's sleep.
If you're having a bad hair and skin day, cover it up with a radiant smile. Trust me, no one will notice your flaws.
How do you deal with negative criticism?
I'm a positive person. I don't let negative criticism affect me at all.
If someone says something good I take it and build upon it.
If criticism helps me improve, I work on it, but I don't let that change who I am as a person.
I have a protective wall around me – my friends and family. They help me deal with negative criticism and keep me positive all the time.
How do you deal with competition?
I am my competition. I always try to be better than I was yesterday or the day before.
Your advice to women who want to make a career in modelling?
Understand that being a model is different from taking part in a pageant.
A model has to look good, walk good and best represent the designer's work. A model is all about the looks and clothes.
A pageant is all about your personality -- who you really are.
You cannot fake your talent, your personality or what you believe in.
If you pretend to be someone else, the people in the glamour industry will quickly figure it out.
Whether you want to be a model, designer or participate in a pageant, you need to know your aptitude and have a passion for it.
Once you know what you want in life, you'll be clear which direction to follow.
Your advice on how women can be safe?
It is very impractical to give advice to a girl who is travelling alone at night.
You never know what awaits you when you step outside your home.
If a group of five or six men surround a girl, only her instincts can guide her.
Having said that, it would be helpful to carry pepper spray in your bag.
I'd advise girls to avoid travelling alone late at night. It is safer to ask your family members or friends to drop you.
It is important to be alert and keep your loved ones informed every few minutes just so that they know where to find you when you're in trouble.
Your advice to our male readers?
I find it annoying when girls are asked to mind the clothes they wear or when critical judgements are made about a girl's character.
If you are an educated man who respects women, you'll never ask the same question to your mother or sister.
If you do that, it only means that there is some problem with your upbringing.
If a girl is abused or raped, there is something wrong with the way the man has been raised.
It's the not the fault of the girl.
If you could be empathetic and realise what the girl underwent, you could help her come out of the trauma rather make it worse for her.
What are your future plans?
For the next one year, I will be tied up with the World Beauty Association -- lots of travel and work to do.
I also need to concentrate on completing my degree this year.
Your advice to our readers?
If you love something, just go ahead and pursue it.
Don't pick a career for the heck of it; you will not be able to give it your 100 per cent.
Always listen to your heart; it will never give you bad advice.
Be the best example you can. Be original.