Youngsters Balaji T Vijayan and Ute Weimer have invested in India's sexual wellness market.
Their online marketplace LoveTreats offers intimate products for both men and women. This is their story.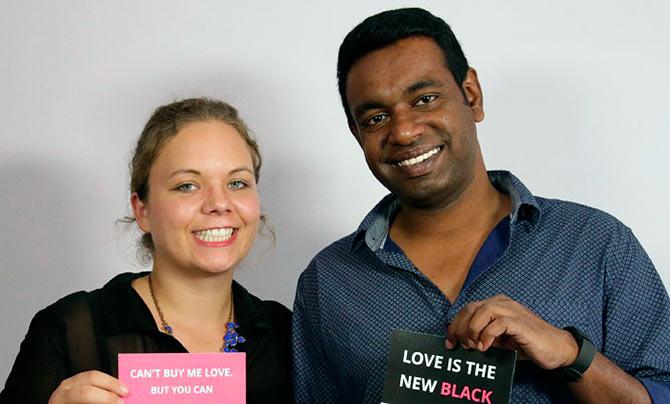 It is an irony that the land of the Kama Sutra had cut half the kissing scenes in a recent James Bond movie.
India currently is a dichotomy, where one set of people approaches sex with open-minded curiosity while the other considers it taboo.
Nevertheless, in recent years, there has been a growing number of e-commerce retailers in the sexual wellness and awareness space, like IMbesharam.com of Besharam Adult Store, That's Personal, Shycart, PrivyPleasures, Its Muah Life and Team Sexpiration.
Joining this slew is Lovetreats, an intimate lifestyle brand that inspires you to spice up your love life.
It is an online marketplace that hand-picks and curates products like lubricants, love toys and sensual massage items from all over the world.
Merging different paths with one end
Before meeting and starting Lovetreats, founders Balaji T Vijayan and Ute Weimer were working on the idea individually.
During a trip to Amsterdam for his previous company, 34-year-old Balaji's Dutch colleagues took him to a hip sex shop, where women and men alike explored sexual wellness products in a fun and non-judgmental environment.
Instead of just trying to sell the products, the sales staff's communication was laced with awareness and sex-positive messages.
The positive vibe around intimacy resonated with Balaji and he instantly started market research to set up something similar in India.
Although there were other players in the Indian market already, none of them, he felt, would make people feel at ease.
Twenty-four-year-old Ute, coming to Bengaluru from Germany for the first time, met modern women who spoke openly about dating and sex, but who could source sex toys only during their travels abroad. She felt that a space for Indian women and men to explore these products in a classy, non-intimidating manner was missing.
When Balaji and Ute met in 2014, they realised they were working on the same project and teamed up to start Lovetreats together.
Creating awareness and understanding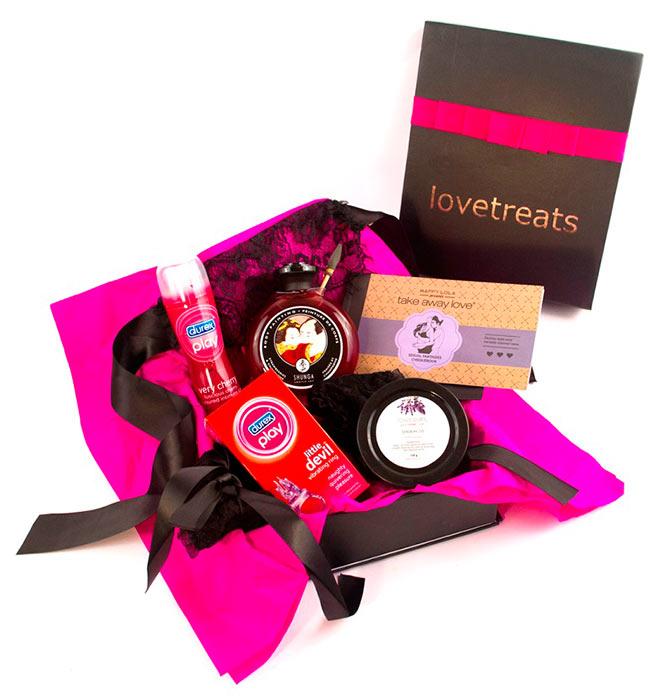 On the different kinds of products available on the platform, Ute says, "The products and the experience we offer are pretty much a new thing in India, and we are the first ones to be women-inclusive and couples-friendly. Our vision is to encourage our customers to be curious and confident in their relationships and their bodies."
Ute adds that in order to ensure people feel comfortable while exploring Lovetreats, they've opted for a fun, non-intimidating design and branding that makes one smile and not cringe.
"We don't have nude or obscene images on our site and we stay away from products that objectify women or push people outside their comfort zone," she explains. However, one of the biggest challenges the team faces is raising awareness for intimacy and sexuality-related topics and products.
Ute says that many people don't even know goodies like lubes, games for couples, accessories or toys exist. But when the duo would tell them, they found that people were curious and interested to try out new things.
"That's why we have decided to take the route of creating awareness and inspiration through quality content, so we are publishing blogs and videos as well as working with content partners to co-create content, instead of advertising," says Ute.
Lovetreats also has online courses, pop-up stores, events, chat functionality and a WhatsApp group to help its customers learn more about the products.
Starting operations in October last year, Lovetreats soon opened for nationwide delivery in November.
It fulfilled its 400th order in December without any marketing spends. Post-launch, the team says it has been generating revenue from day one and will be breaking even soon.
"We also plan to have private labels for some of our fast-moving products and have identified suitable partners for them. Since we always get good response at offline events and have so much fun during our pop-up shops, we might open up brick-and-mortar spaces as well to give our customers the opportunity to interact with our products," adds Ute.
Globally, sexual wellness is a highly lucrative market; the revenues in the US are estimated to grow to $52 billion by 2020.
The sexual wellness market in India is estimated to be Rs 1,000 crores, and continues to grow.
However, in India, intimate lifestyle products store face several legal issues and grey areas.
Considering the ambiguous legalities associated, many big e-commerce sites like Flipkart have removed their sexual wellness category.
This was done after police received an email complaint about Flipkart, and four other sites.
The legalities associated with the buying and selling of these products is still questionable due to legal ambiguity.
According to Dhruv of Team Sexpiration, India still has a long way to go. "Currently, there is no clarity," he says, as the definition of obscenity in Indian law is rather vague.
Ute, however, says, "We went through a lot of effort making sure that all the products we hand-pick for our online shop are 100 percent legal. Our legal team helps us check every product and we get every item cleared by customs."