By using recycled resources to create earth-friendly gifting options, the venture Surprise Someone is changing the way India smiles.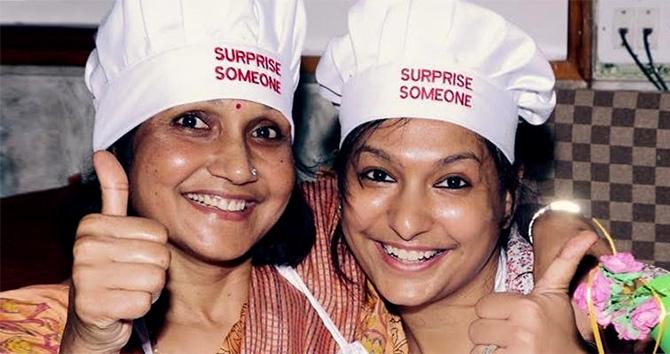 Sharda Daga, 55 and Pinky Maheshwari, 35 jointly run Surprise Someone.

All photographs: Kind courtesy Surprise Someone
We all love to get and give surprises.
A good surprise can instantly lift your mood, bring a smile on your face and rejuvenate your mind.
Pinky Maheshwari, 35, decided to make this a way of her life, with Surprise Someone.
But there are numerous ventures in the gifting space, offering products made of recyclable material. So what is unique about Surprise Someone?
It is the surprise element.
Pinky believes that big things are big, but it's the small things that really make big difference.
Whenever a consumer orders a product from Surprise Someone, the platform does a background check/profiling of the client via social media and sends them small surprises to make them feel special.
"If the client is a corporate client, we send the surprise gift accordingly. If she is a female client, we try to understand her likes/dislikes via social media and the surprise is chosen accordingly," says Pinky Maheshwari, co-founder of Surprise Someone.
Helping the environment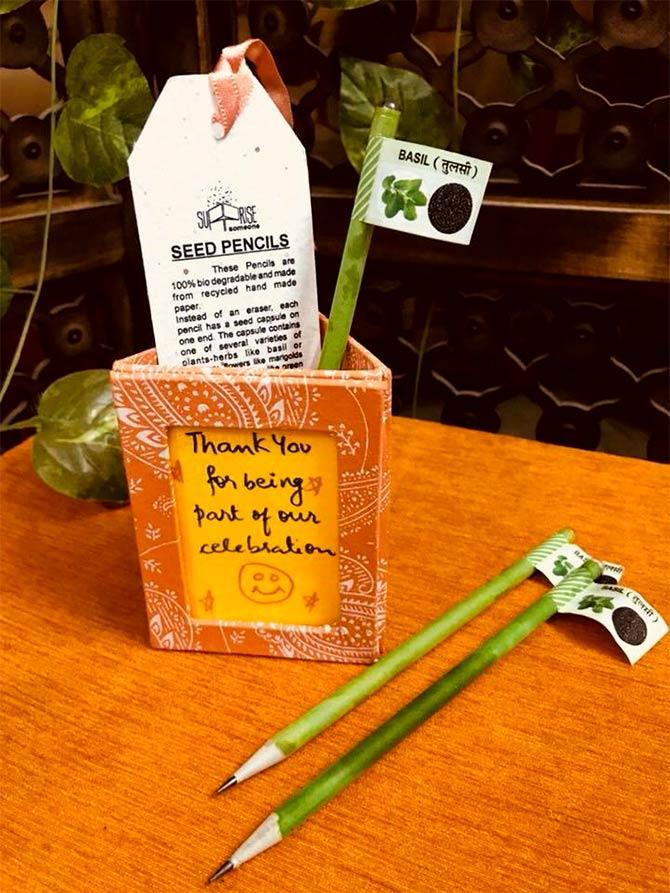 It offers bio-degradable seed pencils costing Rs 300 for a dozen which feature a seed capsule that can be sown in the soil.
If watered regularly, the seed will germinate in a week.
The surprise doesn't end there. Every Surprise Someone product that has lived its life can be grown into a plant.
All Surprise Someone products are made with recycled paper that has seeds embedded in it.
The venture offers several gifting items made from recycled seeded paper, including photo frames, paper bags, customised favour boxes, trays, and much more. It also offers gift hampers for special occasions like baby showers, weddings, and festivals among others.
To suit the pockets of consumers surprising their dear ones, the platform also offers a category 'Everything under 50' on its portal.
Pinky highlights that Surprise Someone also makes recycled paper made from cotton rags/waste cotton.
Another interesting innovation are Seed Pencils, which are said to be 100 per cent bio-degradable and are made from recycled paper and old newspapers.
Instead of an eraser, each pencil has a seed capsule on one end. The capsule contains one of several varieties of plants -- herbs like basil or rosemary, flowers like marigolds or roses, vegetables like green peppers, among others.
Once the pencil finishes, users can put the capsule end in soil, and water regularly to let the seeds germinate in a couple of weeks.
Tracing Pinky's journey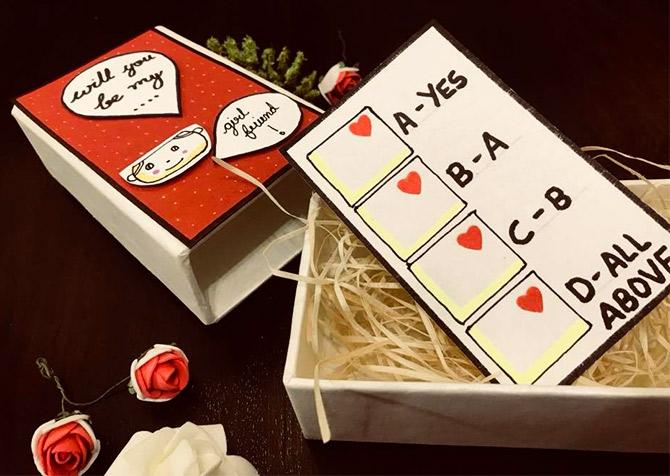 Customised gifting options are made available for birthdays, baby showers, anniversaries and festivals.
Pinky holds an MBA degree. Before starting her own venture, worked for eight years in Ogilvy & Mather and two years with Vodafone Rajasthan.
After getting married and having a baby, she decided to turn mompreneur and fulfil her dream of launching a venture connected to something she was known for even in her corporate days -- giving surprises.
"When I left my job, one of colleagues called saying they wanted someone to do handmade and exclusive welcome cards for 150 guests, really high-profile guests. I said OK, as I was anyway not at work and had a baby."
"When I finished, they asked me how much they needed to pay. I was surprised as I thought I was just doing a good gesture and who would pay me for this art and craft," Pinky says.
She recalls that when she was asked to quote a price for her work, she quoted Rs 20 for each card as Rs 15 was her cost.
To her surprise, the client paid her Rs 15,000 as they thought that her work deserved more.
That was the first time she'd made money converting her passion into money.
She highlights that from that day till today, she is making money via pieces of paper.
Pinky started Surprise Someone with her mother, Sharda Daga, 55, in 2015.
She highlights that her mother is a muti-faceted woman who not only looks after Surprise Someone but also helps in her father's business.
Sharda is also a part of Global Mentor Forum. While Pinky takes care of the ideas, execution of plans, and catering to the market demands, Sharda looks out for artisans and the right talent for Surprise Someone.
Currently, the venture is backed by 39 artisans and 10 team members.
Surprise Someone claims to empower hundreds of women from rural areas by helping them make paper bags, boxes, and other products after the recycled paper is ready.
Plans for the future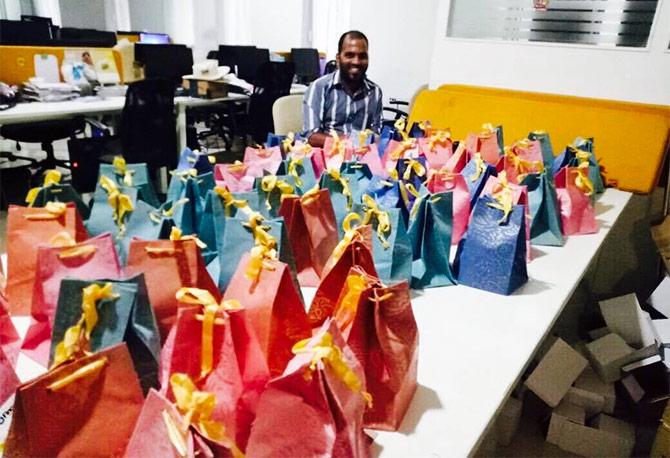 It works closely with artisans and a core team of 12 members who help execute large orders.
The start-up is self-funded and is not looking to raise funds. Whatever money the platform generates through sales is used in developing new products.
"Our strategy for product development is that we send our new products to people who are absolutely new to us and have no relation with our business and myself. We ask them if they had a wow moment within 30 seconds of seeing out product. If they say yes, we launch, else we dump it," she says.
Pinky believes that if there is no surprise in a product then the venture is not doing justice to its name, adding that every Surprise Someone product surprises consumers either in terms of design or price.
The platform has also been selected in Start Up India movement and showcased in India International Trade fair 2017 in the Start Up India Pavilion.
Surprise Someone generated a revenue of Rs 22 lakh in financial year 2016-17 and is expecting to close the second financial year 2017-18 at Rs 25 lakh.
In terms of clientele, Surprise Someone is serving a client base of over 5,000 and claims to have zero spending on advertising. Currently, the venture is only online and is marketing extensively via social media platforms like Facebook, Instagram, Twitter, Google Plus and LinkedIn.
Going ahead, Pinky plans to take the products to the overseas market and is awaiting the right opportunity that will help the platform scale to international level. She also intends to plan surprises for guests in airplanes and is planning to tie up with airlines for this.